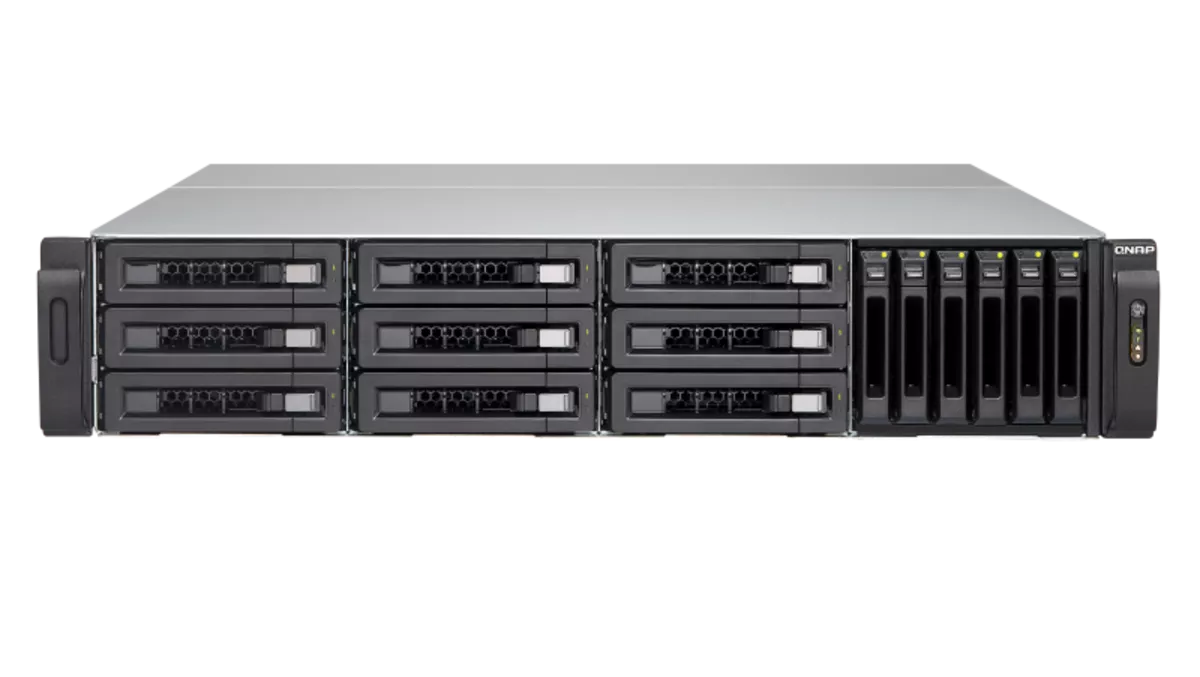 Hands-on review: QNAP TVS-EC1580MU-SAS-RP Network Attached Storage
FYI, this story is more than a year old
It's an all too common story that many a small to medium business owner can relate to. Thanks to the joys of using "sneaker wear" and USB keys to transfer files between office colleagues, valuable data is lost and business downtime plus gritted teeth are soon the order of the day.
Thankfully, a more efficient alternative exists such as QNAP's business grade TVS-EC1580MU-SAS-RP network attached storage (NAS). With this NAS, everyone can save, load and share files seamlessly over the company LAN. Lost USB keys, worn sneakers and business downtime should in theory become a thing of the past.
Look and Feel
The TVS-EC1580MU-SAS-RP isn't small, and is in a rack-mount form-factor. Decked out in a no nonsense black-on black finish, it is a big, serious and industrial looking piece of gear. It'd also be right at home aboard the Death-Star (or a suitably stylish network equipment cupboard).
Under the Hood
The TVS-EC1580MU-SAS-RP is a veritable powerhouse, powered by a quad-core Intel Xeon processor. It has 15 bays, supporting both 2.5" and 3.5" inch drives, packing 16GB or 8GB of DDR3 RAM (expandable to 32 GB).
This NAS is also built to grow. It can support up to eight QNAP RAID expansion enclosures, which in practice means that it can fit a mind-boggling 1 Petabyte of additional storage. Putting that into perspective, a Petabyte is around about 1,000 Terabytes or a million Gigabytes. In non geek-speak, that's around 500 billion pages of standard printed text (that's a LOT of paper). This should make increasing storage capacities as the business grows a straightforward proposition.
Being business-grade, The TVS-EC1580MU-SAS-RP isn't lacking in connectivity options either. It comes with 4 Mellanox gigabit Ethernet adapters. Mellanox's ConnectX3 products support 40-gigabit Ethernet switches, which should in theory mean that shunting huge files around the office isn't a painfully slow undertaking. There are also 2 PCIe slots, an HDMI port plus 4 USB 3.0 and 4 USB 2.0 ports. About the only thing missing on the connectivity front is a kitchen sink.
Performance Enhancing Bits…
A killer feature with the TVS-EC1580MU-SAS-RP is the inclusion of Databolt Technology. Databolt takes an SAS 12 Gbps channel and divides it between two SATA drives to fully utilise the 12 Gbps bandwidth. This effectively reduces component counts as well as overall costs.
QNAP has also enabled SSD cache features and the TVS-EC1580MU-SAS-RP has mSATA ports embedded on its motherboard. Using dedicated SATA on the motherboard is a smart move as doing so not only frees up valuable disk drive space, but also makes a huge difference to performance. QNAP also included software that allows businesses to limit the caching to random file reads or all data read/write types. This is helped along with QNAP's Qtier capabilities, which can move frequently accessed files to faster flash drives, medium accessed data to slower SAS disks and rarely accessed info to low-cost SATA disks.
All part of a series
The new TVS-EC1580MU-SAS-RP is part of a new TVS-ECx80U-SAS R2 series release, which is equipped with a powerful Xeon® E3-1246 v3 3.5 GHz processor and 16GB DDR3 non-ECC or 8GB DDR3 ECC RAM. This NAS series offers not only four inbuilt Gigabit Ethernet ports but also two 10GbE SFP+ ports to fully support 10GbE high-speed networks, making them beneficial for IOPS-demanding applications such as virtualisation, databases, high-resolution video editing, fully support Qtier (Storage Auto-tiering), SSD caching, excellent cross-platform file sharing and iSCSI-SAN, as well as feature-rich business applications including Virtualisation Station for hosting VMs, Container Station for containerised virtualisation, and Qsirch, the near real-time NAS search engine. The new series can fully satisfy mission-critical storage needs, delivering persistent throughput to balance resource-demanding applications.
The TVS-ECx80U-SAS-RP-R2 Series come with 2 x built-in 10GbE SFP+ ports
TVS-EC1280U-SAS-RP- R2 : 12 x 3.5" drive, 2U rackmount unit
TVS-EC1680U-SAS-RP- R2 : 16 x 3.5" drive, 3U rackmount unit
TVS-EC2480U-SAS-RP- R2 : 24 x 3.5" drive, 4U rackmount unit
TVS-EC1580MU-SAS-RP-R2 : 9 x 3.5" drive - 6 x 2.5" drive, 2U rackmount unit
Verdict
The rampant growth of data is placing a lot of businesses under pressure to find more flexible and reliable storage solutions that can continue to perform. It's a tough situation facing many tech-challenged small to medium businesses. QNAP has strived to provide enterprises who are also under pressure to cut costs yet increase the reliability of their IT. The TVS-EC1580MU-SAS-RP provides no nonsense yet industrial strength means of doing this thanks to well implemented and genuinely useful features such as tiered storage allocation and excellent expandability.