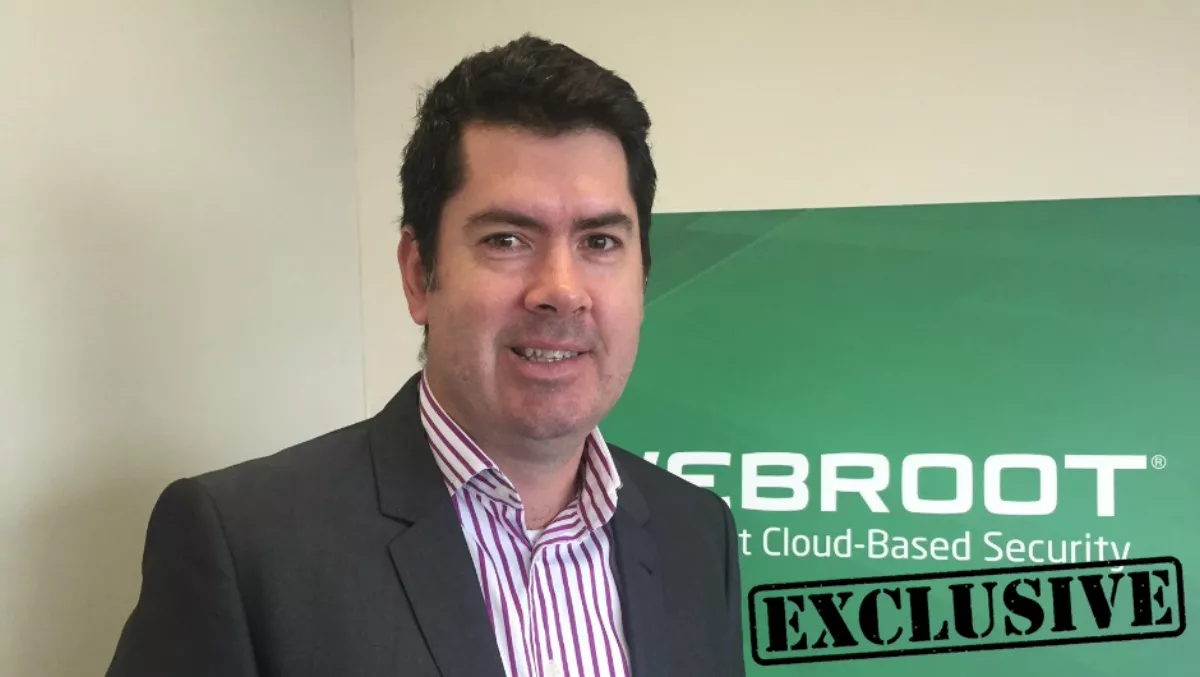 EXCLUSIVE: Behind the scenes with Webroot MD
FYI, this story is more than a year old
Robbie Upcroft is the Webroot managing director of Asia Pacific (APAC).
To get to where he is now has been a long and enlightening road that actually started in marketing - which he says helped him understand what it means for a customer to come on board.
Following his foray into marketing, Upcroft began his career in IT working for a small Sydney reseller back in 1995 before moving onto Tech Pacific: "If you can remember Tech Pacific than you're old enough," Upcroft says.
Tech Pacific was bought by Ingram Micro so Upcroft essentially moved from reseller to distributor, before transferring to Microsoft where he spent the better part of 11 years in a variety of SMB and channel-based roles.
"That's my DNA – more channel rather than enterprises or anything like that," Upcroft says.
Following management roles at both Mcafee and Arrow Distribution, one day, out of the blue, he got a tap on the shoulder about an opportunity that he wasn't exactly looking for, but found enticing.
"It was, I guess, to reboot Webroot in APAC," Upcroft says. "We had gone through an internal restructure which led to the departure of my predecessor, plus we were very much of the opinion that we could increase our sales by applying a greater focus on ANZ rather than trying to spread our wings too far across APAC."
In terms of what has helped him get to where he is today, Upcroft identified two factors. The first is empathy.
"I really – and without sounding facetious – feel that I have the ability to walk a mile in someone else's shoes," Upcroft says. "And the reason being is, I've been a reseller, I've been a distributor and I've been with vendors."
Particularly in the IT industry, having worked at all three parts of the stack, Upcroft finds that he can talk to resellers and distributors in their own language, as there are a lot of people who don't necessarily understand what it means to be a small business trying to survive while dealing with competing pressures.
Backed with that, is a natural curiosity.
"Having the wherewithal to ask people questions," Upcroft says. "One of the questions that I always like to ask resellers is, 'what's your exit strategy?' It's amazing how many resellers don't have one."
"For me having an eye on what it is they're actually trying to do, whether they're growing for sale, acquisition, to leave something for their kids or just basically to have a lifestyle business gives you a lot of understanding about what the reseller is trying to do," Upcroft says.
In terms of the future of the industry, Upcroft sees a bright future. However, it is very much a case of 'get on the train or be left behind', as the cloud has revolutionised the industry.
"Some of the resellers have been weeded out, I guess through natural growth or contraction as it will be in the market," Upcroft says. "But resellers who embraced the cloud have absolutely continued to grow, and the reason being is that it opens up so much opportunity for the customer."
Upcroft admits that it does mean that resellers need to change their focus, because, for example, they're no longer installing exchange servers on sites as it is all provided.
"When I look across the industry, I see a lot of opportunity for those resellers who are willing to embrace change," Upcroft says.
Upcroft affirms the same can be said for the security market.
"If you think where we were even just 3-4 years ago, we pretty much knew where the threats were coming from, as they'd essentially walk in the front door through a virus and you'd have a traditional signature-based protection and if you're on that signature, great, you're protected," Upcroft says. "Now though, the sheer volume and sophistication of the threats means that you need a different approach and this is where Webroot has really come to the fore."
Upcroft states it's an arms-race with the bad guys, trying to stay one step ahead of them means you will need to start taking a look at things differently.
"Our approach – which is very much based on behavioural analysis and heuristics – means that we're able to respond almost instantaneously to the previously-unknown threats," Upcroft says. "Those resellers that are willing to embrace change and look at some of the next generation technology, I think will be very successful."
Upcroft spends a lot of his time with his three year old son who has Cerebral Palsy.
"He's absolutely very mentally bright, but physically challenged so he's not walking and talking as other children that age would do," Upcroft says. "So I spend a lot of time working with him, which is good, but I've got no doubt that he will live a full and independent life - just for the time being he needs a lot of support."
Upcroft also likes to concentrate on his fitness, running in particular, as he has done marathons and half-marathons around the world.
"This fitness regime can be a challenge sometimes, especially when you have an Italian wife of 25 years who is a fantastic cook! Hence, my life is all about finding that balance," Upcroft concludes.
All the best with finding that balance between delicious Italian cuisine and painful running Robbie – I know what one I would go for.
Related stories
Top stories