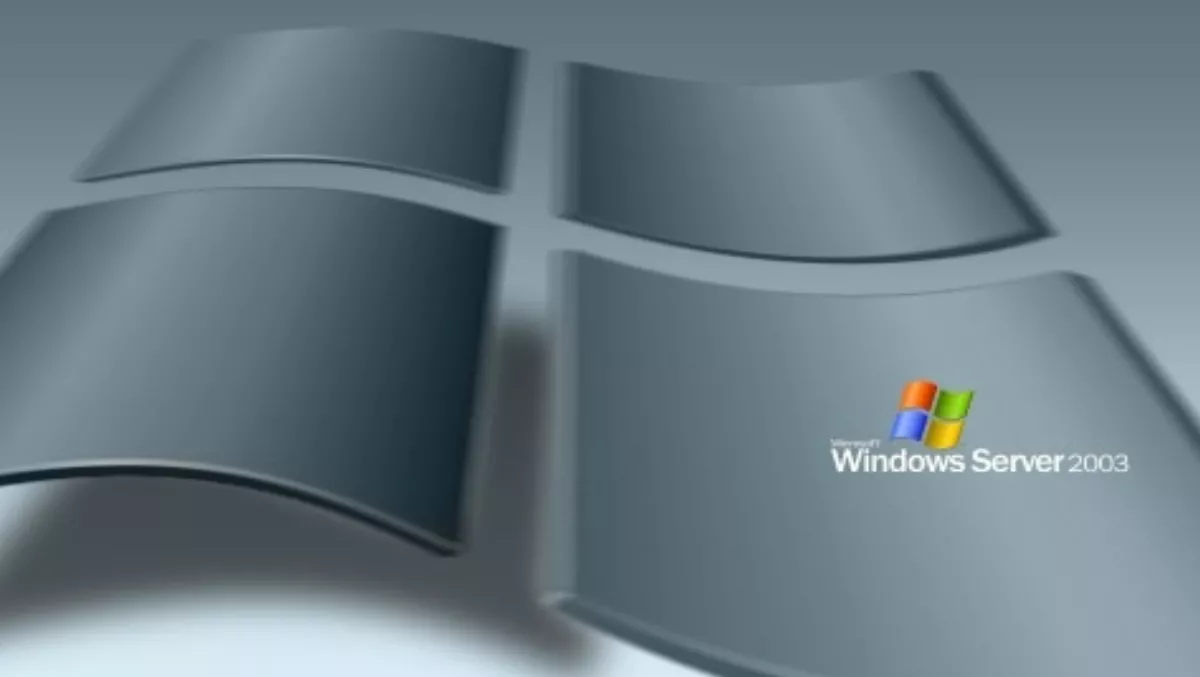 The countdown is on for Windows Server 2003 End of Support
FYI, this story is more than a year old
The countdown to the End of Support for Windows Server 2003 has begun in earnest, with 100 days to go.
Last year Microsoft announced the end date was July 14, 2015, and this is fast approaching.
From July 14 onwards Windows Server 2003 and Windows Server R2 won't receive any updates or security patches.
Microsoft is reaching out to customers and working with partners to educate users about the process of migration, says Frazer Scott Microsoft NZ marketing and operations director.
In addition, the company is illustrating the potential repercussions of not migrating, and the benefits of moving to a more modern platform.
Scott says companies looking to migrate can refer to Microsoft resources, including an end of support website and a Migration Planning Assistant, which helps organisations to analyse their Windows Server 2003 workloads and generates a summary report showing recommendations and Microsoft partner offerings.
According to Scott, many Microsoft NZ partners already have new services in place to help expedite the migration process and can also help companies with migration.
He says larger enterprise customers who may need more time to finish migration may also explore custom support agreements with Microsoft during their transition period.
According to Spiceworks, the global network for IT professionals, 61% of organisations that use Spiceworks' tools in New Zealand are still running at least one instance of Windows Server 2003 as of March 2015. This represents a 5% point drop in usage since June 2014.
Businesses using Windows Server 2003 will still be able to use the operating system, but servers and applications will be vulnerable to security threats and downtime, and they might not meet compliance requirements.
"It can typically take around 200 days to make a typical server migration, so with just 100 days left before the deadline, this is especially critical, given the fast-paced evolution of security threats.
"In fact, since January 2014, 47 new vulnerabilities were identified on Windows Server 2003 according to a report by Secunia, a global player in software vulnerability management."
On top of security concerns, costs for maintenance, intrusion detection systems, firewalls, and network segmentation will increase when Windows Server 2003 is no longer supported by Microsoft, the vendor says.
Simon Piff, IDC associate vice president enterprise infrastructure says, "CIOs may have misconceptions that migrations will be too costly an exercise for their organisations.
"However, delaying migration may incur greater costs in the long run, with downtime associated with security or compliance risks and more resources being used to support outdated servers or creating workaround solutions."
"Windows Server 2003 served its purpose well for its time, and may still be doing a serviceable job.
"But its limitations in today's cloud-first, mobile-first world mean that it increasingly doesn't meet the needs of businesses that operate in an environment that requires constant innovation," says Mike Heald, Microsoft Australia cloud and enterprise.
Heald says when upgrading businesses need to decide on whether to upgrade to a new server, go to the cloud, or choose a hybrid approach.
"For businesses that wish to use local servers and that have dedicated IT staff or a trusted technology partner, Windows Server 2012 or a hosted solution from one of our partners are likely to be great choices, as they provide easily managed modern infrastructure that helps businesses run more efficiently.
"Alternatively, for businesses ready to take advantage of the flexibility and scalability of the Microsoft cloud, then the Microsoft Azure and Office 365 are the way to go," Heald says.
Intel and Microsoft have commissioned an IDC whitepaper on the benefits of moving to a modern platform.
According to the paper, benefits for 88 organisations across Asia Pacific come from three primary areas: increased virtualisation, greater automation, and reduced hours of work required. Each of these benefits leads to time and cost savings.
The whitepaper quantified the number of work hours saved with the update. Smaller organisations saved 20 work hours per month and larger organisations saved 30 hours per month, according to IDC.
Furthermore, when businesses adopted Windows server 2012, it resulted in virtual server densities being increased 12.5% for larger firms and 16.7% for smaller organisations.
IDC says, 15.6% of small organisations gained automation by making the change from Windows Server 2003 to Windows Server 2012.
Following the move, more than a third (37.5%) of small organisations were able to automate the average of 10 tasks, and 33.9% of large organisations used PowerShell to automate an average of 19 tasks.
Automation is driven by Windows PowerShell, which is available on Windows 2012. This is a critical feature for IT to minimise time and errors associated with repetitive tasks.
"With increased security, the incredible agility which comes with moving to Windows Server 2012 or Microsoft Azure or Office 365, (which are both now offered out of Australian data centers) the justification for moving from Windows Server 2003 is clear.
"It's more a question of when to move, rather than why. But there's only 100 days to go," Heald says.
Related stories
Top stories