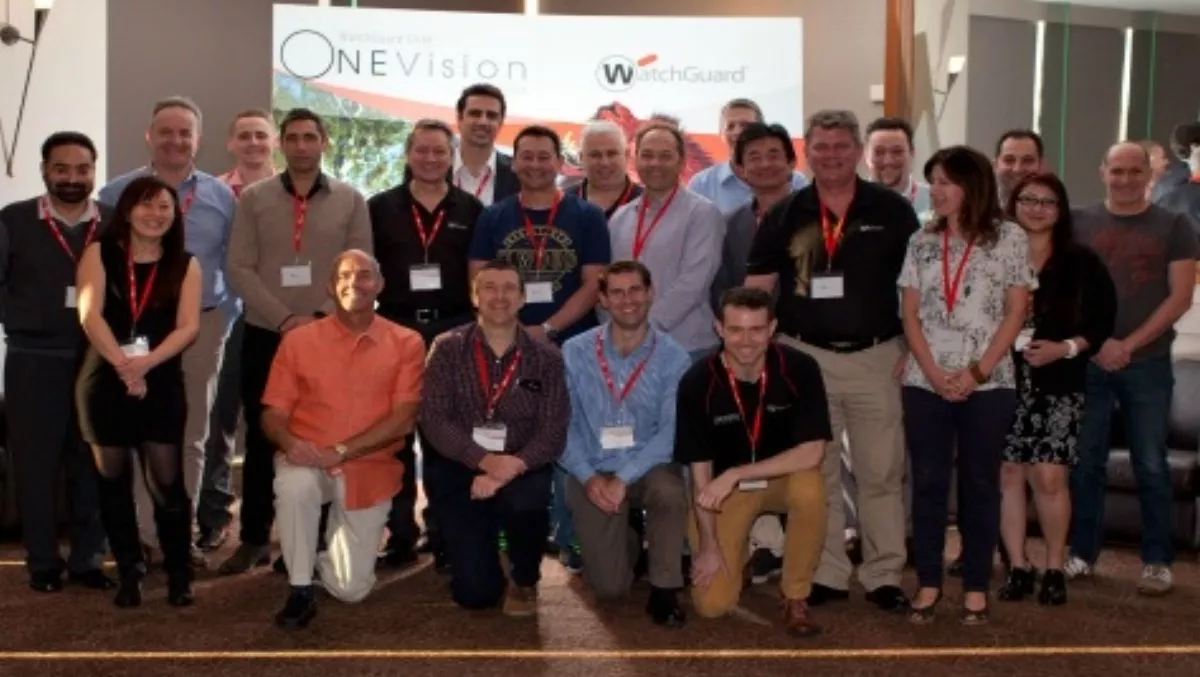 Who are WatchGuard's top ANZ resellers?
FYI, this story is more than a year old
WatchGuard Technologies has honoured its best performing business partners at its Elite – ONE Vision Conference held on the Gold Coast this week.
The company is celebrating a year of fast growth and partner momentum across both Australia and New Zealand, and is recognising top revenue achievements by channel partners and resellers for sales of WatchGuard products and services for the 2014 calendar year.
David Higgins, regional director, Australia and New Zealand, WatchGuard Technologies, says, "It gives us great pleasure to recognise and reward the commitment and support of our partners and resellers who played a major role in the company's sales growth and performance across the region in 2014."
Co-sponsored by Dicker Data, The WatchGuard Elite – ONE Vision Conference was held over two says and saw presentations from WatchGuard's regional director for ANZ, David Higgins, chairman of Crime Stoppers NSW, Rob Forsyth, WatchGuard's senior systems engineer for APAC, Rob Collins, managing director of Territory Technology Solutions, Michael Feldbauer and WatchGuard's VP of worldwide sales, Alex Thurber.
"This conference was designed to reward our partners as they are the core driver of our business," Higgins explains. "We also took the opportunity to deliver valuable WatchGuard-based content as well as discuss industry trends and issues that are affecting Australia and New Zealand.
"Given the latest developments in our product line and recent transformations to the company we're expecting big things from the market. 2015 has already been a very strong year for WatchGuard," he says.
The conference theme of ONE Vision stemmed from the provision of best-in-class network security solutions with visibility of network traffic and activity playing a strong part in delivering powerful and effective solutions to WatchGuard customers, the company says in a statement.
Content highlights at the conference covered the importance of partners delivering optimal configurations as well as ongoing management of WatchGuard devices resulting in higher levels of customer satisfaction and maintaining long-term business relationships.
The ONE Vision theme also highlighted the need for resellers to earn the relationship of trusted advisor status with their customers, providing businesses and individuals across ANZ with a more secure environment.
WatchGuard 2014 Elite winners:
AUSTRALIA
Top Expert Partners Northern Region – Territory Technology Solutions Southern Region – Viatek Group
Expert Partner in 2nd Place Northern Region – Systemnet Southern Region – Solutions Plus
Expert Partner in 3rd Place Southern Region - Elmtree
Top Professional Partners Northern Region – Content Security Southern Region – Silverfern
Professional Partners in 2nd Place Northern Region – Q-Computer Southern Region –Think Solutions
Top Associate Partner Astron Technology
Top XCS Partner Territory Technology Solutions
NEW ZEALAND
Top Expert Partners Telco Technology Services
Related stories
Top stories