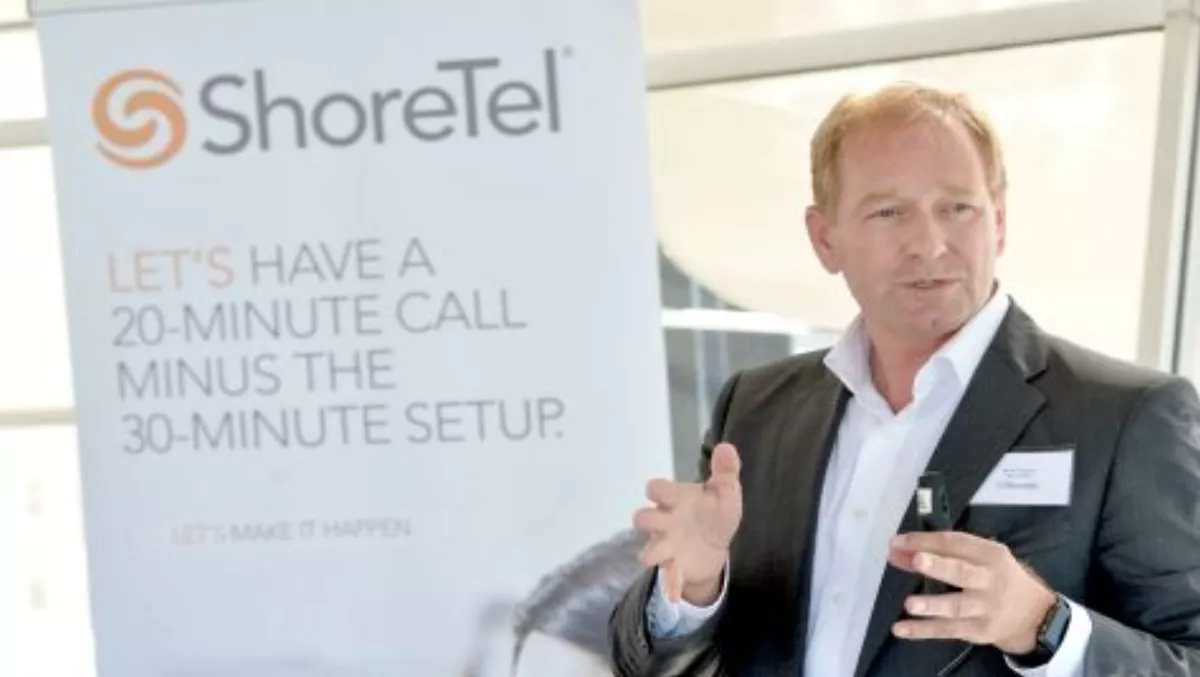 ShoreTel boosts product range on back of double-digit growth
FYI, this story is more than a year old
At the end of the last financial year, unified comms specialists ShoreTel experienced double-digit growth and they're expecting the same by the time the 2016 fiscal year ends for them. That's allowed them to expand their local implementation team and add new personnel into their channel management team including, for the first time, staff in New Zealand.
ShoreTel's go to market strategy is 100% channel with no direct sales and they are planning a push into local government and not for profit markets, recently signing The Salvation Army as a new client.
As with many technology sectors US has seen a shift from traditional on-premises installation to customer demand for "as a service" offerings. In response ShoreTel is now offering their won 100% owned and operated services from their own data centers allowing clients to choose between on-premises, hybrid or cloud solutions. This transition offers new opportunities in the market for customers and channel partners.
The cloud service isn't available in the ANZ region yet but is expected later this year according to local managing director Jamie Romanin and Mark Roberts, the company's chief marketing officer.
As well as this new UCaaS offering, Shoretel revealed the release of a new version of their UC software platform, Dubbed Connect, this new platform offers complete feature parity across all platforms and deployment models. For example, a company can have a mix of Windows and Mac computers with users able to switch between operating systems without their experience of the UC client software changing. Other than the operating system-dictated window controls, we were hard pressed to find any differences between the OS X and Windows 8 clients we saw demonstrated.
Roberts noted ShoreTel had undergone significant change, not just with their software but within the organisation, in order to realign the business so that the customer experience was simplified.
Licensing of the new Connect platform starts at $215 per CAL (client access license) for the entry level "Essentials" package with the Standard package, which adds CRM integration as well as other features costing $325 per CAL and the Operator license tipping the scales at $540 per user.
Interestingly, while many UC firms see the sale of handsets as a significant revenue stream, ShoreTel is increasingly finding customers deploying the platform handset-free, preferring to either use a desktop or smartphone softphone.
Roberts told us about an Adelaide-based construction form who had deployed ShoreTel's platform without the purchase of a single handset.
There's also a free client, called Exo, for external parties joining into ShoreTel-based phone conferences.
These changes with both the company and their product range offer significant opportunities in the channel. With the rising popularity of cloud communications services savvy channel partners will be able to help existing clients transition either to hybrid or fully cloud-based operations.
New clients, who have steered clear of unified communications systems because of perceptions of complexity will find a new entry point that will allow them to transition to UCaaS without the need for capital investment.
Related stories
Top stories