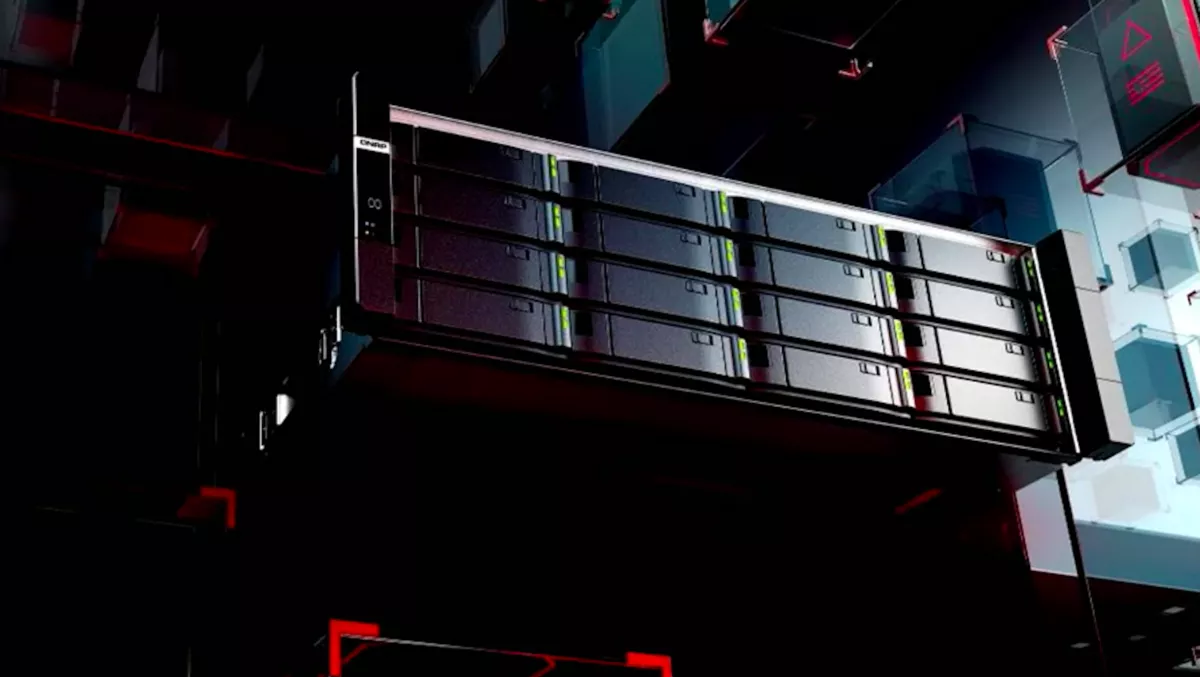 QNAP releases dual-controller enterprise ZFS NAS
FYI, this story is more than a year old
QNAP Systems has launched the ES1686dc – an Enterprise ZFS NAS that features dual active controllers with Intel Xeon D processors for High Availability (HA).
It supports SAS 12Gb/s, and each controller has four 10GbE SFP+ LAN ports, eight RDIMM slots for up to 512 GB memory, two M.2 SSD slots for configuring SSD caching, and scalable design for up to 1 PB storage capacity.
The ES1686dc is powered by the latest QES 2.1.0 operating system that adopts ZFS and provides reliable data protection, recovery, and business-class features to assist businesses in accelerating mission-critical services and tackling the challenges of VDI applications.
"The ES1686dc demonstrates excellent performance and an uninterrupted high-availability storage solution," says QNAP product manager David Tsao.
"Whether being used as a mission-critical file server, virtualisation server, VDI, medium-sized data center, video streaming, surveillance storage, and efficient file backup - recovery, the ES1686dc can achieve service-level agreements for performance and uptime.
Featuring a dual active-active controller architecture, the ES1686dc ensures near-zero downtime high availability.
Battery-protected DRAM write to cache data protection and Flash read acceleration reduces the risk of losing write cache data, and industry-leading random access performance accelerates operations in virtual machines environments.
Two PCIe slots support 10GbE/ 40GbE network cards to boost virtualisation, media streaming, and other bandwidth-demanding applications.
Leveraging the QDA-SA 6Gbps SAS to SATA drive adapter, the ES1686dc allows the use of a SATA 6Gb/s drive in a 3.5-inch SAS drive bay, enabling SATA SSDs to share the SAS dual-port advantages for fault-tolerant enterprise storage environment and assisting organisations to establish a high-performance yet cost-effective all-flash storage system.
The ES1686dc Enterprise ZFS NAS features the QES 2.1.0 operating system that is optimised for all-flash storage arrays.
It performs efficient data reduction with inline data deduplication and inline data compression, and comes with business features including self-healing for silent data corruption, near-unlimited snapshots for iSCSI LUN and shared folders, SnapSync to accelerate remote backups, and Quality of Service to ensure consistent primary storage performance.
The ES1686dc supports VMware, Microsoft and Citrix virtualisation, and SnapSync supports VMware Site Recovery Manager (SRM) to offer enterprise-class remote backup and disaster recovery solution for virtual applications.
The upgraded QES 2.1.0 adds supports for iSER to optimise VMware performance, and for OpenStack Cinder and Manila file-sharing services, providing businesses with a flexible, easy-to-use, and low-cost storage solution for OpenStack environments.
Key specifications:
ES1686dc-2145NT-128G: Intel Xeon D-2145NT 8-core/16-threads 1.9 GHz processor (burst up to 3.0 GHz), 128 GB DDR4 ECC memory (64 GB per controller)

ES1686dc-2145NT-96G: Intel Xeon D-2145NT 8-core/16-threads 1.9 GHz processor (burst up to 3.0 GHz), 96 GB DDR4 ECC memory (48 GB per controller)

ES1686dc-2123IT-64G: Intel Xeon D-2123IT 4-core/8-threads 2.2 GHz processor (burst up to 3.0 GHz), 64 GB DDR4 ECC memory (32 GB per controller)
Active-Active dual-controller system, 3U rackmount NAS; 16x 3.5-inch/2.5-inch SAS 12Gbps/6Gbps hard drives or 2.5-inch SSDs; M.2 SSD dedicated to NVRAM; 2x PCIe Gen3 x8 slots; 4x 10GbE SFP+ ports; 3x Gigabit ports; 2x USB 3.0 ports; 770W redundant power supplies.