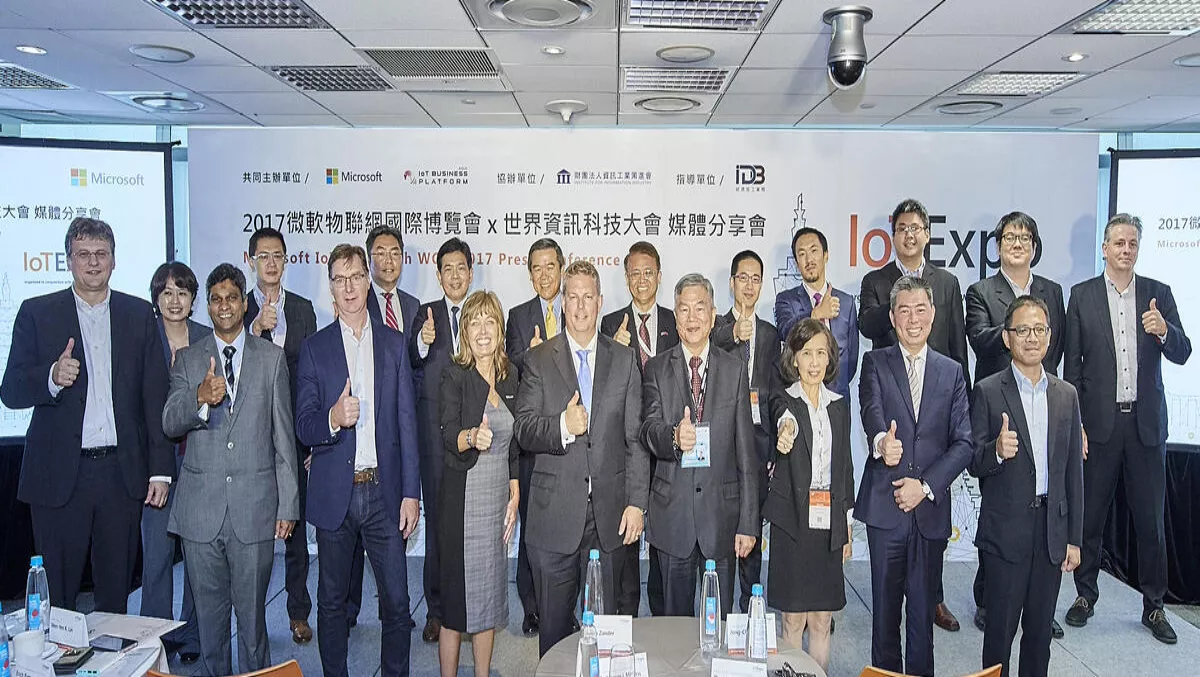 Microsoft Asia refreshes commitment to industrial IoT
FYI, this story is more than a year old
Microsoft and its Asian Partner Alliance have pledged their commitment to the booming industrial IoT market at this week's second Microsoft IoT Expo, held in the Taipei International Convention Center in Taiwan. The event has brought together more than 1000 companies from 32 countries to showcase the latest in IoT.
Microsoft launched its IoT Innovation Center in October 2016 and since then, it has helped partners and customers connect with IoT partners for connected business solutions.
According to Davis Tsai, vice president of Microsoft Greater China Region, the IoT market is booming.
"Microsoft is committed to supporting in-depth IoT ecosystem development in Taiwan and facilitating growth. The IoT Expo 2017 not only showcases cutting-edge products and solutions focused on the needs of smart cities, retail, manufacturing, and everyday life but also provides opportunities for enterprise to engage international solution providers to accelerate their digital transformation using the IoT," Tsai says.
Taiwan has been heavily investing in Industry 4.0, which includes initiatives to transform hardware with cloud connectivity and AI capability.
"We're pleased to partner with Microsoft to setup the IoT Innovation Center in Taiwan as Asia hub to foster close collaboration with local and global partners by speeding up IoT solutions and deployment across different industries," comments Minister of Ministry of Economic Affairs, Jong-chin Shen.
Microsoft will also be working with partners to take advantage of new businesses solutions through IoT.
"Microsoft has deployed Azure IoT across Asia," comments Microsoft Corporate vice president Jason Zander.
"Our comprehensive IoT platform and global partner ecosystem help our customers create an actionable plan to develop, test, and deploy IoT solutions quickly. We are deepening investment in Industrial IoT and extending support to Asian customers and partners through the IoT Innovation Center in Taiwan to accelerate digital transformation in a key global market. With today's announcements, we are enabling more technical readiness for our partners and expanding security and scalability services to support new customers."
Microsoft is also looking to testing and solution development labs for industrial IoT. Since the IoT Innovation Center was launched, more than 70% of total certified devices for Azure IoT were contributed by Asian partners across a range of verticals.
"As a major player in smart city solutions in Asia, we at Surbana Jurong (SJ) are continuously searching for new technologies, especially in the IoT domain, that can be integrated into our Smart City in a Box Platform. We look forward to working with the other partners in the Microsoft IoT Innovation Center Federated Lab Program to develop new, value-added solutions for our customers worldwide," "comments Joe Poon, Group Chief Technology Officer - Managing Director (Smart City Solutions) at Surbana Jurong.
The IoT expo concludes today at the Taipei International Convention Center.