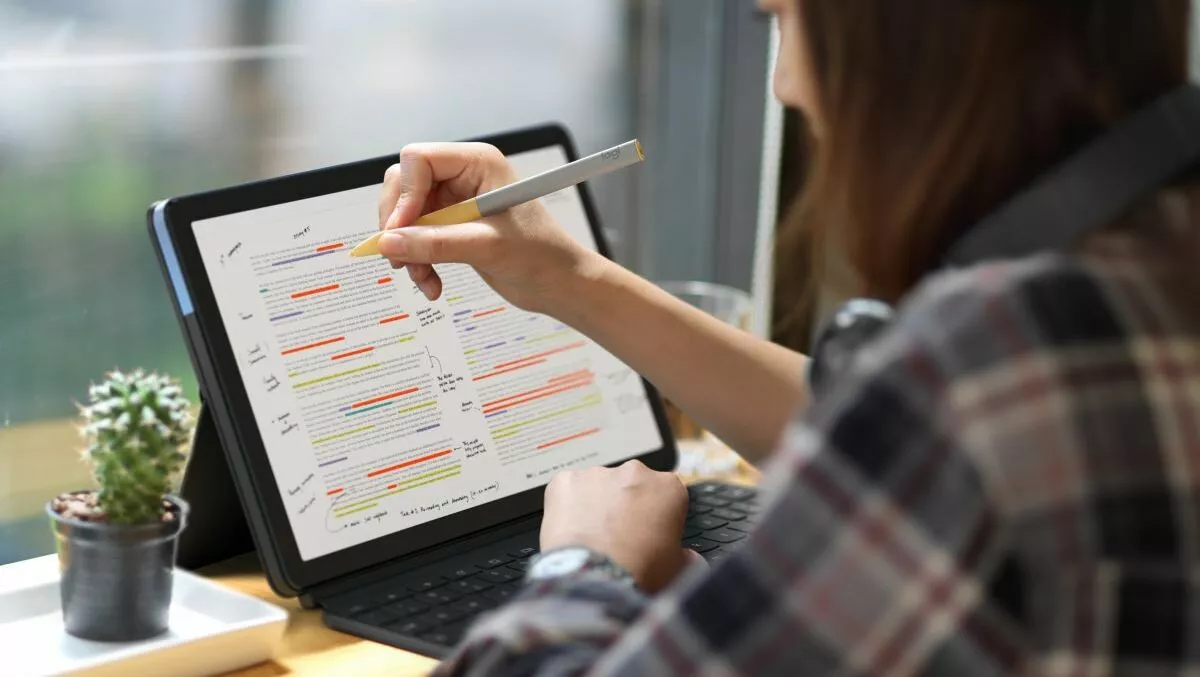 Logitech develops Chromebook-certified stylus pen for educators
FYI, this story is more than a year old
Logitech has introduced a new stylus for educators and students ahead of the new school year. The Logitech Pen is designed for touchscreen Chromebooks that support the Universal Stylus Initiative (USI) standards.
According to Logitech, the stylus has been created for children and teachers alike, featuring a silicone grip and non-slip design to cater for children learning to write and those who have mastered the art. The pen's active tip also features 4,096 levels of pressure sensitivity - Logitech says this enables users to create clearer lines than they would if they used their finger or a stylus with a rubber tip.
"When it comes to students retaining what they learn, research shows the act of physically annotating during lessons makes a significant difference," explains Logitech's vice president of mobility and head of education solutions, Michele Hermann.
The Logitech Pen is 'Works with Chromebook' certified.
"Given that students and educators are increasingly using Chromebooks as an everyday tool in schools and at home, we created the Logitech Pen to unlock the full potential of Chromebooks in the virtual and physical classroom," continues Hermann.
"The Logitech Pen has been designed in collaboration with students and educators and is notably transforming how students utilise their Chromebooks. It enhances these devices to become more essential tools in active learning through annotation, sketching, and note taking, which are proven to increase comprehension and retention.
The Logitech Pen will be available from Australian resellers from March 2022. The Recommended retail price is AU$119.95.
This month, Logitech has also launched a new streaming light for the gaming market - in particular, streamers and content creators.
The Litra Glow is a light with 'TrueSoft' technology that softens lighting tones to minimise harsh shadows and eye fatigue. The plug-and-play light is advertised as being easy to use with brightness and colour temperature settings accessible from controls on the back of the light, as well as Logitech's own G HUB software.
"On G HUB, streamers can also create their own light presets for different streaming spaces and scenes and assign those presets to G Keys on a Logitech G keyboard or mouse to change up their look mid-stream. With G HUB, creators can control all their streaming gear, including Litra Glow, Blue Yeti mics and StreamCam on one desktop app," Logitech states.
Litra Glow also includes a monitor mount with adjustable height, tilt and rotation, allowing creators to find their ideal light placement on a desktop monitor.
JB Hi-Fi has been selected as the retailer for the Ligra Glow product. It will be available from 14 February for a suggested retail price of AU$89.95.