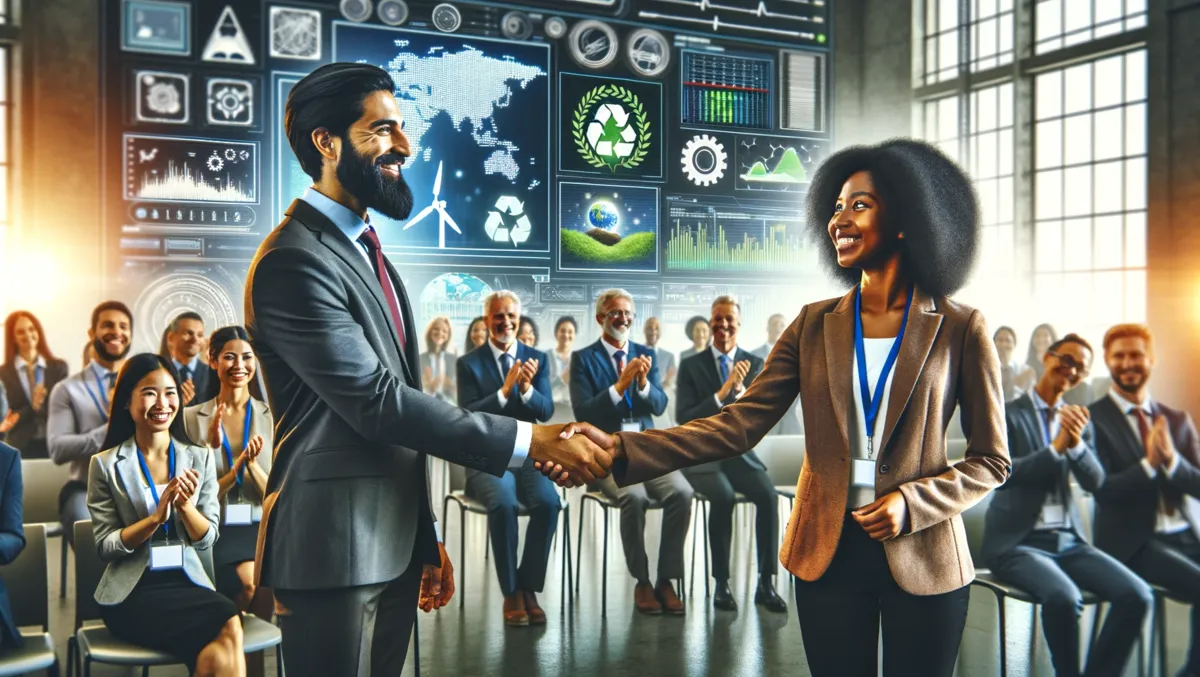 Logicalis named Sustainability Partner of the Year at Cisco Summit 2023
Thu, 9th Nov 2023
By Sean Mitchell, Publisher
Logicalis, a global technology services provider, has been named Sustainability Partner of the Year at Cisco's Partner Summit 2023. The award honours Logicalis' exceptional sustainability performance and commitment to helping customers decrease the environmental impact of their IT infrastructure around the world.
This recognition was announced at the Global Partner Summit event in Miami. It appreciates the work Logicalis has done, in collaboration with Cisco, to support customers' sustainability ambitions through Cisco-powered services. Some of the transforms initiated include responsible recycling and repurposing of end-of-use equipment by leading customers including GJames in Australia, smart building solutions that optimise energy and resource efficiency for customers such as UKRI in the UK, and Logicalis' suite of digital managed services with the Cisco-powered Intelligent Connectivity solution.
Apart from the sustainability accolade, Logicalis won the Cisco Global Enterprise Networking and Meraki Partner of the Year for the second consecutive time. This honour sights Logicalis' continuous innovation, customer engagement, and the increased value its services provide for its clientele and broader community.
Robert Bailkoski, Global CEO at Logicalis, said: "Over the past 12 months, our goal was to create meaningful change for our industry as we focused on driving sustainable outcomes for customers through our managed connectivity services. It's a privilege for those efforts to be recognised with the awards of Global Partner of the Year for Sustainability and Global Enterprise Networking and Meraki Partner of the Year for the second consecutive year. These accolades reaffirm our commitment to facilitating sustainable business outcomes for our customers moving forward."
EVP and Chief Customer and Partner Officer at Cisco, Jeff Sharritts, highlighted the theme of Partner Summit 2023 as 'Greater Together' and commended Logicalis for epitomising this ethos. He added, "You have demonstrated your ability to deliver outstanding results, respond to customers' challenges, and lead in a dynamic competitive landscape."
Logicalis holds the Cisco Environmental Sustainability Specialisation in 15 territories around the globe. "​​Logicalis is defining the future of sustainable digital managed services and empowering customers to reduce their carbon emissions. Partners like Logicalis are critical to building a more sustainable future and we look forward to continuing to grow our strong partnership," said Nick Holden, Vice President of Global and Strategic Partners & Co-Sell, Cisco.
The Cisco Partner Awards emphasise business success, innovation, and top-tier sales and service. The winning partners are those who've introduced innovative processes, grasped new opportunities, and implemented sales strategies that bring about significant business benefits for their customers.