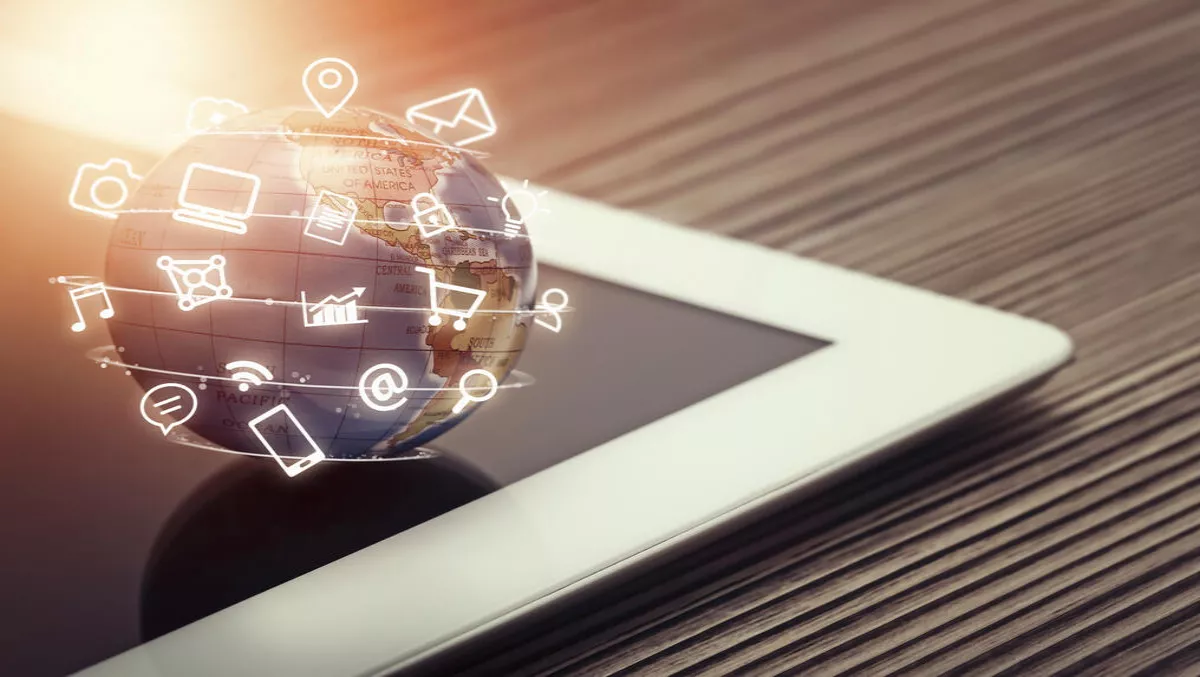 How Cloud DC's app virtualisation strategy caught the attention of global vendors
FYI, this story is more than a year old
Cloud DC is a company that tosses aside the idea that virtualisation has to somehow involve the entire desktop. Instead, the company takes one idea and runs with it.
That idea is virtualising the applications, and putting the focus where it really counts. The company is the first born-in-cloud provider to have a Citrix distribution agreement.
Steve Robinson, Cloud DC CEO Steve Robinson at the Citrix Summit in Anaheim, where he explained that specialisation in application virtualisation is where his company excels.
Robinson founded the company five years ago and brings expertise from a data center and telco background. Now he works primarily with virtualisation.
"We work in the world of VDI and Desktop-as-a-Service. There has to be a better way to do all this, and how do you leverage cloud? How do you take it off the on-premise and how do you leverage the huge economies of scale that public cloud can give but provide enterprise-grade solution that people want to buy?" Robinson says.
When thinking about this idea, it formed the most important question – whether to follow these trends or focus on the core problems.
"Why go and virtualise the entire desktop? Why aren't we looking at just the application?
After talking with customers, line owners, business managers and others, he found that all they really care about is delivering the application.
"The end user, the employees, accessing the application that's mission-critical in their business to do what they need to do in their role. That's it. So why are we virtualising everything else?
This formed Cloud DC's core strategy, and Robinson says the company wanted to stand on the shoulders of giants. Those giants are Citrix and AWS.
"AWS is still far and away leading the public cloud infrastructure space, although Azure is doing their best to catch up but they still fall down in some areas.
Three years ago the company built the first ever full Citrix reference architecture stack on public cloud for AWS.
He says Citrix was impressed by what Cloud DC was doing that they took notice.
We can upscale for tens of thousands of users in minutes and it's all fully automated in the back end," he says.
"Partners can come on and deliver new workspaces to their customers without even having to contact us.
At last year's summit Robinson was on stage with John Carey, the senior director of marketing for the worldwide channel, where it was announced that Cloud DC delivered the first fully-federated platform in the market today built solely for channel.
"Off the back of that, in the middle of last year we signed a global distribution agreement with Citrix. So we are now the first born-in-the-cloud provider to have a Citrix distribution agreement.
As Robinson demonstrates application virtualisation on his phone through the likes of Microsoft Office, AutoCAD and Photoshop, it raises an important question. With CPU-heavy applications, how do smaller devices cope with the demands?
Robinson says this is where Cloud DC differentiates its offerings. It is not only to run two different versions of an application (Excel 2013 and Excel 2016 for example), but it can also detect CPU-intensive applications.
One of the reasons we build on AWS and why Azure isn't quite there yet, some of these applications are CPU intensive.
Cloud DC uses automated recognition of CPU-intensive applications and transferring those applications to different server transferring to make sure the experience flows to give the look and feel of a desktop without being tied to the constraints of a desktop.
He says this tactic is not only good for mobility, but also professional services firms.
"If you're an accounting firm and a customer walks in with 5 years' worth of tax returns on a thumb year, each saved in a different version of Quickbooks, how do you open all of the different versions on the same desktop? You can't, let alone work between them all. Whereas with this workspace you can, because you can host different versions of the same software.
Robinson says this is something that Azure doesn't quite have yet, but they may build out on Azure in future.
Robinson says that Cloud DC is keen to get a presence in the United States, after developing a solid presence in Australia. A year ago the company established a base in Austin, Texas and have already signed a few partners up to start reselling the Cloud DC platform in the US.
"They're building a pipeline of customers and we anticipate our first end customer coming on any day or any week now.
"We don't operate in Asia yet, but because we've built on AWS we can be in any particular region in a matter of weeks. If we have the right commercial opportunity in Asia, we could go and build out the platform that we've got running in Oregon, North Virginia and Sydney to build out in Singapore," he concludes.