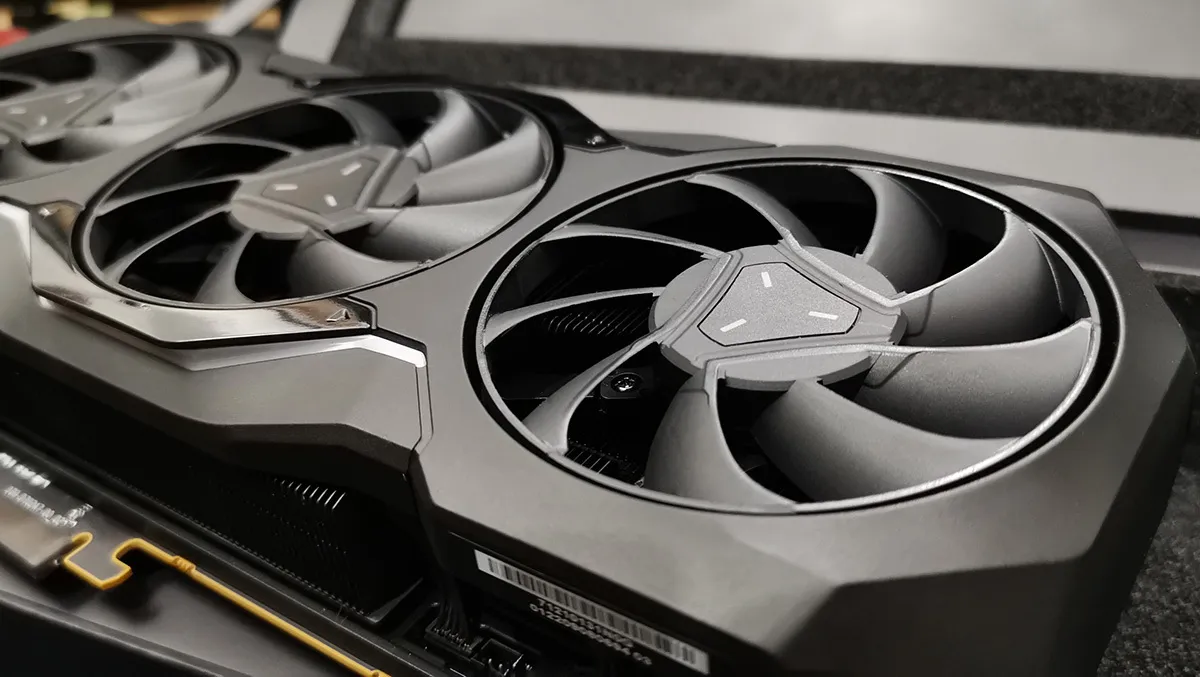 Hands-on review: AMD Radeon RX 7900 XTX
AMD enters the arena once more with the Radeon RX 7900 XTX, a new contender in the continuing battle for gaming GPU supremacy.
The new graphics card features AMD's RDNA 3 architecture and DisplayPort 2.1 support for 4K @480Hz/8K @165Hz displays. The AMD card is aimed at the same market as Nvidia's consumer-level RTX 4080 in terms of performance, retailing for around the same price.
The Radeon RX 7900 XTX reference card AMD sent for testing was 300mm long and 50mm thick. It's a big card that'll need plenty of space in your case, but these sorts of dimensions are now pretty standard for these high-end GPUs.
It's quite a heavy unit as well. Decent modern motherboards come with at least the top PCIe slot reinforced with a metal surround to accommodate these larger cards. Fitting the AMD card into the motherboard and screwing it into the case, I was confident that it wasn't putting any undue strain on the board's PCIe slot.
Two bays at the back of the case are required to accommodate the huge GPU. Once secured, it is thick enough to obscure half the slot below it, as well. If your motherboard has one, you can still use the PCIe slot two bays down without issue.
Three 80mm fans cool the GPU and, apart from a white bar on each side of the centre fan, there's no garish RGB lighting. The card is powered via two standard 8-pin PCI-E connectors, so no fiddling about with weird proprietary cabling, unlike with Nvidia's new GPUs.
AMD has given the Radeon RX 7900 XTX 24GB of GDDR6 memory. This is the same as my RTX 3090, but more than the RTX 4080's 16GB. Try as I might, I've not managed to use anywhere near 24GB with my RTX 3090, and I think that will be the same for RX 7900 XTX owners.
The back of the card has two DisplayPort 2.1 outputs, along with an HMDI 2.1 output and a USB-C socket. This is worth noting if you have a three-monitor DisplayPort set-up.
Rather than just bench-testing the new Radeon GPU, I opted to remove my trusting Nvidia RTX 3090 and run the AMD card in my main PC for a few weeks and give it a real-world test. This meant I got a feel of the card running not just the usual benchmarks but also productivity applications, some VR, and a few games that came in for review.
For the formal tests, I used Unengine's Superposition benchmark as well as the 3D Mark suite of benchmark tests. 3D Mark has recently been updated with a new benchmark, Speedway, to really stress a GPU's Direct X 12 Ultimate performance. As well as Speedway, I also ran the 3D Mark Time Spy Extreme 4K DX12 test and Port Royal to check the AMD card's Ray Tracing abilities.
The 3D Mark Speedway benchmark had the Radeon RX 7900 XTX scoring 5797. This, against my Nvidia RTX 3090's score of 5059, was just a small 7 frames per second increase. I was expecting better, to be honest.
Onto the next test, the DX12 4K Timespy Extreme benchmark. This had the RX 7900 XTX scoring an impressive 14149 compared to my RTX 3090 result of 9834. This is probably the best synthetic indicator of the likely in-game performance difference between the two cards.
I was keen to see how AMD is progressing with the implementation of ray tracing using the 3D Mark Port Royal benchmark test. The impressive score surprised me to the point that I needed to test the card in a real-world game scenario to double-check the ray-tracing performance. The Radeon RX 7900 XTX scored 15570, beating my RTX 3090's score of 12335.
The last test was Unengine's Superposition benchmark running with the 4K optimised setting. The Radeon RX 7900 XTX scored 21192, beating the RTX 3090 result of 15761.
Whilst the Direct 12 Ultimate test result wasn't that impressive, the other synthetic benchmark results were. The RX 7900 XTX performed head-and-shoulders above my (formally state-of-the-art) Nvidia RTX 3090.
With the card being in my main machine, I was able to test it with games and applications that I am very familiar with, as well as some recent releases. I've been playing the new Dead Space, Returnal, and Deliver Us Mars, as well as using Photoshop, Word, and Excel, all with no trouble. I also chose a few specific games to push the GPU.
Red Dead Redemption 2, even with the settings turned almost to the max, managed a very playable average of around 100 frames-per-second at 4K using AMD's FidelityFX Super Resolution (FSR) set to balanced. FSR, similar to Nvidia's DLSS, allows the game to be rendered at a lower resolution which is then dynamically upscaled, delivering an almost identical quality image as rendering at the native resolution but with a huge performance gain.
Spider-Man: Miles Morales verified the card's performance in the Port Royal benchmark. It would seem that Nvidia has well and truly lost the advantage when it comes to ray tracing. With ray-traced reflections and shadows switched on, not only was the image quality a lot more realistic, the frame rate was the fastest I've ever played the game with. Again, AMD's FSR helped boost the performance of the fantastic-looking game.
For the ultimate test, I tried Cyberpunk 2077. This is a game that can easily bring a PC to its knees. Running the game in 4K at Ultra settings, with the ray-tracing set to Psycho (basically everything maxed out), and with no help from FSR 2.1, I achieved 18 frames per second. With FSR set to Auto (which I think is the same as the manual "performance" setting) upped the performance to a very playable 52.46 FPS.
Realistically, without sacrificing too much fidelity, by dropping a few settings (distant reflections, etc.), I could achieve a very reasonable 60 FPS in CyberPunk 2077. This is still with the game looking exceptionally good. Increasing the FSR 2.1 to "Ultra Performance", I could get 80-90 FPS, but it was a bit too muddy for me (but, honestly, it still looked great).
I also tested the RX 7900 XTX with a Vive Pro 2 VR headset running at a resolution of 4896 x 2448 set at 120Hz. All my go-to VR software worked impeccably well with no frame drops or jitters. The recently updated underwater experience, theBlu, felt like I was standing on the ocean floor with fish swimming all around me.
I was also keen to see how the Radeon RX 7900 XTX coped with Microsoft Flight Simulator's VR mode. Giving me the real sensation of actually sitting in the cockpit, I was able to fly a helicopter around New York without a hitch, NYC being one of the most processor-intensive areas in the game. Similarly, flying a F/A 18 over North Wales, racing through the infamous Mach Loop faster than the speed of sound, the game was breathtakingly responsive. Even cranking the visual settings up to nigh-on max, with FSR 2.0 set to balanced, my VR flight from London City to Heathrow was fantastic.
The Radeon RX 7900 XTX is a generation leap from the 6000-series GPUs. It's a top-end gaming graphics card that's more than capable of getting the most out of the latest games and top-end VR. The implementation of FSR 2.1 and the card's ray-tracing abilities allows games to look their best whilst retaining a superb frame rate, even when running at 4K resolution. With FSR 3 technology coming out later this year, which AMD suggests will achieve twice the frame rate of FSR 2, we can expect even better performance from AMD's flagship GPU.