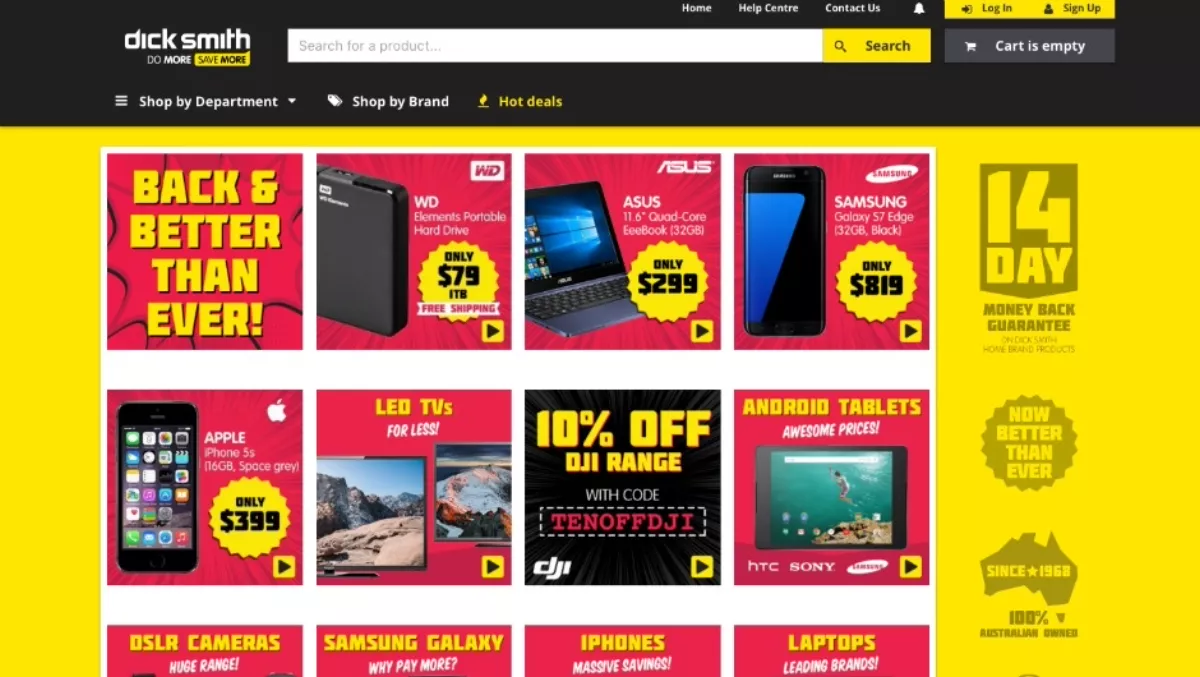 Dick Smith back online as Kogan relaunches brand
By Heather Wright,
Wed 4 May 2016
FYI, this story is more than a year old
The new online Dick Smith brand, run by Kogan.com, has launched – a month ahead of schedule and just a day after the final bricks and mortar Dick Smith stores across Australia and New Zealand closed for the final time.
Kogan.com acquired Dick Smith's online business, including goodwill and brand, for an undisclosed sum in March.
David Shafer, Kogan.com and Dick Smith executive director, says in less than two months the company has built a fully responsive online platform for Dick Smith, allowing customers to shop on any connected device.
More than 5500 products are being offered online, including the latest smartphones from brands such as Samsung, Apple and Kogan's own offerings. Android and iOS tablets are also being offered along with cameras, home appliances and other products.
The platform leverages the existing operations and logistics infrastructure of the Kogan.com businesses.
"The new and improved dicksmith.com.au [and dicksmith.co.nz] is open for business, and it's better than ever," Shafer says.
"The efficiency with which we have been able to relaunch Dick Smith is the same efficiency that will see us delive product and price leadership into the future," he says.
Shafer says while Dick Smith's recent history has been 'disappointing' for many customers, the brand remains iconic.
"We will work hard to restore the faith [Australians and Kiwis] have put in the Dick Smith brand for almost 50 years," he says.
"Our digital efficiency will help to make the latest products more affordable at Dick Smith and rebuild the legacy of the brand as a leading destination for the latest technology."