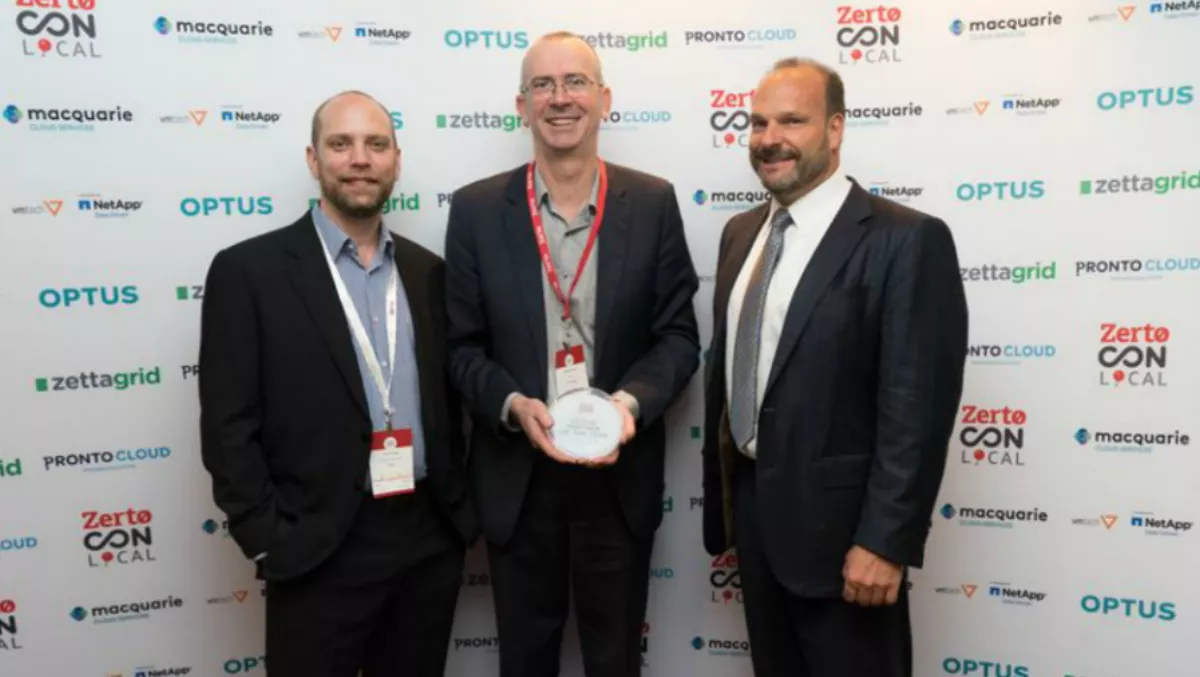 Zettagrid wins 2017 APAC Cloud Partner of the Year with Zerto
FYI, this story is more than a year old
Zettagrid recently announced it has been awarded 2017 Cloud Partner of the Year for Asia Pacific region by Zerto.
The Australian cloud provider of IT Infrastructure as a Service received the award at the Sydney edition of the ZertoCON Australia-wide roadshow.
According to Zerto country manager for Australia and New Zealand, Mathew Kates, the award recognises Zettagrid's ability to drive exceptional levels of revenue, market share and growth through its disaster recovery (DR) business.
"We congratulate the team at Zettagrid who are well-deserving of the award," says Kates.
"With Zettagrid's innovative SecondSite built on Zerto's reliable cloud business continuity platform, their disaster recovery (DR) and cloud market share is growing rapidly.
Zettagrid asserts its real-time disaster recovery replication solution is built on the Zerto platform and enables a company that is affected by disaster that impacts operations to have their IT back up and running within minutes in the Zettagrid cloud until the primary site recovers.
"Zerto's recognition of Zettagrid as Cloud Partner of the Year in the APAC region is a fantastic outcome," says Nathan Harman, Zetta Group CEO.
"SecondSite, Zettagrid's DR product built on Zerto's award-winning platform, is a game-changer for businesses of all sizes across the APAC region who want to replicate their virtualised IT environment into Zettagrid cloud. It's the most affordable, scalable and quick disaster recovery solution available today.
Going beyond replicating virtualised IT environments from on-premise into Zettagrid's cloud, businesses whose environment is already in Zettagrid's cloud are now able to replicate into other zones with SecondSite Interzone.
According to Zettagrid, this removes the need for secondary data centers, duplicate IT equipment and lengthy wait periods that can interrupt operations and impact productivity.
Furthermore, performing a full failover takes only a few minutes with no impact on day-to-day operations. Interestingly, users are likely to not even know when operations have failed over into a different zone.