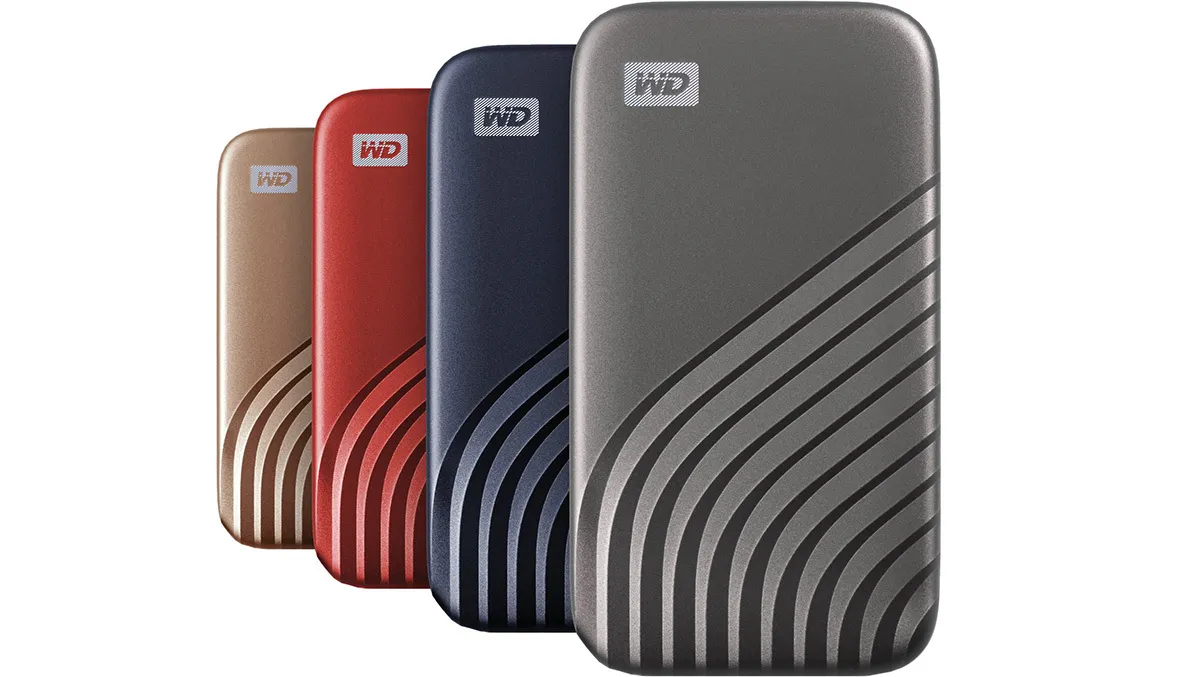 WD My Passport SSD Review - Simplifying Storage!
The WD My Passport SSD is a palm-sized high-speed portable external USB NVMe solid-state drive. The drive is very small, measuring only 100.08mm x 55.12mm x 8.89mm and weighing just 45.7g.
There are many solutions available for portable data backup and storage. As cloud-based options become more commonly available, you may feel that a physical portable local storage device is a thing of the past. Not only do Cloud-based data storage solutions require access to the remote servers holding your data, but storing large amounts of cloud data can get expensive.
In some circumstances, keeping a copy of your important data with you on a portable SSD is a safer, cheaper, and most likely faster solution than relying on an Internet connection to your cloud provider. I've taken a look at Western Digital's previous version of the My Passport SSD in the past, which looked identical to this one. The only difference is that the new WD My Passport SSDs have a capacity of up to 4TB, all in the same tiny form factor.
I was sent a grey unit, but they are available in blue, gold, red, and silver. The front of the drive case seems to be metal with a plastic rear. It looks very nice with a curved pattern across half the drive. There is no activity light, just a USB Type-C socket.
The drive comes with a USB Type-C cable that has a USB Type-A adapter for use with older devices. To get the most out of the drive, you really need to connect the SSD to a machine with a Type-C USB 3.2 Gen 2 socket.
The box states data transfer speeds of up to 1050 MB/s. I tested the drive with CrystalDiskMark 8 and achieved a 1021.19 MB/s read speed and a 962.79 write speed, which is close enough to the stated speed for me.
Connecting the drive via the slower USB Type-A connection brought the speeds down to a rather ordinary 461.25 MB/s read and 438.89 write speed. This is an expected result, but one worth noting if you are using an older device.
There are installation files for the WD Discovery application on the drive, ready to be installed on your PC or Mac. You can use this software to transfer files to and from cloud services and check the status of your USB drives.
Western Digital states that the drive is shock and vibration resistant. The company also mentions that the drive is drop resistant up to a very precise 1.98m. I didn't test this, but whilst your data may be safe, an impact to the corner of the drive from a 2m drop onto concrete will likely still make a bit of a mess of the case.
As well as impressive performance, the WD My Passport SSD allows you to store a considerable amount of data on a very small portable drive. Important files and mission-critical documents can be on hand and with you without the need for external connectivity. As a backup device, the drive can also be used to safely store important data. As a bonus, the drive also looks rather stylish with its tiny, lightweight case. If you are looking for a fast, portable data storage solution, you need to look no further.