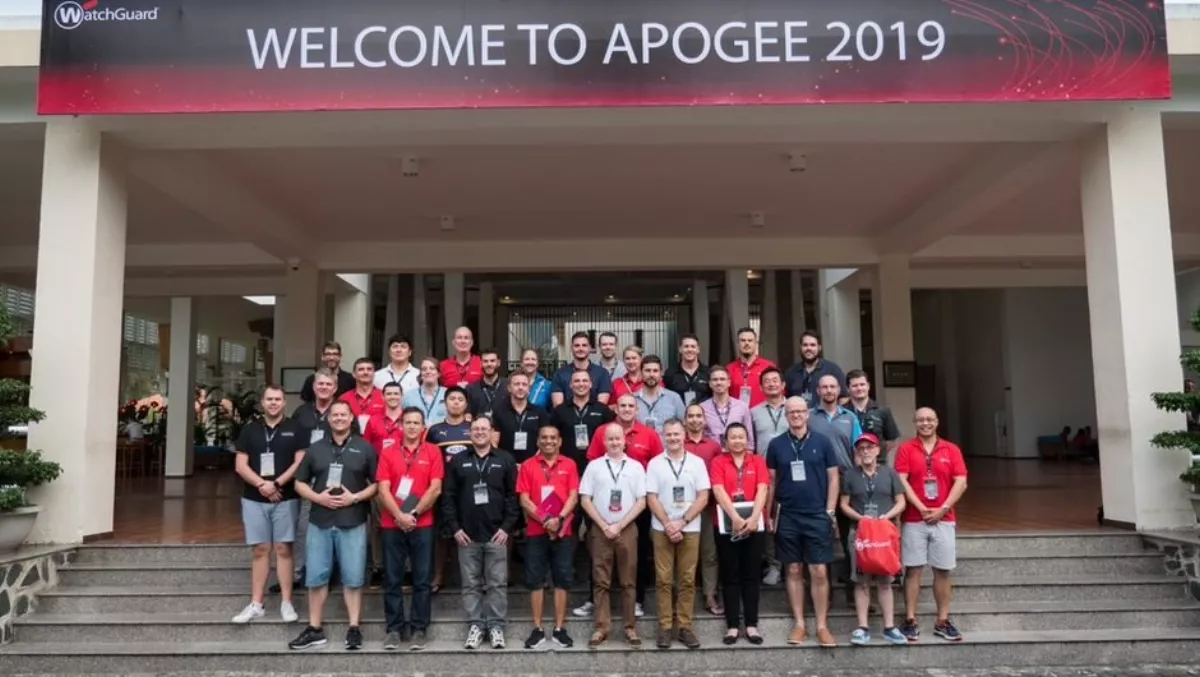 WatchGuard announces ANZ partners awards
FYI, this story is more than a year old
WatchGuard Technologies a global provider of network security and intelligence, secure Wi-Fi and multi-factor authentication, announced its Australian and New Zealand Partners of the Year for 2018 at last week's Asia Pacific WatchGuard Apogee partner conference staged in Da Nang, Vietnam.
More than 120 representatives from 60 channel partner organisations participated in the three-day event which celebrated the achievements of the WatchGuard Technologies Asia Pacific channel partner community.
The conference also provided partners with in-depth technology and product roadmap sessions as well as business development seminars hosted by WatchGuard's leading executive management team, including Prakash Panjwani, CEO, Corey Nachreiner, Chief Technology Officer, and Sean Price, Senior President Worldwide Sales.
"We were thrilled to welcome our top performing partners to the WatchGuard Apogee conference from locations right across the Asia Pacific region, including Australia, New Zealand, Singapore, Indonesia, South Korea, Malaysia, China, Thailand and Japan," says WatchGuard Technologies Asia Pacific vice president Sylvain Lejeune.
"This past year has been a particularly successful one for WatchGuard as more and more of our partners transition to offering cloud-hosted security solutions and WatchGuard's cybersecurity solutions increasingly become even more simple to deploy, configure and manage.
"At the same time, we recognise the role our partners and resellers have played in achieving market momentum and these awards celebrate all our partners' commitment and dedication to driving mutual success. We are thrilled with the support and feedback we receive from our partners and resellers and look forward to rewarding them with another really memorable experience in 2020.
The WatchGuard ANZ Partners of The Year for 2018 were:
Partner of The Year - Viatek Technology (Sydney)
New Partner of The Year - TribeTech (Sydney)
Marketing Program of the Year - Calvert Technologies (Adelaide)
Project of the Year - Silverfern IT (Perth)
"We're very honoured to have been awarded WatchGuard Partner of the Year for Australia and New Zealand," says Viatek COO William Gibb.
"This is great recognition for the entire Viatek team across sales, technical consulting, delivery and operations. WatchGuard's mantra of 'Smart Security - Simply Done' ties in beautifully with our own commitment to provide customers with simple, effective technology solutions with big business impact. We're looking forward to continuing the successful partnership and collaborating with WatchGuard to improve the security posture of mid-size businesses in Australia.
"TribeTech is extremely humbled to be recognised as WatchGuard's New Partner of the Year for Australia and New Zealand," says TribeTech director Scott Atkinson.
"We have a strong focus on security for all solutions we deliver. The WatchGuardONE program is an excellent fit and has allowed us to quickly accelerate our security practice across multiple areas. Many thanks to the team at WatchGuard who worked closely with us to help drive our success.
The award winners were announced at a gala dinner party complete with fireworks, traditional Vietnamese drummers and a sound and light dance party.
The conference ended with a fleet of jeeps taking attendees to visit Monkey Mountain, renowned, historic regional Buddhist temples and several vantage points looking out over the South China Sea and the city of Da Nang.