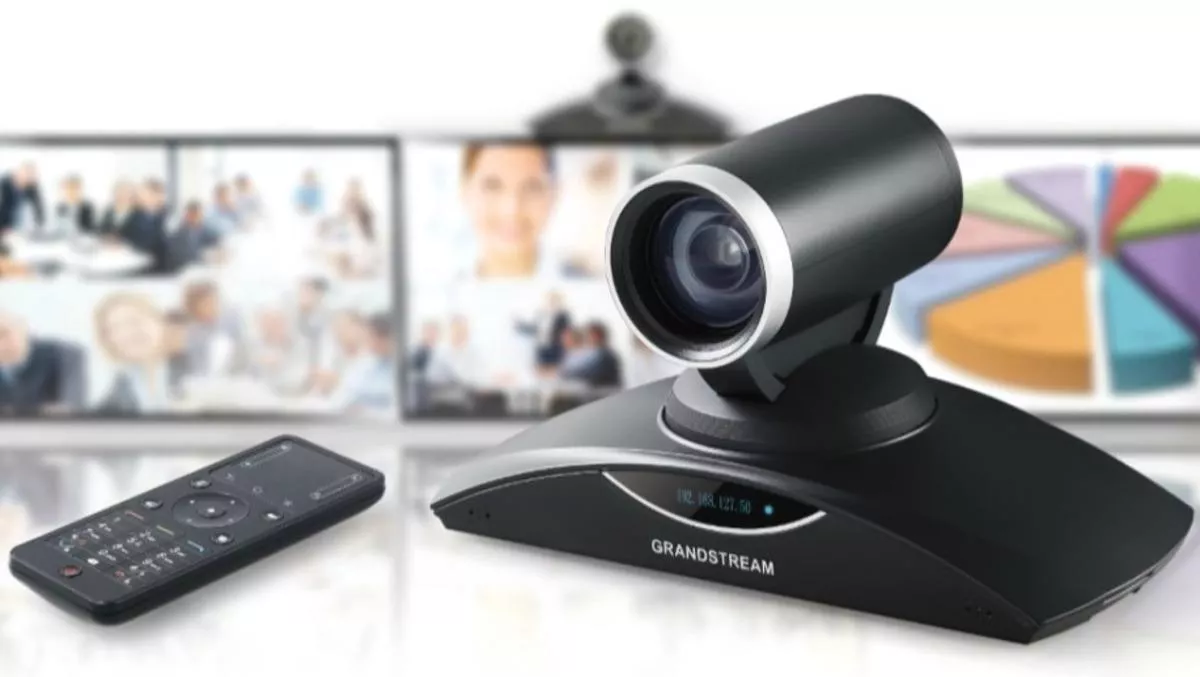 The video conference solution for SMBs in a class of its own
FYI, this story is more than a year old
Video conferencing is becoming a useful tool for a growing number of small to medium-sized businesses (SMBs) throughout Australia.
To cater to this space, Grandstream Networks, the IP voice, video, data and mobility solutions provider, has a video conferencing solution known as the GVC3200.
The high quality, the room-based solution has been designed to offer SMBs greater flexibility, features, performance and price.
Recognising that these tools are often used in conjunction with other software and hardware, the solution interoperates with a variety of major video conferencing products and services, including BlueJeans, Cisco, Polycom, and Huawei.
A key feature of the video conferencing solution is its compatibility with Android. The solution uses Android 4.4 (KitKat) and therefore works with other video apps, such as Skype and Google Hangouts. In fact, the solution can connect directly to the Play Store so users can download any video app to use within the business.
The Android operating system is becoming more business and enterprise orientated, with specific features, services, and security functionalities targeted for a business audience, and as such more manufacturers are optimising services for the platform.
David Li, Grandstream CEO, says, "This innovative product eliminates many of the traditional barriers to video conferencing, such as lack of interoperability with third-party products and apps, the complexity of installation and operation, high cost of professional quality endpoints, etc.
"The GVC3200 offers boardroom telepresence video quality with the ease of plug-and-play and at a fraction of current market prices.
"In addition to broad interoperability with major third party video conferencing platforms, the GVC3200 provides native support for various popular Android video apps and the incredible capability of bridging calls made with these Android apps with SIP platforms to create a multi-party/hybrid-protocol conference.
SIP testing between GVC3200 and the Blue Jeans cloud platform has been completed and was successful, the company says.
The solution incorporates advanced video support, with multi-stream H.264 High Profile 1080p full-HD video at 30fps, up to 9-way local video conferencing, advanced Sony Megapixel imaging sensor with top-notch picture quality, and support for three TV displays through three HDMI outputs.
Providing the foundation for this is the GVC3200's hardware platform, which includes a sophisticated MCU engine allowing up to 9-way hybrid-protocol conferencing, with no external MCUs/servers or extra software licenses, and a high-performance hardware ISP (Image Signal Processing) engine.
Set up can be done in three steps: connect to TV, connect to microphone and speaker, and connect to the network.
The solution has a 'zero configuration' plug-and-play setup and uses for end-users when used with Grandstream's IPVideoTalk Pro cloud NAT traversal service running on Amazon Web Service (AWS).
Integrated Gigabit network port and dual-band 802.11b/g/n WiFi client offers maximum network connection flexibility in different application scenarios, while integrated Bluetooth allows the use of a companion Bluetooth based multi-touch remote control, smartphones, or Bluetooth devices.
Once set up, users can use the in-built HDMI and VGA inputs to securely share/control their computer screen (1080p resolution) to collaborate with remote parties while simultaneously conducting a multi-party full HD videoconference.
"In a unique class of its own that does not exist elsewhere, the GVC3200 creates a new category of high quality smart video conferencing solutions that offer unrivaled flexibility, ease of use, application power and market-leading affordability," says Li.
The GVC3200 is available now from Sydney based distributor Ultecom.