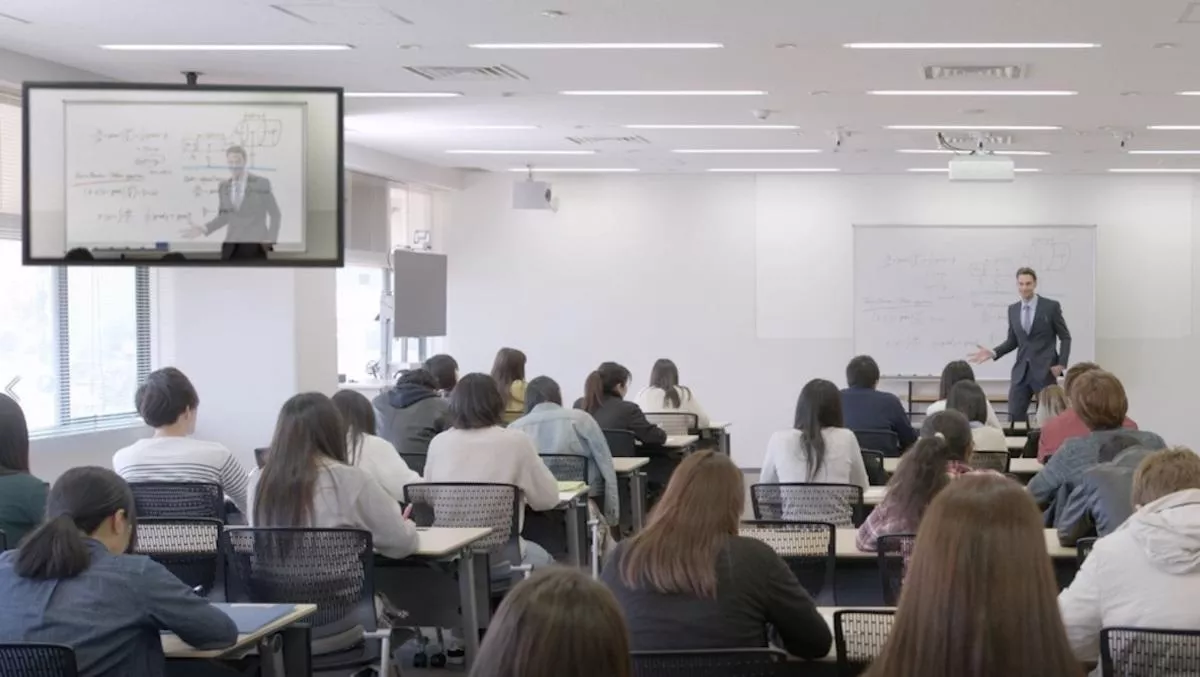 Sony announces bundled remote-learning solutions
Thu, 22nd Oct 2020
FYI, this story is more than a year old
Sony Australia has launched a remote learning solution that combines their MAS-A100 beamforming microphone with their Edge Analytic appliance.
The combination of Edge Analytics, MAS-A100, Sony PTZ cameras, projectors and BRAVIA 4K displays when used together give lecturers an efficient and professional remote teaching platform.
The new distance and remote learning solution focuses on ease of install and ease of use – once installed there are far fewer touchpoints and very few, if any, AV staff required to work the system.
It also enables a teaching solution to be customised for any requirements irrespective of whether students are allowed on campus or not, or if a classroom is limited to a certain number of people at a time to adhere to social distancing rules.
"The impact of social distancing and other restrictions on people's movements has had a serious effect on face to face learning. Many tertiary education facilities are currently restricted or even closed and universities need new and innovative alternatives in order to teach," says Sony Australia business and institutional solutions group manager Daniel Hancox.
"The remote learning solution Sony has developed is uniquely positioned as we are able to provide and integrate all the products that are required in order to enable lecturers to provide first-class teaching and for students to learn remotely.
A key part of the new remote learning solution is Sony's new MAS-A100 beamforming microphone, which enables flexible and creative hands-free lectures and presentations.
Specifically designed for lecture and presentation environments, the ceiling-mount microphone offers advanced clear audio quality features for both speech reinforcement and recording with a combination of beamforming technology and an Intelligent Feedback Reducer function.
The microphone has a dual channel output for simultaneous recording of a wide area to capture both the speaker and students' voices.
"After capturing voice, the microphone's Automatic Gain Control function automatically adjusts the output volume to be consistent regardless of the presenter's location and makes lectures and presentations easier to listen to," Hancox continues.
This combines with support for Dante and Power over Ethernet (PoE) to enable easy installation.
Sony's AI-based Edge Analytics solution, the REA-C1000, allows users to create video content in real time.
The compact and lightweight REA-C1000 uses its AI-based video analytics technology to analyse the input received from connecting cameras, automatically extract the object in focus and combine it with other images in real-time on a GPU.
This technology uses motion/face detection and colour/shape recognition effectively making the REA-C1000 the 'brain' to any connecting camera and AV setup.
Features include:
Extracting characters and diagrams in real time from a whiteboard or blackboard, with Handwriting Extraction license REA-L0100.
Using tracking to stay in focus and within the frame, with PTZ auto-tracking license REA-L0200.
Zooming in on an audience member to show reactions or highlight questions, with Close Up by Gesture license REA-L0300.
Creating animated imagery, still pictures and supporting graphics – without a dedicated studio with Chromakey-less CG Overlay license REA-L0400.
Showing two different images at once, with Focus Area Cropping license REA-L0500.
Another part of Sony's remote learning solution is its range of PoE+, IP-based pan-tilt-zoom (PTZ) cameras which includes the SRG-X400, SRG-X120 and BRC-X400.
These cameras incorporate the 4K Exmor R CMOS image sensor for image quality.
The SRG-X400 and BRC-X400 are equipped with 40x zoom capability utilising Sony's Clear Image Zoom technology, while the SRG-X120 camera has a 12x zoom.
The zoom options, combined with a wide viewing angle, enable the capture of both an entire room and a zoomed-in image with a single camera.
The cameras also offer a future-proof 4K upgrade option, while 4K comes standard on the BRC-X400.
The final pieces in the solution are projection and display.
Three new projectors, the VPLFHZ131L, VPLFHZ101L and VPLFHZ91L, launched this year to sit alongside the VPLPHZ12.
Each different projector model is suitable for a key application with brightness offerings from 4,200 to 13,000lm.
The BRAVIA 4K HDR BZ40H displays include 55 to 85-inch models with in-built connectivity.
The BZ40H series combines picture quality and a system on a chip (SoC) platform with intelligent features for customisability.