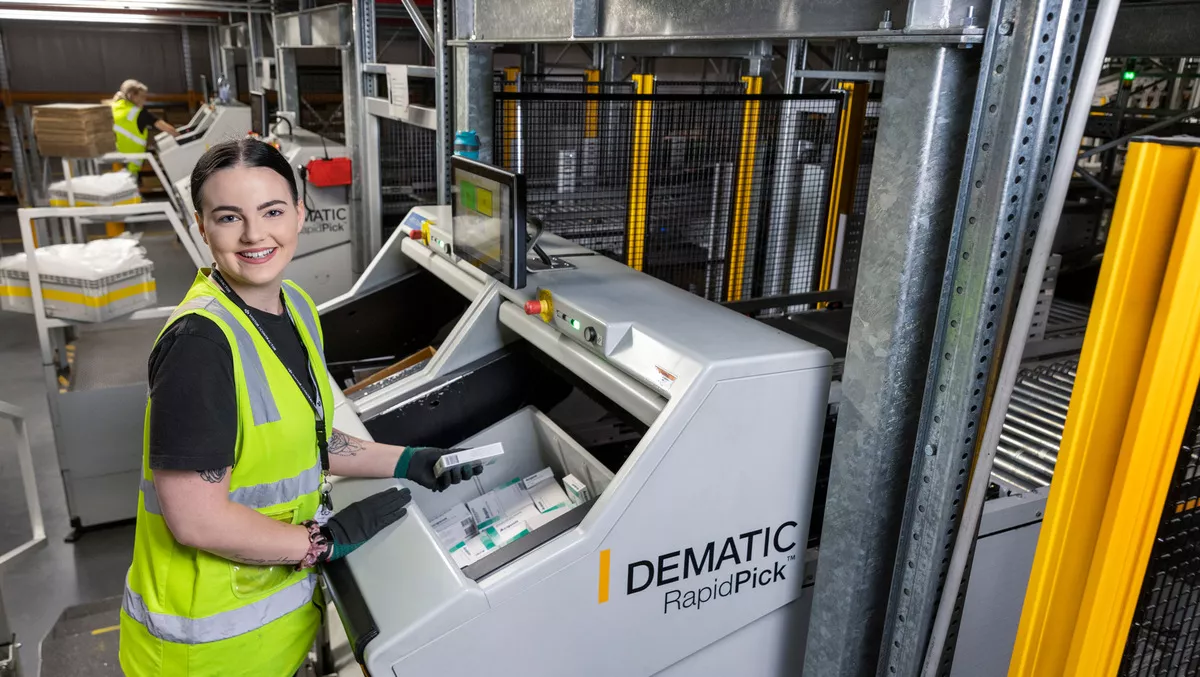 Sigma Healthcare supports growth by automating operations with Dematic
Tue, 22nd Mar 2022
FYI, this story is more than a year old
Australian pharmaceutical wholesaler, Sigma Healthcare, recently automated operations at its Perth and Brisbane distribution centers (DCs) with high-efficiency Multishuttle storage and buffering and a Goods-to-Person (GTP) Picking Solution from Dematic.
GTP Picking solutions are specifically designed for high demand applications, including direct-to-customer order fulfilment, business-to-business fulfilment, retail store replenishment, and just-in-time delivery for essential manufacturing parts.
Sigma selected the fully automated Dematic GTP solution as the central system to improve operational efficiencies at its two new DCs in Perth and Brisbane. Sigma's switch to automation stemmed from previous supply chain challenges experienced from legacy systems, restricting the ability to continue improving service delivery to customers.
"Warehouse and logistics have been an area of significant focus for Sigma over the past three years. With the pharmaceutical market as competitive as it is in Australia, it was clear that we needed to optimise these two new DCs to accommodate current and future demands on our supply chain," says Sigma national operations manager of logistics, Paul Brown.
In a GTP system, items are delivered directly to pick stations, eliminating the non-value-added time needed for operators to search for items. A GTP system typically works by receiving inventory at decanting workstations, where operators scan bar codes and transfer items into inventory totes.
The inventory totes are conveyed and automatically stored in the high-density Dematic Multishuttle storage buffer. When needed, the Multishuttle retrieves the inventory totes in the required sequence, and they are conveyed to the picking stations.
Lights and graphical instructions direct operators to pick the required items from the inventory totes and place them into order containers. When an order container is complete, it is automatically routed to the packing area. Inventory totes then return to the Multishuttle storage system.
For Sigma, the GTP system automates picking and buffering operations, meaning orders are picked, buffered, and then sequenced to delivery vehicles in the specific order required. This process optimises the entire picking and delivery process by organising orders accurately, efficiently, and much faster than manual operations.
"By optimising these new DCs through automation, it was clear that this kind of technology was a natural step forward for Sigma as a business. Pharmacies are constantly pushing Sigma as their sole distributor for increased service levels, which were just not achievable at previous operation rates.
"By initiating a more innovative approach to picking operations, we can make the most of our two new DCs with advanced automation technologies ensuring the highest levels of efficiency," adds Paul.
Through the deployment of the GTP Solution, Sigma has subsequently made significant progress to its initiated business transformation program.
The GTP solution is uniquely attuned to the pharmaceutical conditions of Sigma's DCs. An essential part of this solution's design was for it to be able to cater for Sigma's distinctive storage requirements.
For example, some products require refrigeration (between 2° and 8°C), while others need to be stored in a vault or highly secured environment – with both having a lot of regulations around them.
By understanding the requirements of the products within the DCs, the GTP solution cohesively combines its automation capabilities with the existing infrastructure of the DCs, which effectively boosts overall productivity without the risk of product damage.
With the integration of an advanced automated goods-to-person picking system, Sigma can now achieve high operational efficiency and accuracy rates and improve its service and delivery levels to meet customer needs.