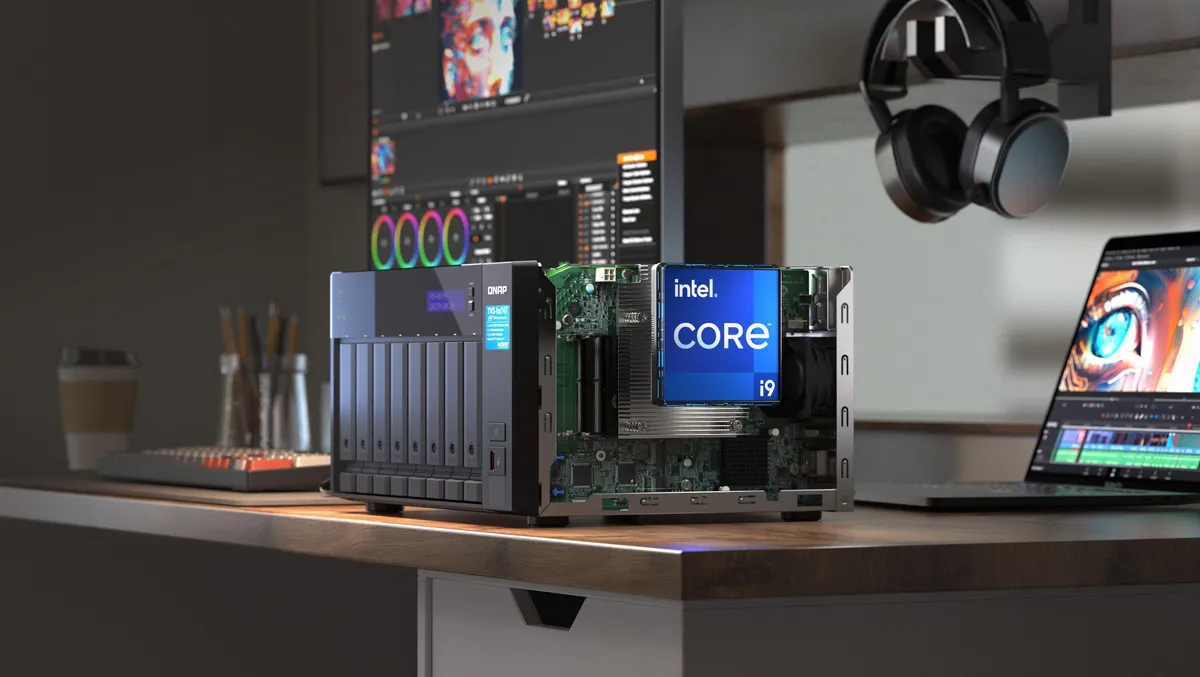 QNAP launches world's first Thunderbolt 4 NAS for creative professionals
QNAP announced the release of the world's first Thunderbolt 4 Network Attached Storage (NAS), set to revolutionise the media project workflows of creative professionals. The TVS-h674T and TVS-h874T models, designed exclusively for creators and video production facilities, aim to significantly enhance productivity and provide a safeguard for creative works. The news comes as QNAP launches its Thunderbolt 4 NAS in the Australian and New Zealand markets.
The TVS-h674T model boasts 6-bay 3.5 SATA HDD Thunderbolt NAS, 12th Gen Intel Core i5 6-core/12-thread Processor, Intel UHD Graphics 730, and 32 GB DDR4 RAM. Meanwhile, the TVS-h874T comes in two variants: one version includes 8-bay 3.5 SATA HDD Thunderbolt NAS, a 12th Gen Intel Core i7 12-core/20-thread Processor, Intel UHD Graphics 770, and 32 GB DDR4 RAM. The other packs the same specifications, with a powerful 12th Gen Intel Core i9 16-core /24-thread Processor and 64 GB DDR4 RAM.
Meiji Chang, General Manager of QNAP, conveyed the company's commitment to enabling creative professionals with state-of-the-art solutions. "At QNAP, we are driven to empower creators and professionals with cutting-edge solutions that amplify their creative potential. The TVS-hx74T Thunderbolt 4 NAS series is a testament to our commitment, offering unrivaled performance and expandability to cater to the evolving needs of the creative industry," Chang stated.
On the collaboration with QNAP, Jason Ziller, General Manager, Client Connectivity Division at Intel Corporation, emphasised the production-changing capacity of the new products. He stated, "Intel is pleased to collaborate with QNAP in developing the TVS-hx74T NAS with Thunderbolt technology. Our powerful Intel Core processors and QNAP's expertise in storage solutions have resulted in a game-changing product for creators and video productions."
Key features of the TVS-hx74T series include Thunderbolt 4 connectivity for speedy data transfer speeds up to 20Gbps, built-in GPU for fast video transcoding, enhanced workflow collaboration, a creator-oriented ZFS-based operating system, and comprehensive data protection. It offers up to 154 TB of storage and allows for future network expandability with its upgradable 25/10 GbE. In addition, QNAP's Thunderbolt NAS technology supports dual M.2 2280 PCIe Gen 4 x4 slots, runs on 12th Gen Intel Core i9, i7, and i5 processors, and has a Self-Healing feature for corrupted data detection and correction.
In a world increasingly dependent on digital data, the QNAP Thunderbolt 4 NAS is poised to meet the surging demands of creative projects. Offering extensive storage, fast data transfer and advanced data protection, these new devices signal a significant step forward in empowering creative professionals, pushing the boundaries of what is possible in the realm of advanced tech solutions.