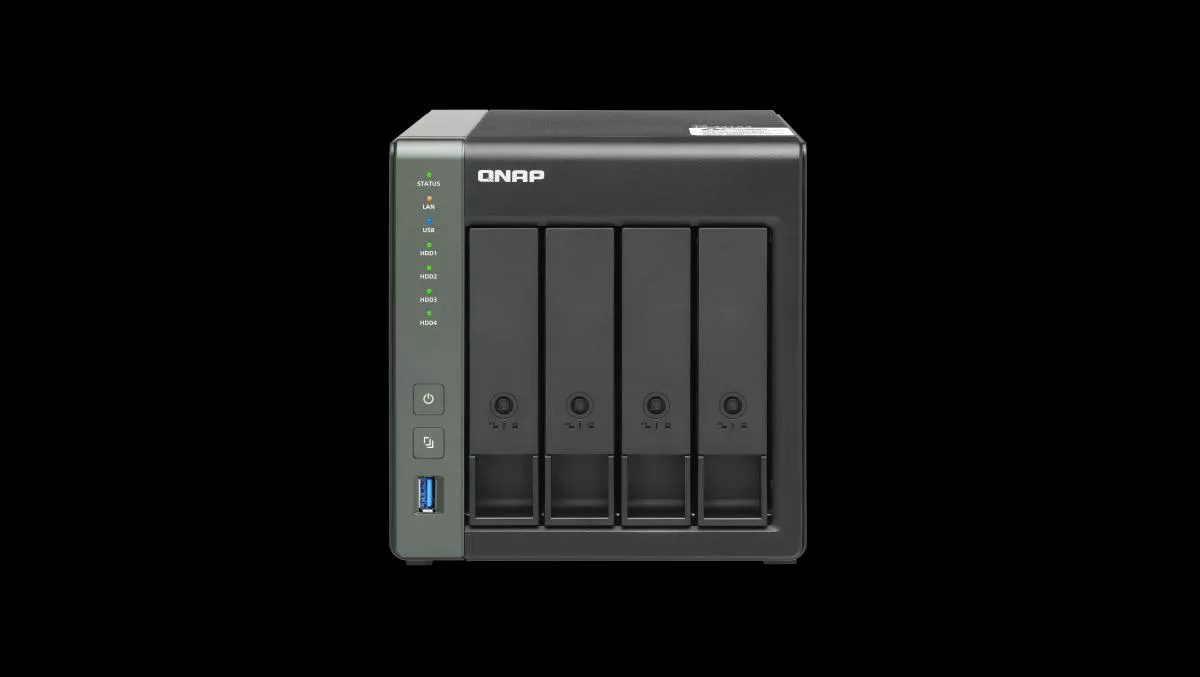 QNAP launches NAS engineered for backup, recovery & virtualisation
FYI, this story is more than a year old
QNAP has recently welcomed a new addition to its network-attached storage (NAS) family, engineered for businesses that wish to deploy a high-speed network environment for the purposes of backup, recovery, and virtualisation.
The QNAP TS-431X3 NAS features a 10GbE SFP+ port for data transmission, 2.5GbE RJ45 connectivity, a quad-core 1.7 GHz processor, and 4GB of RAM which can expand up to 8GB.
According to QNAP, businesses can pair the TS-431X3 with a QNAP QSW series switch to build a 10GbE network environment for high speed and containerised application deployment.
QNAP states, "The TS-431X3 provides comprehensive local, off-site and cloud backup and secure Snapshot technology to help create a reliable backup and disaster recovery plan. In the event of a system crash or accidental file deletion, you can quickly restore the system to its normal state.
The TS-431X3 also comes with tool-less and lockable drive bays, simplifying drive installation and ensuring that drives are safe and secure.
QNAP product manager Jason Hsu says, "Providing both 10GbE SFP+ and 2.5GbE RJ45 connectivity, the TS-431X3 allows the flexible allocation of network resources to maximise storage usage and facilitate faster backup and disaster recovery.
"By supporting up to 8GB memory, users can also run a wide range of containerised apps on the TS-431X3, ensuring a highly cost-effective solution for business IT environments.
QNAP further states that the TS-431X3 supports snapshot technology and the HBS app facilitates backup to local, off-site and cloud storage, allowing users to develop a well-rounded disaster recovery plan.
Furthermore, the QNAP Notification Center allows administrators to centrally manage and monitor system and app event notifications from a single app. Security Counselor is also able to recommend actions and settings to improve NAS security.
Other software includes:
Surveillance Station, which allows for building a secure surveillance system; Qsync automatically synchronises files between NAS, mobile devices and computers; QmailAgent enables centralised management of multiple email accounts; Qfiling automates file organisation, and Qsirch quickly finds needed files.
QNAP states that users can also download companion mobile apps to remotely access their NAS to improve work efficiency.
TS-431X3 technical specifications
Tower model; 4-bay, AnnapurnaLabs AL-314 quad-core 1.7 GHz processor
4GB RAM (single memory slot, expandable to 8 GB)
Hot-swappable 3.5-inch SATA 6Gbps bays
1 x 10GbE SFP+ port, 1 x 2.5GbE port and 1 x GbE RJ45 port, 3 x USB 3.2 Gen 1 (5Gbps) ports.
The TS-431X3 NAS is now available from QNAP.