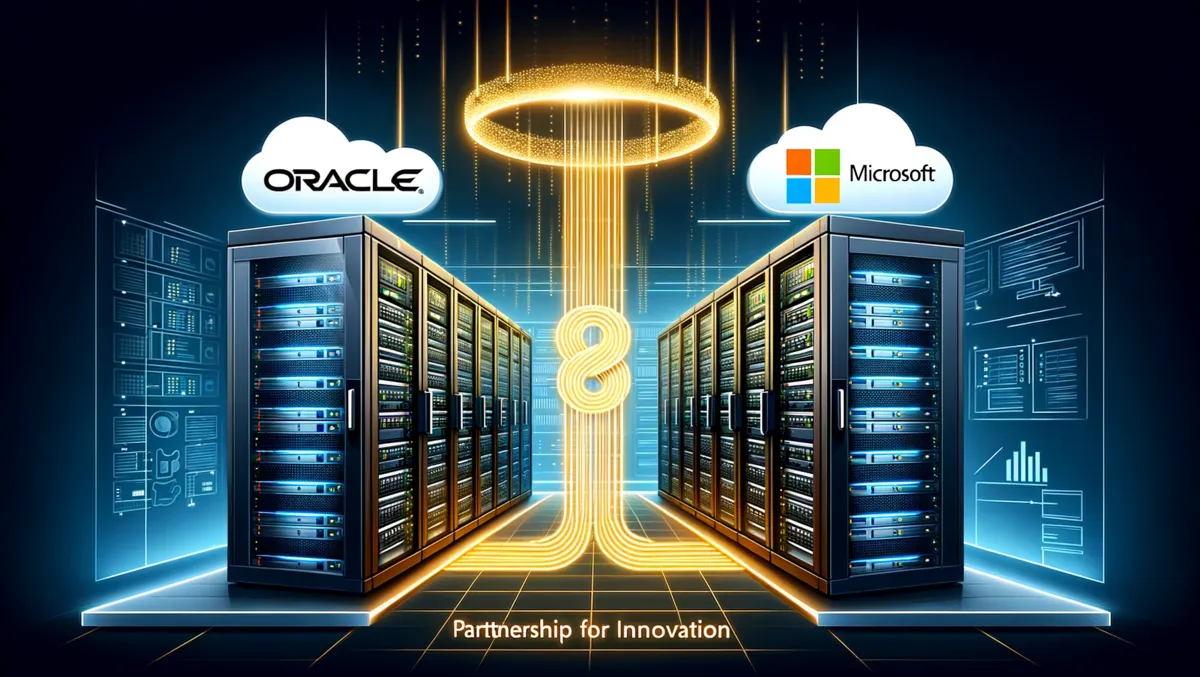 Oracle and Microsoft unveil cloud integration partnership
Mon, 18th Sep 2023
By Sean Mitchell, Publisher
Oracle and Microsoft have joined forces to launch Oracle Database@Azure, a groundbreaking service that integrates Oracle database services on Oracle Cloud Infrastructure (OCI) within Microsoft Azure datacenters. This collaboration marks a pivotal moment in the cloud computing industry, offering customers unprecedented flexibility and efficiency in managing their cloud-based operations.
Satya Nadella, Chairman and CEO of Microsoft, emphasized the transformative potential of this partnership, stating, "We have a real opportunity to help organisations bring their mission-critical applications to the cloud so they can transform every part of their business with this next generation of AI." He further noted that this collaboration would "make Microsoft Azure the only other cloud provider to run Oracle's database services and help our customers unlock a new wave of cloud-powered innovation."
Echoing Nadella's sentiments, Larry Ellison, Oracle Chairman and CTO, highlighted the synergy between the two tech giants in facilitating seamless cloud integration. "Most customers already use multiple clouds," Ellison noted, adding that the partnership aims to "make it easy for those customers to seamlessly connect Azure Services with the very latest Oracle Database technology." He emphasised the benefits of "collocating Oracle Exadata hardware in Azure datacenters," which would offer customers "the best possible database and network performance."
The Oracle Database@Azure service is designed to address the common challenges encountered in adopting multicloud architectures, including disjointed management and complex purchasing processes. It promises a fully integrated experience for deploying and managing Oracle database instances within Azure, thereby enabling organisations to leverage the best of both Oracle and Microsoft's capabilities directly within the Azure portal.
This initiative is not just a technical collaboration but also a commitment to customer-centricity. Mihir Shah, the enterprise head of data at Fidelity Investments, praised the move, stating that it showcases how "industry leaders Microsoft and Oracle are putting their customers' interests first." Similarly, Magesh Bagavathi, the global chief technology officer at PepsiCo, acknowledged the strategic advantage this collaboration brings, enabling "a scaled strategic advantage across our global operations."
Furthermore, the partnership promises to simplify the purchasing and contracting process significantly, allowing customers to acquire Oracle Database@Azure through the Azure Marketplace while utilising existing Azure agreements. This initiative also extends to offering support for a range of Oracle services, including Oracle Exadata Database services and Oracle Autonomous Database services, all within a single data centre.
As Oracle and Microsoft embark on this journey, they are set to commence the operation and management of these OCI services directly within Microsoft's data centres globally, initially focusing on regions in North America and Europe.