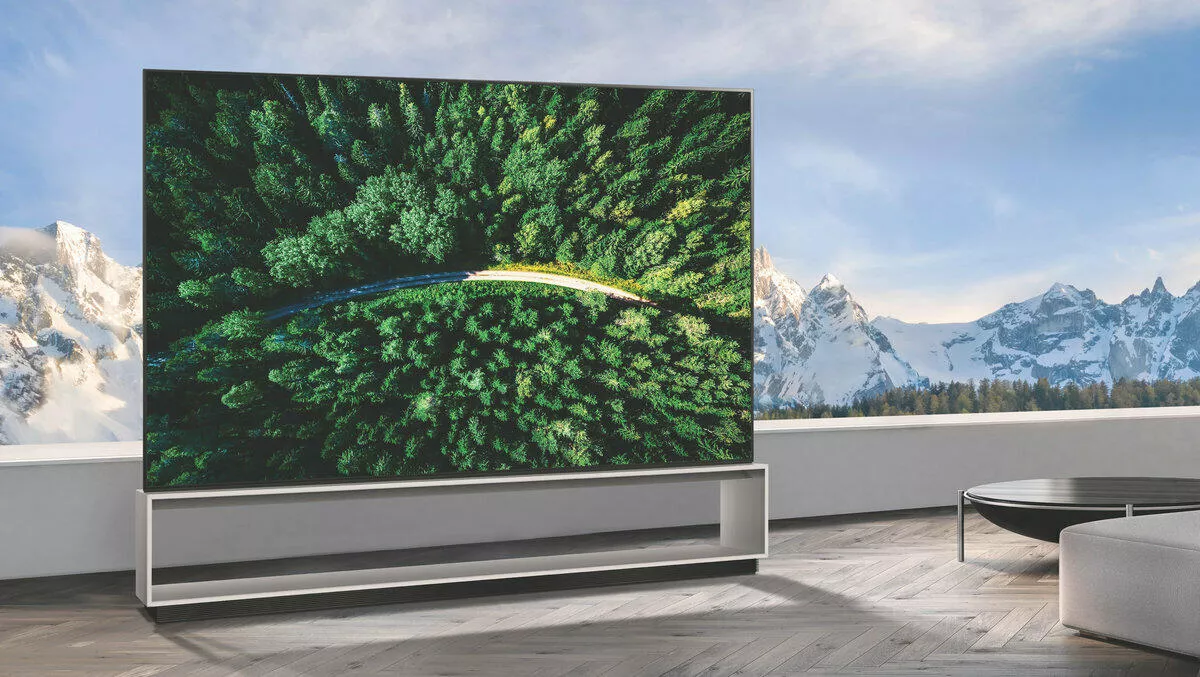 LG releases insane 88in 8K OLED TV
FYI, this story is more than a year old
LG Electronics Australia is releasing the 88-inch LG SIGNATURE OLED 8K (model 88Z9), in stores from October 2019.
The LG 88Z9 model is the world's first 8K OLED TV and the largest LG OLED TV model to date.
This model is the second 8K TV to join LG's 2019 line-up following the launch of the LG NanoCell 8K (model 75SM99), which landed in Australian retailers last month.
Unlike LED / LCD TVs each pixel in an LG OLED TV has the ability to turn on-and-off where light is required, creating a perfectly black screen.
This provides the perfect canvas for producing vivid, lifelike images comprising of more than one billion colours and creates contrast on the screen at its finest detail.
Globally LG OLED models make up to 20% of LG's high-end 2019 TV portfolio, with the demand for OLED TVs expected to expand to 7 million in 2020 and 10 million in 2021.
The TV delivers 8K Ultra HD resolution (7,680 x 4,320) with 33 million self-emitting pixels, equivalent to 16-times the number of pixels in a Full HD TV and four-times that of a 4K UHD TV.
Powered by the Alpha 9 (α9) Gen 2 Intelligent Processor, the LG OLED 8K TV combines 6 step up-scaling and noise reduction to create a hyper-realistic, sharp, vivid and detailed picture.
Developed with Artificial Intelligence (AI), LG's deep learning technology optimises the viewing experience based on both the source content and the ambient conditions in which it is being viewed.
The TV is further enhanced with Cinema HDR technology, which is made up of Dolby Vision, HDR10 PRO and Advanced HDR by Technicolor.
The LG OLED 8K TV meets and surpasses the criteria of the Information Display Measurements Standard (IDMS) for 8K resolution informed by the respected International Committee for Display Metrology (ICDM).
Industry experts point out that for a "real 8K" experience, pixels must be easily distinguishable from one another. According to the ICDM, Contrast Modulation (CM), which measures precisely if neighbouring pixels are distinguishable from one another is the relevant way to measure and describe display resolution.
For a TV display to deliver the resolution as indicated by its pixel count, its minimum CM value must exceed 50% as well as having a width of 7,680 pixels.
Therefore, an 8K TV with a CM value of under 50% is not delivering real 8K, even though it may in fact have a width of 7,680 pixels. In tests run in accordance with industry standards, both the LG OLED 8K and LG NanoCell 8K recorded CM values in the 90% range.
LG has future-proofed its 8K TVs by providing four ports that support HDMI 2.1 specifications, which will allow viewers to enjoy 8K content at 60 frames per second through high frame rate (HFR); as well as smooth and clear 4K content at up to 120 frames per second.
LG 8K TVs are also compatible with Auto Low Latency Mode (ALLM), Variable Refresh Rate (VRR) and enhanced Audio Return Channel (eARC).
The ThinQ AI platform provides a two-way conversation between the user and the LG OLED 8K TV.
Users can control their entertainment experience using natural language commands, such as switching between picture modes, adjusting the volume or turning the TV off at set times.
The smarts of this platform also go as far as automatically detecting media, gaming and audio devices. On top of this, the TV can become the central hub of the smart home ecosystem connecting to other appliances.
The platform also supports built-in Google Assistant currently and will support Amazon Alexa via a firmware update in Q4 2019.
LG has joined forces with NVIDIA, adding support for NVIDIA G-SYNC compatibility to selected 2019 OLED TVs (model 65/55E9 and model 77/65/55C9).
The gaming performance and image quality of these models were validated through NVIDIA G-SYNC compatible testing, which determined the TVs delivered a variable refresh rate (VRR) gaming experience that is smooth and immersive without flickering, tearing or stuttering.
NVIDIA G-SYNC compatible support for selected 2019 LG OLED TVs (model 65/55E9 and model 77/65/55C9) will become available via a firmware update in Q4, 2019.
The 2019 LG OLED 8K (model 88Z9) TV is available from October at select Harvey Norman stores across the country for $59,999 (RRP).