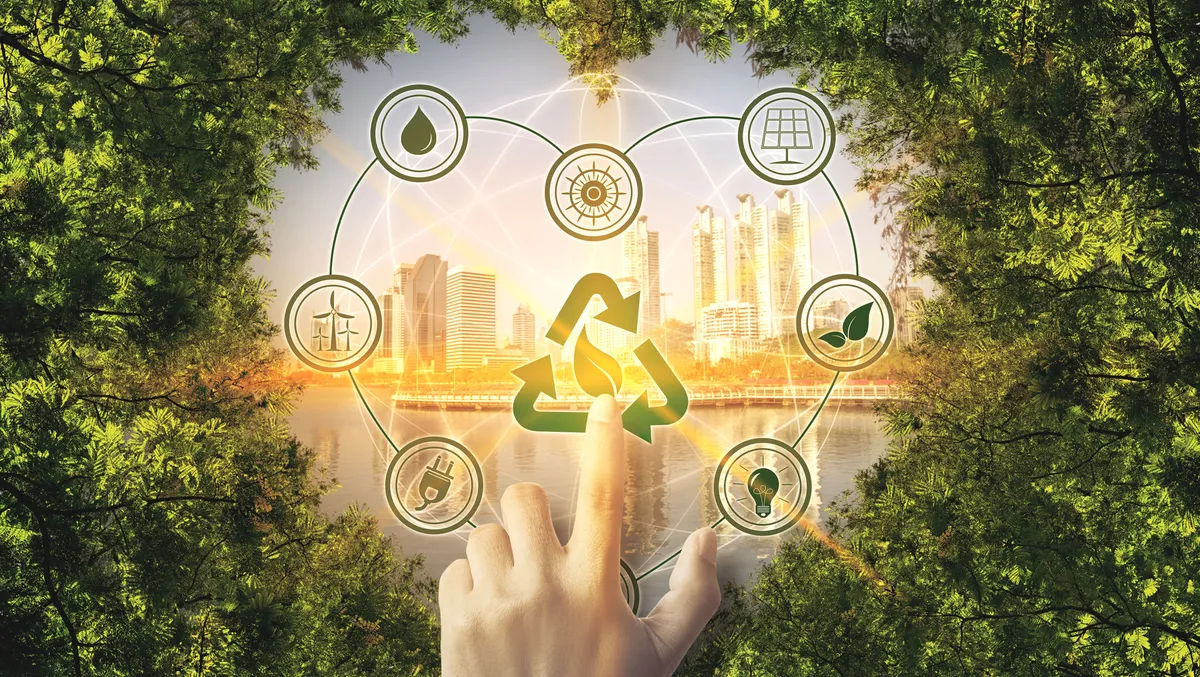 HP leads the charge in sustainability: A look at the tech giant's efforts
HP has unveiled its comprehensive sustainability strategy, reflecting a history of purpose-driven innovation and a commitment to "Go Beyond" the status quo. The company's President and CEO, Enrique Lores, emphasizes this rallying cry as a challenge to lead the industry forward, building on a legacy of environmental protection, social responsibility, and innovative product design.
Executive Vision
Under the leadership of Enrique Lores, HP's commitment to sustainability is not just about doing less harm but actively doing more good. The company's vision is rooted in its 80-year history, focusing on going beyond traditional sustainability measures to create a positive impact on the world.
Sustainability & Business Impact
In 2022, HP achieved a significant milestone, with over 60% of its sales meeting the Corporate Knights standard for sustainable revenue. This achievement reflects a growing trend among customers who are increasingly choosing products that align with their environmental values.
Becoming More Sustainable & Just
HP's efforts to become more sustainable and just are evident in various initiatives:
Climate Action: The company is working towards net-zero carbon emissions across its value chain and innovating for a more circular economy. In 2022, every new PC and printer launched contained recycled materials.
Supplier Impact: HP has helped suppliers reduce 1.7 million tonnes of carbon emissions, and over 3,500 channel partners across 40 countries have made sustainability commitments.
Diversity & Inclusion: In the U.S., 46% of new hires in 2022 were ethnic or racial minorities, reflecting the company's commitment to a diverse workforce.
Digital Equity: HP has accelerated digital equity for 21 million people and aims to reach 150 million by 2030.
Sustainable Impact Strategy
HP's goal to be the world's most sustainable and just technology company is at the core of its business strategy. The focus on Climate Action, Human Rights, and Digital Equity has led to sustainable revenue in 2022 representing more than 60% of total revenue.
Product and Service Innovation
HP's commitment to innovation is reflected in its $1.6 billion investment in product development in 2022. Products like the HP Dragonfly and Elite 1000 Series PCs contain 90% recycled magnesium and 5% ocean-bound plastic. Additionally, HP's latest printers and PCs are designed to consume less energy, aligning with the company's sustainability goals.
Recognition
HP's sustainability efforts have been widely recognized, earning the company a spot among the 100 Most Sustainable Corporations in the World for the seventh consecutive year.
Packaging and Carbon Neutral Services
In 2022, HP shipped almost 70 million units of products in sustainable packaging. The company's Carbon Neutral Computing Services also help commercial businesses offset the carbon footprint of their PCs.
Global Initiatives
HP's global sustainability efforts include reducing single-use plastic packaging by 55%, an 18% reduction in carbon emissions since 2019, and the donation of 2,237 saplings in Vietnam. The company's innovative use of recycled cooking oil in laptop production and its Amplify Impact program further demonstrate its commitment to environmental responsibility.
Summary
HP's multifaceted commitment to sustainability encompasses a broad spectrum of initiatives, from reducing carbon emissions to promoting diversity and digital equity. The company's vision for a sustainable future aligns with its business goals, reflecting a responsible and forward-thinking approach to global challenges. With a comprehensive strategy that goes beyond traditional measures, HP is not only contributing to a better world but also leading the industry in a direction that resonates with the values and concerns of today's consumers. The company's sustainability push is a testament to its leadership in the technology sector and a model for others to follow.