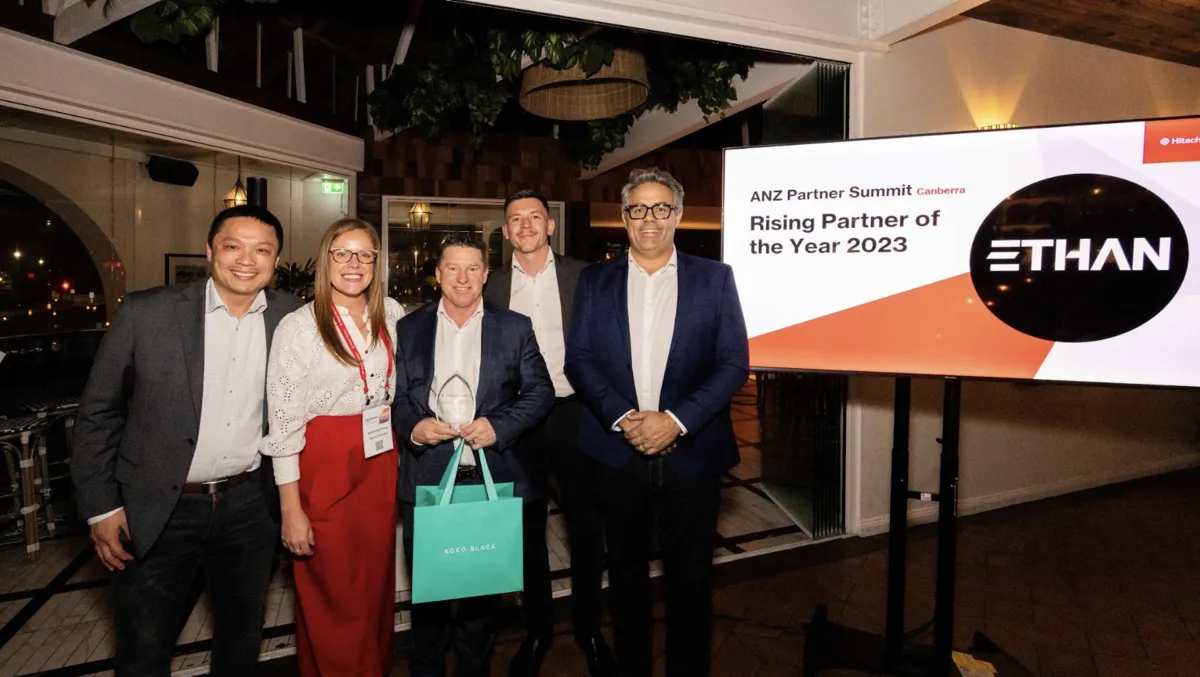 Hitachi Vantara crowns 2023 ANZ Partner Award winners
Hitachi Vantara has announced the winners of its 2023 ANZ Partner Awards at the company's regional partner conference held in Canberra last week.
Celebrating another year of growth and achievement, the event attracted Hitachi Vantara's Australian and New Zealand distributors, partners, and technology alliances.
The event recognised the organisation's top-performing partners for their contributions to driving revenue growth and unlocking business value for their customers during the last financial year.
Optus Enterprise won the "ANZ Growth Partner of the Year" following exceptional engagement with both enterprises and Hitachi Vantara, delivering the best year-on-year growth for 2023. The organisation provides a full breadth of managed technology and services, from applications, security, and cloud-led ICT to collaboration and contact centres.
Ethan Global took home the "ANZ Rising Partner of the Year" award for its significant growth in revenue and new pipeline in digital infrastructure solutions for enterprises and government organisations.
The new "Acquisition Win of the Year" award category was presented to Datacom Australia in recognition of securing a highly valued new customer win in the New South Wales public sector.
For the second year in a row, Computer Concepts Limited (part of Spark Business Group) continued to lead the way in delivering cloud computing and services to its customers in New Zealand. The company was awarded the Hitachi Vantara ANZ Elite Partner of the Year for 2023 and this year's ANZ Cloud Service Provider of the Year for Innovation in as-a-service offerings.
Finally, VMware Australia was honoured with the "Technology Alliance Partner of the Year" award for 2023. The Hitachi Vantara and VMware relationship continues growing in strength, with many customers in Australia and New Zealand relying on joint on-premise and hybrid cloud solutions. These are delivered and supported by Hitachi Vantara's professional services, customer service and support teams.
Steven Lee, Director of Strategic Partner & Alliances, Hitachi Vantara Australia and New Zealand, says: "The last 12 months have been an outstanding year for Hitachi Vantara's ANZ partner program, during which time we continued to implement partner feedback on tools and enablement and jointly drove a sustainable and profitable digital infrastructure business."
"We have seen significant improvements in the usage of partner tools, the enablement of our partner ecosystem, both in terms of virtual and exclusive face-to-face events like our Partner Technical Ambassador Club (PTAC), not to mention the growth in new partners and customer logos."
"As we look forward to the year ahead, we will continue to be laser-focused on building our valued partner and channel ecosystem and jointly go to market together to help customers navigate their business and IT challenges surrounding data protection, cyber resiliency, application and workload placement across hybrid and multi-cloud, and storage investment modernisation."
"At the same time, we also look forward to supporting end-user customers in leveraging universal data management to secure, protect, manage, and enable modern data pipelines for real-time business value and insights."
"We congratulate all our 2023 award winners and honour our entire ANZ partner channel for their ongoing support in building exceptional momentum and working alongside Hitachi Vantara to consistently support exceptional data-driven customer experiences with sustainable solutions that ultimately provide value and deliver better business outcomes," says Lee.