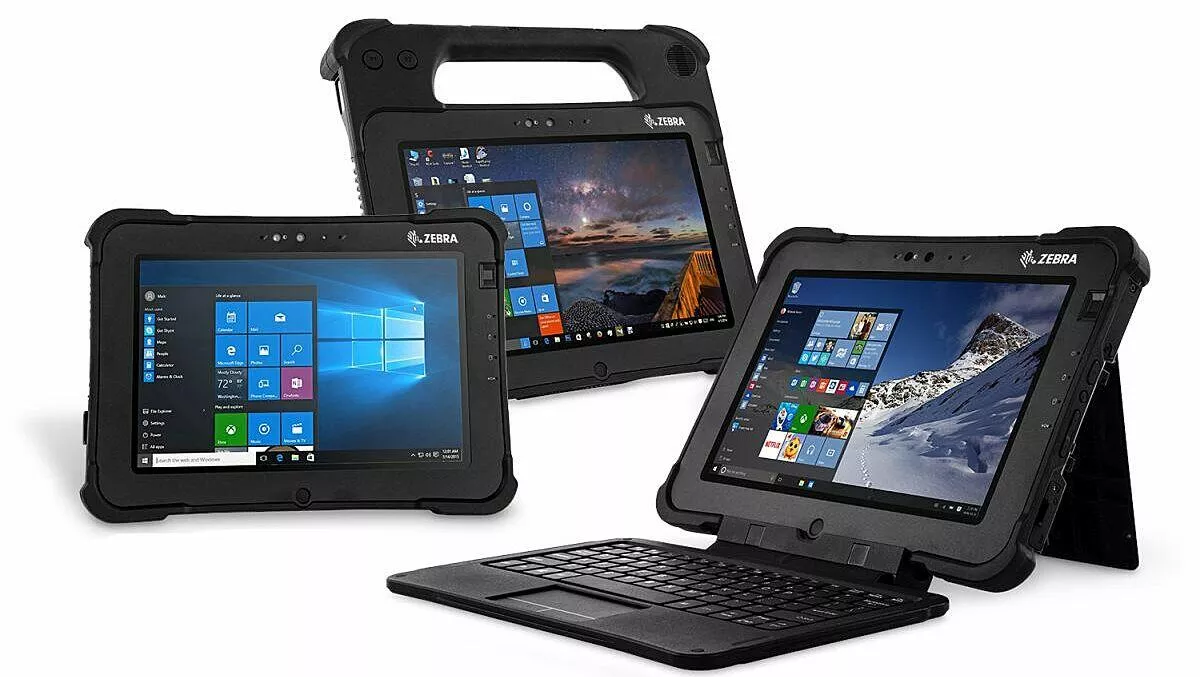 Hands-on review: Zebra L10 rugged tablets series adapt to any industrial setting
FYI, this story is more than a year old
From the moment of unpacking, it's obvious these units are armour-plated and designed to perform in some extreme situations. Happily performing in a warehouse, manufacturing, transportation - logistics or energy - utilities environment, these are industrial models in every sense of the word.
The options are mouth-watering and vast, and I can only give a peek at what the L10 series platform can accomplish for you.
Appearance
The units are black-on-black with reassuringly spongy corners designed to absorb drops and falls. The three models are similar but distinctively different. The XSLATE L10 is designed to be attached to various carrying options, and the XPAD L10 has a sturdy handle built into the top with Zebra's in-built proprietary scanner.
The XBOOK L10 has a fold-out backlit keyboard for using in a laptop configuration. I'm actually typing on it now. The keyboard is compact but easy enough to use, but not for long sessions. You'll most likely be pounding your calloused digits onto this tough-looking keyboard and leaving the office types to tidy up your work later. The keyboard swaps accuracy and finesse for robustness. Switching back to my laptop, I only need a few minutes of editing to undo all my typos.
These are no bezel-less light-weights designed for your padded briefcase and the boardrooms of the world. These units will be at home on oil rigs, construction sites, dirty benches and the occasional dirt-pile.
All models have a stylus that clips into the body with the added protection of a lanyard, ensuring it won't go astray. They are equipped to lock into the optional companion keyboard, which also serves as an extra level of armour or the screen when you're on the move. The battery charger port and connection port clips securely into place, ensuring that you won't end up with muddy deposits after a long day on the site. The devices are rated IP65 even when the ports are opened. The L10 series are tough-looking and sturdy, with a corresponding slight increase in weight. You'll know when you are toting a Zebra.
Accessories galore
I've just been perusing Zebra's accessories catalogue, and the only way to describe it is to say it's extensive. The range includes (but is not limited to) docking solutions, extended battery life and optional modules. The office dock transforms the device to a full desktop configuration for users that spend as much time in the office as they do in the field.
If you know you may be a long time between charges, you'll be sure to lap up the battery pack that will extend your working time beyond the normal 10 hours up to 27 hours. The battery extender kits also come with different options, including a kick-stand if you want to alter your viewing angle. Interestingly, the batteries are hot-swappable which allows users to quickly change out a dying battery for a full one without powering down.
Specifications
Now we come to the interesting part. You can choose between the Windows 10 Pro or Android 8.1 Oreo. The Android models are equipped with the Qualcomm Snapdragon 660 processor. There's a variety of storage options from 64GB to 1TB to suit the user requirements. Both Qualcomm Snapdragon and Intel vPro offer advanced security options, according to experts I've recently spoken with.
Designed for the enterprise
The Zebra is designed to weather different weather conditions from 60ºC heat to -20ºC freezers, and not to miss a beat. It even has technology designed to combat condensation. The Gorilla Glass 3 display is as tough as the rest of the Zebra, and the 10.1" display will operate in the dark as well as in outdoor conditions.
Zebra has developed a unique software ecosystem that transforms Android™ into an enterprise-ready force termed Mobility DNA that helps users on improving communication, increasing productivity and manage the devices, including the range of tablet platform.
Zebra adds, "Being well-connected with visibility into all assets, people, and processes is crucial to having an integrated, productive, and profitable supply chain. Zebra's mobile computing, scanning, and printing solutions connect each warehouse operational area to help you realise transformational gains.
Conclusion
The Zebra rugged range offers a broad range of functionality within a range of workplaces. While my test devices were Android, you also have the option of Windows. They've also recently certified a new ATEX/ICEx Zone 2 Windows model that meet rigorous standards to ensure safe usage in explosive atmosphere.
You pay for the rugged build features and for the functionality, which is precisely why the Zebra L10 Rugged Tablets are on your purchase list. Make sure that you start by taking a close look at Zebra's very extensive website. It is chock full of information, options and even case studies.
Zebra have done their homework in creating these incredible devices. Make sure you read through them to decide on the right options for your needs.
To find out more, please visit Zebra's website.