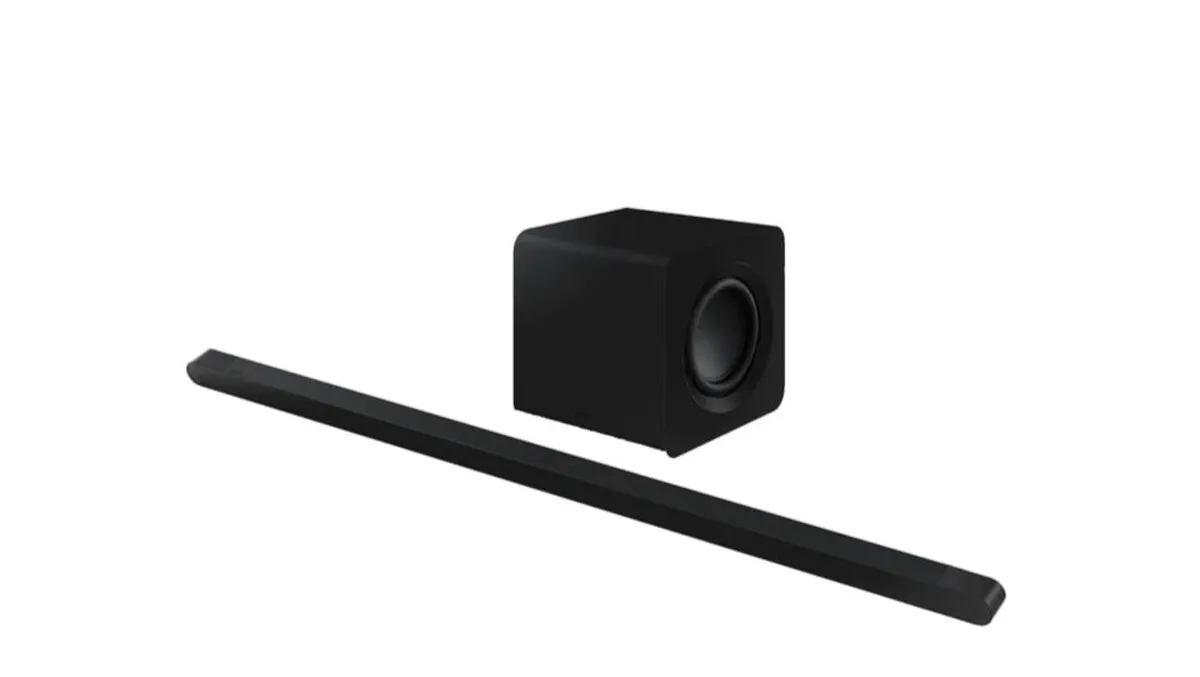 Hands-on Review: Samsung Soundbar S800B
Soundbars have become the perfect audio solution for our home entertainment setups, and the Samsung Soundbar S800B is a compact piece of kit which packs a punch despite its size.
It really is its tiny footprint that makes the S800B stand out from its competitors – the soundbar itself is just 45.7 inches long, 1.5 inches tall and 1.6 inches deep. This means it can sit discreetly on either your wall or TV unit and not look cumbersome like many other soundbars on the market.
With an RRP of NZD $999.99, it's also priced relatively well as a mid-range soundbar. But how does it perform?
First impressions and setup
I was taken aback when I first unboxed the S800B. I've had a fair bit of experience with various soundbars over the last few years and was expecting a similarly sized product to what I'm used to.
After removing the subwoofer from the packing – which has an uncovered driver and comes in at 9.4 inches wide, 9.5 inches tall and 9.4 inches wide - I initially struggled to spot the soundbar itself. Lo and behold, tucked away in polystyrene at the bottom of the box – there it was.
Both the subwoofer and soundbar are designed well – both are minimalist in looks and finished in a smooth black (although there are some reports from users experience bubbling on the subwoofer over time). The small USB-C-charged remote control matches this aesthetic – slim yet functional.
Other than the impossibly slim profile, it's also hard to ignore how long the S800B is. While this isn't a bad thing, it might look out of place against a TV less than 55 inches in size.
Fortunately, I had the soundbar connected to the new 65-inch Samsung S95C, and it complimented the TV's design and size perfectly.
Setting up the S800B is easy – first, you must plug the soundbar and subwoofer into the mains separately, and then they automatically connect to one another. To connect to your TV, this is done via HDMI ARC or via Bluetooth if you have a Samsung TV.
Although not tested for the purposes of this review, mounting the soundbar to your wall seems simple to do yourself, and mounts are included in the box.
Performance
Never judge a book by its cover - the S800B delivers great sound despite its slight appearance by combining three channels, the subwoofer and two up-firing channels. Boasting wireless Dolby Atmos, the soundbar brings a level of immersion and realism to your movies and TV shows. There are a total of 10 speakers with 330W of power.
When linked to a Samsung TV, you can also sync via Q-Symphony, which combines the built-in speakers of your television with the added oomph of the S800B to amplify the audio further. SpaceFit Sound adds to this further by automatically analysing your room to calibrate upper-range tones.
If you're a gamer, Game Pro Mode intensifies your experience through 3D audio to absorb you into your chosen Xbox Series X or PS5 game.
The S800B feels more connected than any soundbar I've ever used. It utilises Apple AirPlay 2 to make it even easier to stream music from your iOS device, and there is also compatibility with Siri and Amazon's Alexa. With select Android Samsung phones with Samsung's SmartThings app installed, you can even use a feature called Tap Sound to automatically play music or podcasts through the soundbar via a simple tap with your phone.
After being initially surprised at just how slender the S800B was, its overall performance surprised me. I tested the soundbar over the course of six weeks with content from various streaming platforms and sources, and it exceeded expectations.
Verdict
The Samsung Soundbar S800B is priced well and stands out amongst similar products due to its impressive design. Although its design to be discreet and minimalist, it might just end up being a conversation starter due to its size.
It boasts a whole range of features, even more so if you own a Samsung TV and want to intensify your viewing experience without the need for a full surround sound setup.
There may be other options out there from the likes of Sonos and Sony that offer a bit more in terms of sound quality, but pound-for-pound, the S800B might just be one of the best options out there.