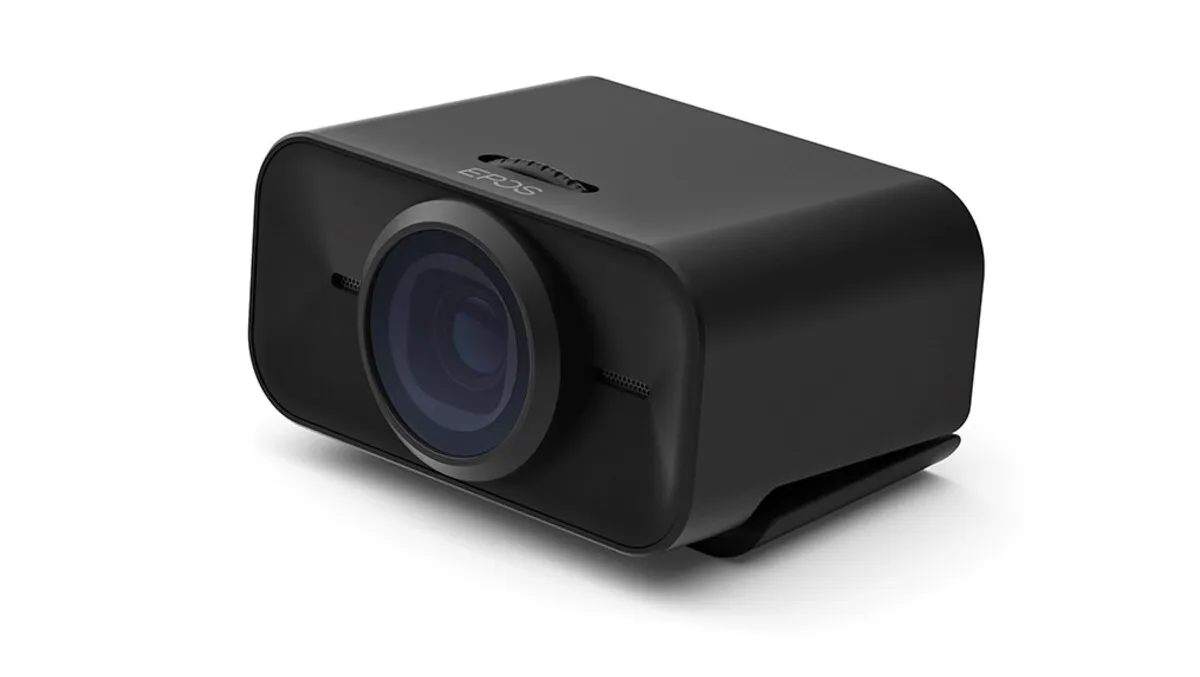 Hands-on review: EPOS EXPAND Vision 1 4K webcam
The EPOS EXPAND Vision 1 is a 4K personal webcam designed for video conferencing. Epos Australia sent one of its webcams over for us to take a love at..
Most laptops have reasonably good built-in cameras and microphones. They are usually intended for ad hoc video calls where quality is not a prime concern. With tiny lenses and mics built into modern laptops' increasingly bezels, they do a pretty good job.
But, if you are hosting a meeting or virtual presentation, I'm pretty sure that what is likely to be a 720p built-in laptop camera isn't going to cut it. We have all been on Teams meetings where one (or a number) of participants seem to be dialling in from the International Space Station. Whilst Epos can't help you with the quality of your Internet connection, the Expand Vision 1 can at least make sure that your video and audio are being professionally captured.
With the Expand Vision 1 4K webcam, Epos has drawn on its audio background to create a device aimed more towards corporate use than general consumer use. But with home working, the webcam is affordable enough to have a place in the home office.
In the box is a pocket-sized zippered clamshell protective case, the webcam and a 1.2m USB 3.0 Type-C cable. There's also a quickstart guide that points you towards the Epos website for further information.
At 43mm x 58mm x 29mm, the webcam itself is impressively small. The body has an integrated monitor mount that completely folds away. The top of the device has a dial that opens and closes the mechanical privacy shutter. To the rear is a USB Type-C socket for the included cable.
The device has a seven-element low-distortion lens with a 90° (Horizontal) / 56° (Vertical) / 95° (Diagonal) field of view. The depth of field is fixed, with a focus range of up to 3.5m. The camera is flanked by two tiny omnidirectional microphones, with a pickup range of 3m, that feature noise and echo cancelling.
The camera unfolds to slip over the top of your laptop screen, with rubberised grips securing it in place. There's a little swivelling foot to accommodate thicker screens. On the underside is a threaded hole for mounting on a tripod, etc.
When mounted directly on a monitor screen, the camera is not intended to be adjusted. Although there's a little flexibility in the mount to adjust the horizontal angle, the camera cannot be rotated up and down or side to side, which is worth noting if you intend to use it on a large monitor or at an angle. You can use the mount to place the camera on a table, angled up towards your face, however, the cable is rather thick and inflexible, needing to be bent into shape to stop it from moving the
camera.
The cable length is a bit short if you are thinking of using the webcam with a desktop PC. There's no included USB Type-A adapter if you are using older devices, but most devices support USB Type-C connectors these days. You can always use an extended aftermarket USB cable, one with a USB Type-A adapter, if necessary. The included USB cable has a 90-degree angled connector, which makes it hang nicely down the back of your screen.
Whilst the webcam gripped the thin bezel of my laptop, the wider rear of my desktop monitor meant that the device simply rested on top. It was not that much of a problem, except care needed to be taken managing that thick cable, or else it pulled the camera off.
The Epos Connect app (free to download from the Epos website) allows some fine-tuning of the camera settings (pretty much the same as those in most video capture suites). You can also update the webcam firmware or that of any of your other compatible Epos products using the Epos Connect app.
The video quality of the camera is superb. Even when set to 4K in low light, there was no discernible lag or grain. There's no tracking, but the Epos Connect app does have some positioning functions.
The microphone, whilst not studio-level, adequately picks up voices, even if quietly spoken. The audio playback was crisp and clear.
The webcam is certified for use with Microsoft Teams, Zoom and Unify. I had no problem using it with MS Teams or StreamLabs desktop, which not only makes the camera good for video meetings but also for streaming.
The Epos Expand Vision 1 is a handy little webcam for professional video conferencing. That it all packs away in a case that'll easily fit in your laptop bag means that you can always have the webcam on hand when needed out and about. It may lack a few features, but Expand Vision 1 packs a punch for such a small and convenient device.