Billed as the ultimate graphics cards for 1440p, AMD's new Radeon RX 7800 XT and its sibling, the Radeon RX 7700 XT, aim to take on Nvidia in the contested and very expensive mid-range graphics card market. We were sent an AMD Radeon RX 7800 XT reference card to test, which was perfect timing with the release of Bethesda's AMD-optimised Starfield.
Opening the box, it was nice to see a modestly-sized GPU. Parking the RX 7800 XT in the test rig (also sporting a new Asus TUF Gaming B760-Plus Wifi motherboard), I was impressed to find the new GPU even smaller than the ASRock AMD Radeon RX 6600 XT it was replacing. The reference card measured 260mm long, which is good news for gamers who like smaller cases.
Seated in the top PCIe 4.0 x16 slot, the RX 7800 XT took up 2.5 slots in the back of the case. It obstructed just one of the Asus board's PCIe 3.0 x1 slots, which I could live without. More power in a smaller form factor gets a big tick from me.
The card's two regular 8-pin PCIe power sockets ensured a trouble-feel installation, compared to the fragile connectors that Nvidia's 4000-series cards are kitted out with. The Radeon RX 7800 XT does draw up to 263W, necessitating a 700W PSU, which is worth noting, but to be honest, a decent 700-800W PSU should be the norm for a desktop gaming rig these days.
There was nothing strange or unusual about installing the card. It was an easy fit, using established industry-standard connectors. AMD is not trying to be clever, the RX 7800 XT from the get-go just behaves.
Being the AMD reference edition of the card, the test RX 7800 XT came without any RGB lighting. There were the standard two fans for cooling over the fins of the heatsink that runs the length of the card. The integrated circuit board was completely covered by a metal backplate emblazoned with "Radeon". It's a solidly constructed card, outputting via three DisplayPort 2.1 sockets and one HDMI 2.1 socket.
Over the years, AMD's rival, Nvidia, has maintained the lead by brute force. I have a huge Geforce RTX 4090 dominating the review rig, sucking power from the grid without a thought for my electricity bill. AMD, on the other hand, has taken a more considered approach.
Aided by the fact that both Sony and Microsoft's consoles have AMD hardware on board, PC ports of console games would seem to come with de facto optimisations for Radeon GPUs. This was probably why AMD Australia was so keen for me to test their new GPU with the Xbox-exclusive Starfield that ships with AMD's FSR 2.0 upscaling rather than Nvidia's Deep Learning Super-Sampling (DLSS) technology.
Armed with 16GB of GDDR6 memory and the RDNA 3.0 5nm Navi 32 chip, the Radeon RX 7800 XT is most certainly equipped to cope with the demands of 4K gaming. High-performance visuals are aided by AMD's FidelityFX Super Resolution upscaling algorithms, as needed.
AMD FidelityFX Super Resolution allows compatible games (which is most of them) to render each frame at a lower resolution, with the FSR technology upscaling the frames to the desired resolution. This takes the load of the 3D engine, improving game performance. The player can adjust the fidelity of the upscaling based on personal taste. By adjusting the extent of the upscaling, graphical performance can be fine-tuned between quality and performance for players to get the most out of their games. Unlike Nvidia's DLSS, AMD's FSR technology is platform agnostic, meaning that Nvidia owners can also use it.
Before driving into Bethesda's AMD GPU-optimised space opus, Starfield, I ran a few tests with UL's 3Dmark benchmarking software. I've been using this software for years, across hundreds of tests for a good comparison between different hardware setups. The results can be a bit artificial but, on balance, close to the performance in real-world gaming situations.
The last few machines that I tested with 3D Mark gave me a good idea of where the Radeon RT 7800 XT sat in the market. The results were pleasantly surprising.
My game review rig is a powerhouse of a machine based on an Intel Core i9-13900K coupled with an Nvidia RTX 4090 GPU. It's a premium gaming PC. I'd swapped out the Nvidia card a few months ago to test AMD's flagship Radeon 7900 XTX GPU, with some great results. The Intel Core i5-13600K test rig's previous GPU, a Radeon 6600XT, provided a good baseline result for an entry-level desktop gaming rig. Lastly, The Asus ROG Strix G16, powered by an Intel Core i7-13650HX with a mobile version of the Nvidia RTX 4060, provided a gaming laptop comparison.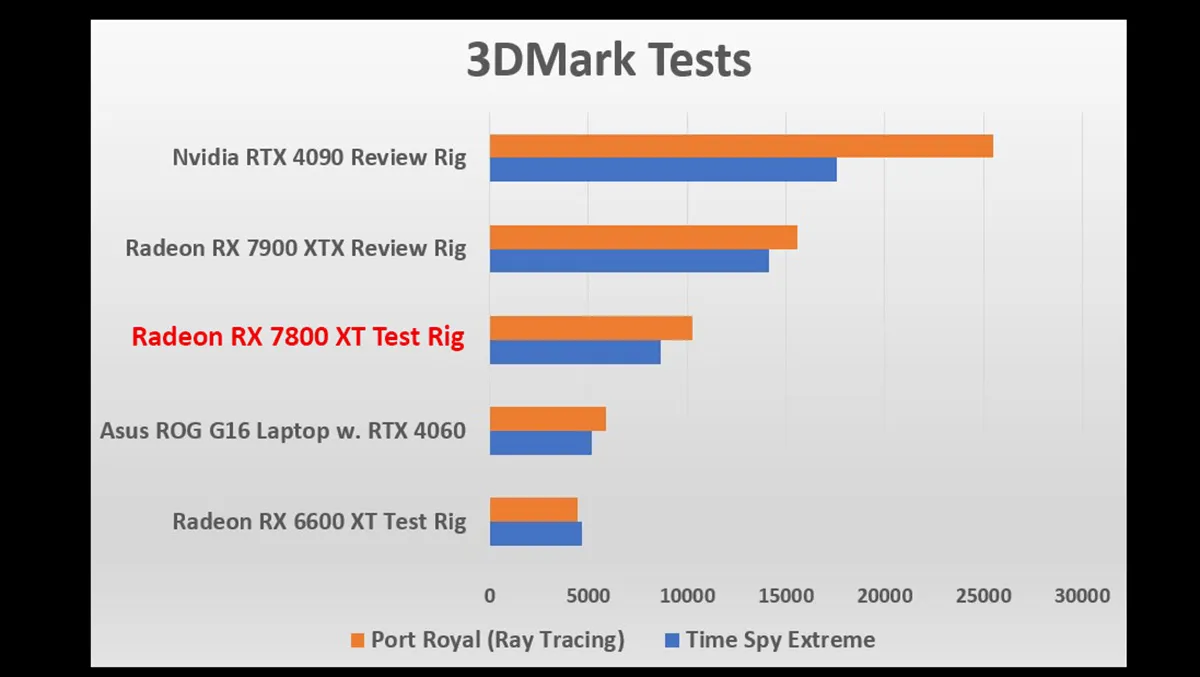 The Radeon RX 7800 XT results of 8638 for the Direct X 12 Timespy Extreme benchmark was impressive, but not as impressive as the Port Royal ray-tracing score of 10272. As with the RX 7900 XTX result, and now with the RX 7800 XT, AMD is catching up with Nvidia when it comes to real-time ray-tracing.
The Radeon RX 7800 XT, at around AUD$900/AUD$1000, may not sound like a budget GPU, but at a couple of hundred dollars less than an RTX 4070, that's what I was expecting. Instead, the benchmarks suggested pretty reasonable performance.
The reference card core clock was 2124 Mhz, and the memory clock was 2438 Mhz. OEM versions of the card are likely to up those clock speeds a little with their premium "OC" branding, but whether you'll see any performance gains is a matter of debate.
Overclocking AMD GPUs is not something that I've spent a lot of time doing. From experience, it's a lot of faffing about for very little gain. Then again, over the years, overclocking across the board has become more of a sport than a practical pursuit.
What you gain in performance by overclocking, you lose in the time that it took you to do it and the inherent instability that you introduce into your system. On a more budget-friendly GPU like the RX 7800 XT, the gains are academic, to be honest. A quick fiddle with MSI Afterburner got the card running with a core clock of 2800 Mhz and a memory clock of 2438 Mhz. It seemed stable at these frequencies and could probably have gone higher. But my quick overclock only gained me 129 3DMarks in the TimeSpy Extreme benchmark test. Worth noting if you are thinking of paying a premium for a factory-overclocked Radeon RX 7800 XT.
With the benchmarks out of the way, it was on to Starfield.
Bethesda partnered with AMD during the development of its new epic space game. As mentioned, both Sony and Microsoft's consoles are powered by AMD's hardware. So, it makes sense for Microsoft-owned Bethesda to team up with AMD for the Xbox Series X|S (and PC) exclusive.
Starfield places players in a living universe, planet-hopping and exploring on a quest to unlock the secrets of a series of ancient objects. It's a solid science-fiction game with an epic yarn threading itself around lots of emergent gameplay simply due to the player's character existing in the game world. The game features expansive alien landscapes, highly-populated cities, and starship-based action. There can be a lot going on, plenty to test the Radeon RX 7800 XT.
Out of the box, the game garnered surprisingly high results in the 90-100 frames per second range. The visuals looked impressive, as well. Under the hood, though, the default settings had dropped the sliders to "low" and kicked in FSR upscaling at 50%. It was crafty on the one hand but still impressive on the other, as the game still looked good in 4K.
Cranking all the settings to max, still in 4K, with no help from FidelityFX Super Resolution, I got 45 frames-per-second, which is pretty good and very playable. With FSR switched on at 75% resolution, it got the game up to 50fps. After lowering shadows and reflection to the medium setting, I hit the 60fps sweet spot of outstanding visual fidelity and a decent framerate.
Starfield's low, medium, high, and ultra graphics settings automatically adjust the FSR levels for you. Medium and high achieved 70 fps, with ultra at 50 fps and low at 90 fps.
All the above were in the densely populated hub city of New Atlantis on Alpha Centauri. Less graphically intensive areas would see boosts of 20-30 frames per second.
The main takeaway from playing Starfield with the Radeon RX 7800 XT was that even with all the settings maxed out, the game ran absolutely fine in 4K. The lowest frame rate I experienced was still more than the Xbox Series X|S owners locked 30 fps.
One feature missing from Starfield right now is real-time ray tracing. In recent years, Nvidia has led the way with ray tracing via its RTX architecture. AMD, however, is catching up to the point that Radeon cards offer viable, high-quality ray-tracing functionality. As mentioned above, the Radeon RX 7800 XT performed spectacularly well in the 3Dmark Port Royal ray-tracing benchmark.
To test the GPU's in-game ray-tracing capabilities, I turned to Marvel's Spider-Man from Sony. This is another console port, this time via the PlayStation 4 & 5. Swinging through the New York skyline with the settings maxed out and ray tracing enabled, even in 4K, the game never skipped a beat.
The Radeon RX 7800 XT delivered incredible visuals, barely dropping below 70 frames per second.
Tweaking the FSR setting could have boosted the framerate at the expense of the visuals, but I was happy with this framerate and the breathtaking view of Manhattan. With ray-tracing switched on, Spidey's reflection glistened in the windows of the skyscrapers as he swung past.
As you'd expect from mid-range cards, the AMD's Radeon RX 7800 XT is all about price vs. performance. At one end of AMD's range of 7000-series GPUs, you have the raw 4K performance of the RX 7900 XTX at whatever the cost, and at the other end, the budget-friendly RX 7600 offers great 1080p performance.
I think AMD is doing the Radeon RX 7800 XT a bit of a disservice in marketing it as a 1440p card. Practically speaking, it is a reasonably affordable graphics card capable of running modern games in 4K at pretty much ultra settings. With the help of FidelityFX Super Resolution, framerates north of 60fps are all but guaranteed.
At 2560 × 1440, it's likely to be your monitor's display frequency holding back your framerate, not the GPU. In my view. the AMD Radeon RX 7800 XT paired with Intel's Core i5-13600K makes upper mid-level PC gaming for under $2K a viable endeavour. It's a great GPU and worth considering for your next gaming rig.