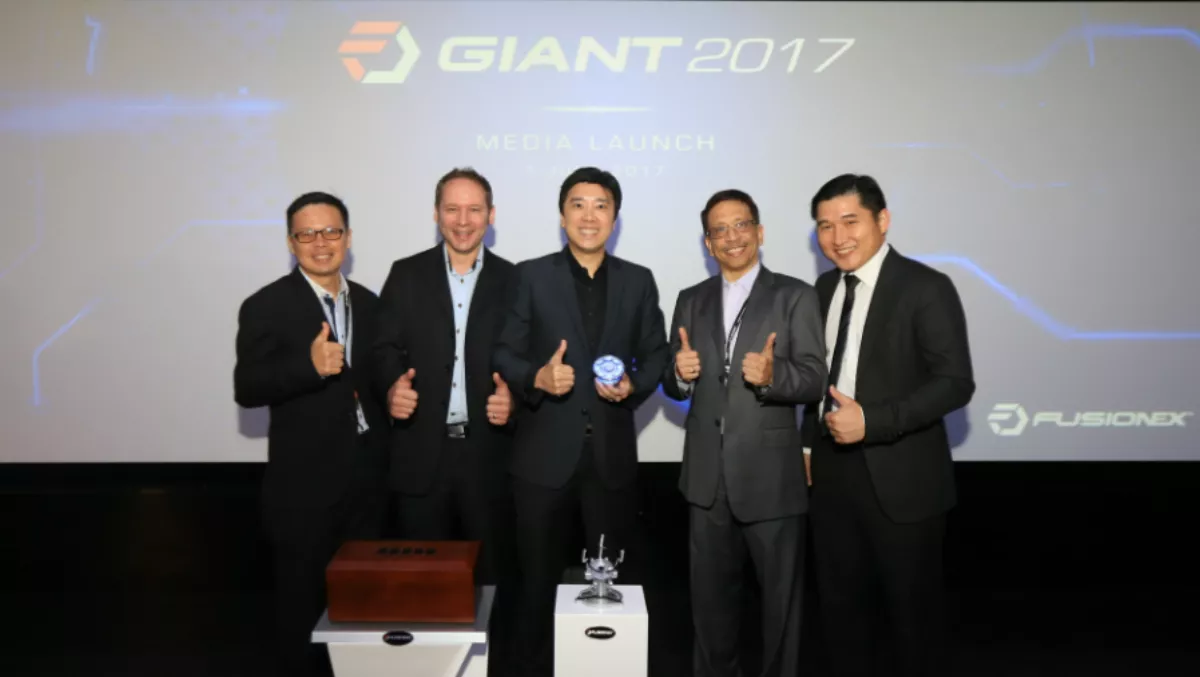 Fusionex launches more advanced (but also more simple) GIANT 2017
Fri, 2nd Jun 2017
FYI, this story is more than a year old
By Ashton Young, Editor
Fusionex has announced the launch of GIANT 2017 at its headquarters in Petaling Jaya, Malaysia.
According to the software solutions provider, the enhanced BDA platform os the latest addition to Fusionex GIANT and boasts all-new search-driven analytics capabilities that allow users of any skill level to unearth insights in their data.
Using an intuitive and easy-to-use search function, users can simply key in requests and GIANT will deliver the analysed results.
It certainly comes at a good time for the big data analytics (BDA) and Internet of Things specialist (IoT), as IDC recently shared that close to 50 percent of Malaysian respondents from their 2016 Asia/Pacific's Software Study are looking to deploy cloud-based analytics software in the next couple of years.
"Todays' announcement marks a milestone for Fusionex as we push the boundaries of how data can be analysed and extracted by anyone," says Ivan Teh, Fusionex Chief Executive Officer. "This will revolutionize the way businesses use data in the future as it with a simple request; they will be able to discover complex insights into their data.
The platform comes with a feature called Natural Language Processing (NLP), which Teh asserts is an artificial intelligent component that businesses can leverage to enable their system to understand user queries and immediately churn data insights.
"With AI capabilities, enterprises will be able to reach out to their customers with more comprehensive insights that were easily retrieved in a short period of time," says Teh.
"Time is of essence in a data driven consumer world, where trends and customer needs change rapidly. Businesses need their data analysed faster and easier and Fusionex will now be able to provide these capabilities.
AVP of Analytics, Big Data and Cognitive Systems research in IDC Asia/Pacific, Chwee Chua says where self-service analytics capabilities and data integration is concerned, availability of skilled resources is a common roadblock to BDA initiatives among APEJ organizations and this is where Fusionex GIANT's offerings stand to add tangible value.
"The barriers of artificial intelligence, machine and deep learning are rapidly dropping. As such, cognitive systems, the likes of Fusionex GIANT's natural language processing capabilities, will soon be powering data-driven applications across a wide spectrum of solutions," says Chua.
"More than sixty-five percent (65%) of organizations in the region remain at the first two stages and take an ad hoc or opportunistic approach. This majority has just started their BDA journey, learning and experimenting BDA technologies to address business challenges. Fusionex GIANT would therefore be in a position to help these organizations do so.
Following a soft launch, late last year, 10 companies were invited to take part in the pilot run of Fusionex GIANT 2017, and 8 out of 10 have already signed up for GIANT 2017. The company expects the rest to sign up imminently.
"Our vision has always been to create innovative technology that meets the business needs of todays' market. Innovation drives growth and we strongly believe Fusionex GIANT 2017 is the answer to an IoT driven world that is in constant need of better, faster, cost optimised and commercially-feasible technology," Teh says.
"Analytics can help bridge the gap between business and customer needs, and we are ever ready to assist our customers to stand above their competition.