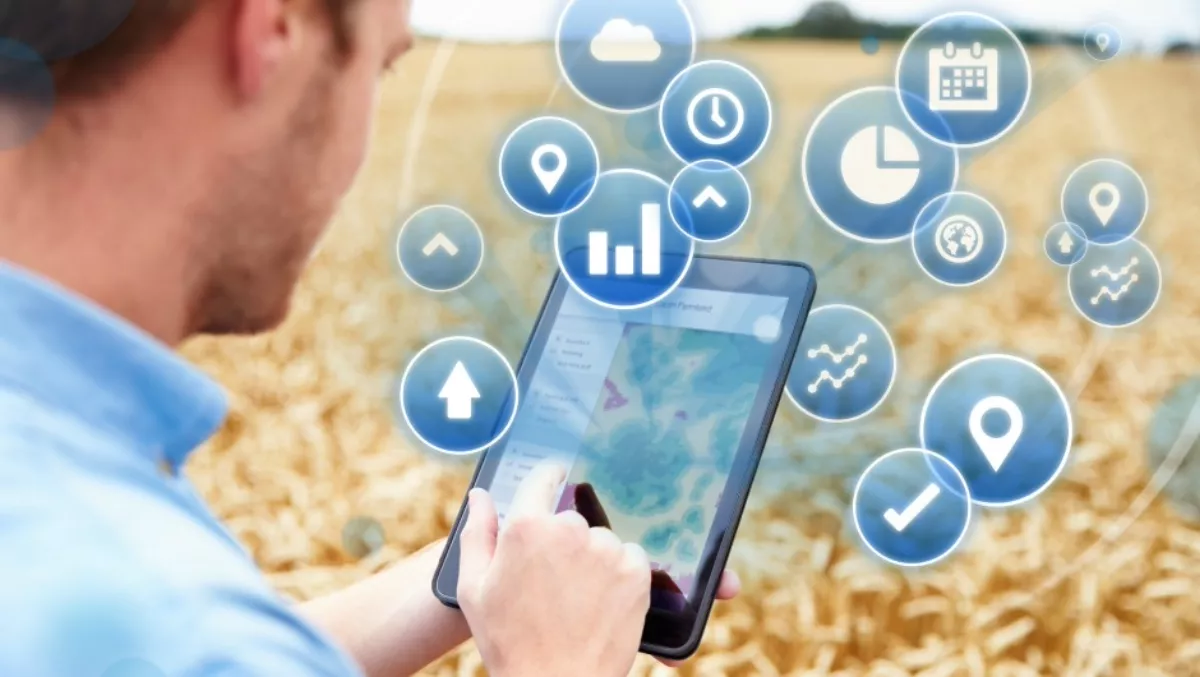 Frost & Sullivan tells: The $500+ million local agritech opportunity
FYI, this story is more than a year old
Demand to produce more efficiently while also using resources more efficiently along with an influx of 'new age' farmers is helping drive demand for agritech – or precision agriculture – across Australia and New Zealand, according to Frost & Sullivan.
The analyst firm is forecasting the precision agriculture market in Australia to hit $500 million in revenues by 2020. While Frost & Sullivan doesn't have a figure for the New Zealand market, Dev Anand Dorasamy, Frost & Sullivan ANZ consultant, says 'we imagine it is quite decent as well'.
Dorasamy, who has just completed a report into precision agriculture, says farmers are open to adopting new technology – and word of successful technology implementations spread quickly through the industry.
"Australian farmers and New Zealand farmers are among the fastest to adopt new technologies that come out in the farming industry.
"But it tends to be very focused on reduction of labour. Any solution that comes out and says it can reduce the number of hours you need to work or the number of staff you need, that type of solution tends to pick up quite quickly."
One area Dorasamy says is growing fast is wireless sensor networks, with farmers harnessing the sensors to monitor irrigation, water tank levels, and even fences around farms thanks to its potential to reduce labour costs. Instead of sending farm hands to check manually, farmers can instead monitor remotely and receive alerts.
"Livestock tracking would be the most beneficial [use of sensors] but the problem is the cost," Dorasamy says.
However, he says low power wide area networks have the potential to open up the market, with cheap sensors and low communications cost between the sensors, along with the low power requirement.
"Potentially livestock tracking will take off as this technology gets adopted more widely."
And it's not just out on the farm itself where sensors hold promise. Dorasamy says hot houses, with their controlled environments are currently monitored predominantly manually.
"But there are trials going where they're remote monitoring and from what we understand the trials have gone very well and we should see mass adoption in that area."
Just like any business, farmers too are looking to reap the benefits of big data – or more specifically prescriptive and predictive analytics.
"Prescriptive analytics is basically from the farm data, whatever the farmer is entering either automatically or manually," Dorasamy says.
"It analyses that data and says this part of your farm is not performing as well as it should, perhaps the output is not good versus the cost going in to it, and it might be a good idea to not even plant that field next season.
"Predicitive analytics is when we use big data to get comparative to all the farms in the area or even Australia and use weather models and things like that to tell you this is the best time to plant, this is the best crop to plant – it can even make crop rotation suggestions."
Applications yet to be seen in Australia and New Zealand include monitoring of equipment, such as tractors and harvesters, for maintenance purposes.
However, Dorasamy says the lack of an open platform is hampering big data analytics locally, though government and farming groups are working to address the issue, he notes.
The potential of data doesn't just lie in helping the farmers directly.
Dorasamy says once farmers are more open to sharing of data among themselves and other third party institutions, there's scope for a 'mutually beneficial precision agriculture model'.
The model Dorasamy is suggesting would see IT companies collecting the data and de-identifying it so specific farms can't be identified, before selling to third parties such as future traders or suppliers such as those providing farming equipment, fertilisers or pesticides.
"The revenue generated from that is shared with the farmers themselves," he says.
Dorasamy believes there is also scope for the sharing economy in Australian and Kiwi farms.
"The farming industry is still very fragmented and the equipment is quite expensive – a tractor can cost half a million dollars, agri-drones are $20,000 to $30,000 each," he notes.
However, he says equipment farmers aren't using consistently could be shared with other farmers – in doing so, sharing the cost of items such as drones, which have the potential to revolutionise farming but remain cost-prohibitive currently.
"Maybe there is an online platform to help farmers share these smaller, less critical equipment. But the real sharing needs to happen in terms of data. When farmers can share data that will be a big boost. Essentially resellers will find more opportunities to provide better solutions when farmers can pool and share their data."
The challenge
But while precision agriculture may be a growth $500 million-plus market, Dorasamy admits it will have its challenges for resellers.
"They play an important role, but a farmer is more comfortable going to John Deere than Microsoft.
"Microsoft for them is PowerPoint or Word. They don't see them as something beyond that computer solution provider essentially.
"Having said that, if resellers can tap into the distribution channels for farming equipment – basically the farm retail stores that tend to be in every region – those are the main gatekeepers to the farmers."
Dorasamy says IT resellers need to be 'invisible integrators', providing pre-packaged, integrated plug and play offerings which provide actionable information for farmers.
"What essentially needs to happen is a lot of working together across all the various IT solution providers.
"They need to come together to provide one solution where the farmer just needs to buy one thing and each of these solutions can be provided by different IT providers, but the solution itself should be one."
However, Dorasamy says farmers are quick to latch on to new technology when they see it working.
"If they see the neighbouring farm applying something and it works, they are likely to adopt it very quickly.
"So use cases are very important. You need trials or a success story in that region because when farmers talk, other farmers listen."
Related stories
Top stories