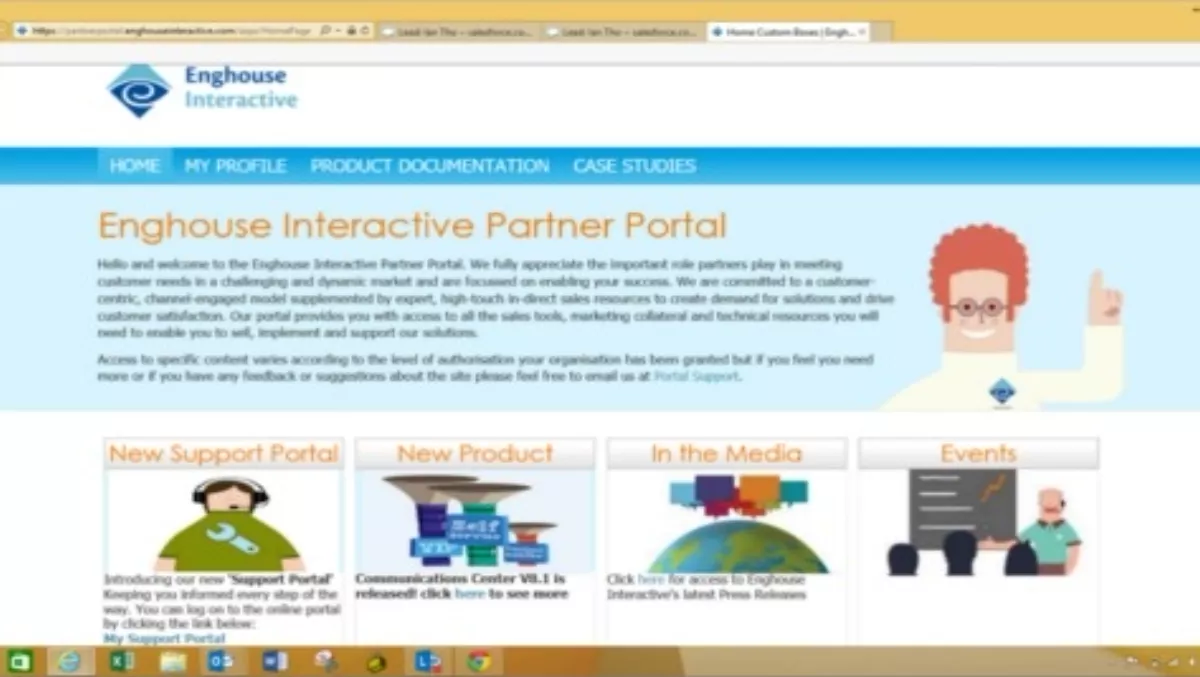 Enghouse Interactive launches new partner portal, boost channel support
FYI, this story is more than a year old
On the back of some solid growth and product rebranding, UC solutions provider Enghouse Interactive is bolstering its support of channel partners. The recent hiring of a new marketing manager, as well as the addition of a dedicated training resource to the team will complement an all-new partner portal.
Enghouse Interactive has rebranded a number of their products.
"Enghouse Interactive is a publicly listed Canadian company. The are basically an acquirer of contact centre technology," explains Dean Hodgson, the general manager for the ANZ region.
As a result of those acquisitions, Enghouse Interactive has accumulated a number of products with diverse nomenclature. So, a number of products have been rebranded so that they can be better articulated in the market.
The solutions offered by Enghouse Interactive are targeted at mid-market and enterprise customers. Some of their products are sold to OEMs such as NEC although their solutions integrated with call centre solutions from Cisco, Avaya and Microsoft as well.
"We've built a comprehensive contact centre portfolio and the goal is, really, to have more contact centre than anyone else," says Hodgson.
One of those acquisitions was NZ based company Zeacom – a company Hodgson says gives Enghouse Interactive an entry point to mid market customers and a solid presence in the ANZ region. Also, Zeacom had a global OEM relationship with NEC that was valuable to Enghouse Interactive.
"It's a technology fit in a particular market segment," adds Hodgson.
Hodgson says that Enghouse Interactive is on a journey with their partners.
"Zeacom was always a partner of someone else. We were never the first choice, typical vendor that a reseller had built their business around. Because we integrated into NEC, Avaya and Cisco, they already had practices – we were that value added application. To get the channel to invest heavily around expertise, around product was very tough. They had a lot of resources committed around Cisco for instance," Hodgson says.
"It was more a 'sell with' model, where we did a lot of the heavy lifting alongside the channel providing that product knowledge and expertise, and, in some cases, leading the sale".
Hodgson joined Enghouse Interactive about 10 months ago and noted that it wouldn't be possible to scale the business by doing things the same way. His vision is create a self-sufficient channel to represent them better in the market, deliver more value to customers and earn better margins.
"The new channel partner programs we're putting in place are all about empowering partners to be more self-sufficient. The partners want to do that. They want to be able to stand in front of the customers and bring their expertise to the table," says Hodgson.
The new training programs, with specialist trainers, that are being put in place will be complemented by a new partner portal that will allow Enghouse Interactive to share the product and solution knowledge they have internally more easily.
Over time, the portal will expand to include the ability for partners to register potential deals and leads.
"It's about having clear rules of engagement around lead management. Where we're moving to is having the partner portal having a deal registration component so that a partner can register an opportunity, detail the work they are doing, let us validate it but them have them as the partner of record and reward them accordingly with more support or more discount," explains Hodgson.
"We want to be able to recognise and reward those partners who are creating leads in the market for us, bringing them to us and helping grow our business".
Related stories
Top stories