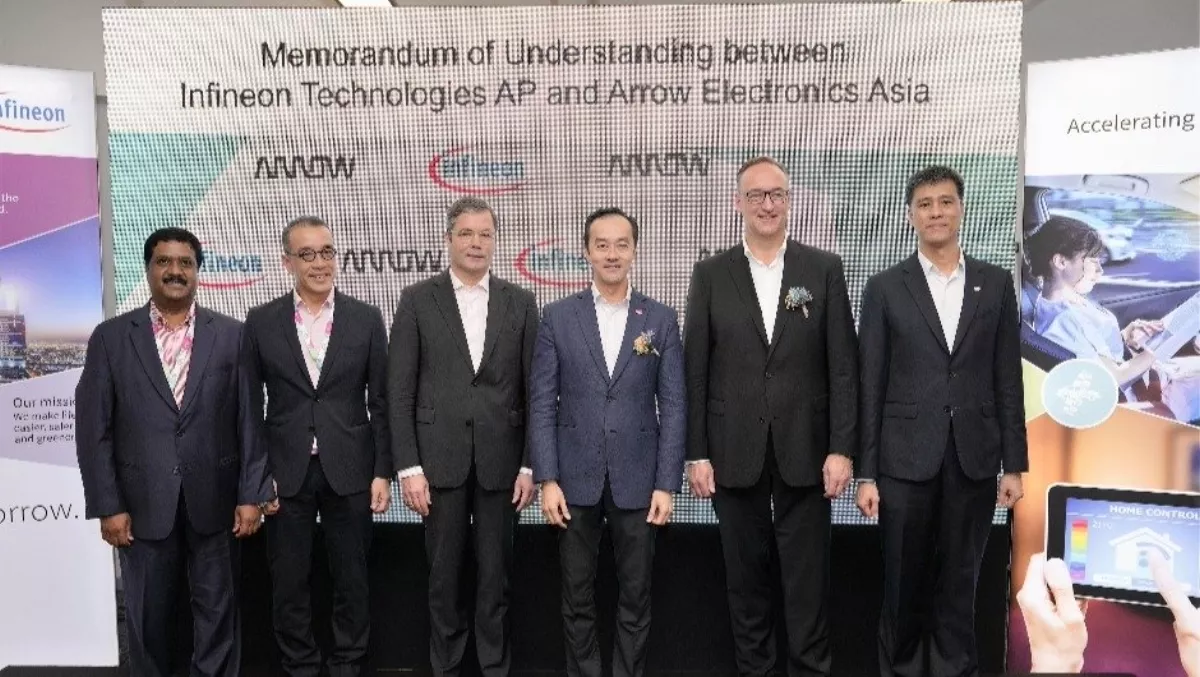 Arrow Electronics and Infineon to provide A/NZ startup support
FYI, this story is more than a year old
Arrow Electronics has signed a memorandum of understanding (MoU) with Infineon Technologies, a German semiconductor and system solutions provider, to provide start-up businesses in Australia, New Zealand, South East Asia, India with innovative products and engineering support to help them accelerate the idea-to-impact innovation journey.
The MoU was signed at Infineon Technologies' OktoberTech Asia event today where industry players showcased solutions around the future of mobility, robotics, smart living and smart cities.
"Infineon offers a wide range of microelectronics that connects the digital world of data with the real world of things, from sensors to security chips," says Infineon Technologies Asia Pacific president and managing director.
"Infineon's collaboration with Arrow will offer start-ups the capabilities and innovations to develop the next generation of intelligent and intuitive devices."
Ministry of Trade & Industry and National Development and H.E. Senior Minister of State Dr Koh Poh Koon and German Ambassador to Singapore Dr Ulrich A. Sante were among the officiating guests at the event on the weekend.
"With technologies rapidly evolving in the last few years, startups constantly face challenges to stay ahead of the game," says Arrow Asia-Pacific South Asia sales vice president Natarajan MM.
"They are often in need of engineering expertise, especially in areas such as wireless connectivity, sensing and controlling and system integration. This is where Arrow can come in to bridge these knowledge gaps and accelerate turning innovative ideas to impactful inventions/businesses.
"We are excited to extend our long-standing collaboration with Infineon and put a wide range of Infineon innovative products in the hands of the innovators and engineers, especially in the areas of autonomous cars, electrified low-speed vehicles, robotics, industry 4.0, and smart home and city applications."
Arrow has established its start-up support credentials already in Singapore, including announcing a collaboration with AIRmaker, a Singapore-based internet of things (IoT) accelerator.
Arrow has been helping the AIRmaker programme start-ups become more effective and productive in their idea-to-impact product journey by overcoming technical challenges and gaining critical IoT technology know-how, to turn a design into a product ready to be manufactured.
"As a start-up accelerator, we have seen a lot of talented entrepreneurs and promising startups in Singapore who are ready to take off and thrive. They have great business ideas and the vision to contribute to the nation," says AIRmaker managing director Kwai Seng Lee.
"Global technology companies such as Arrow bring technology know-how and engineering expertise that can help startups throughout their idea-to-impact innovation journey."
Related stories
Top stories