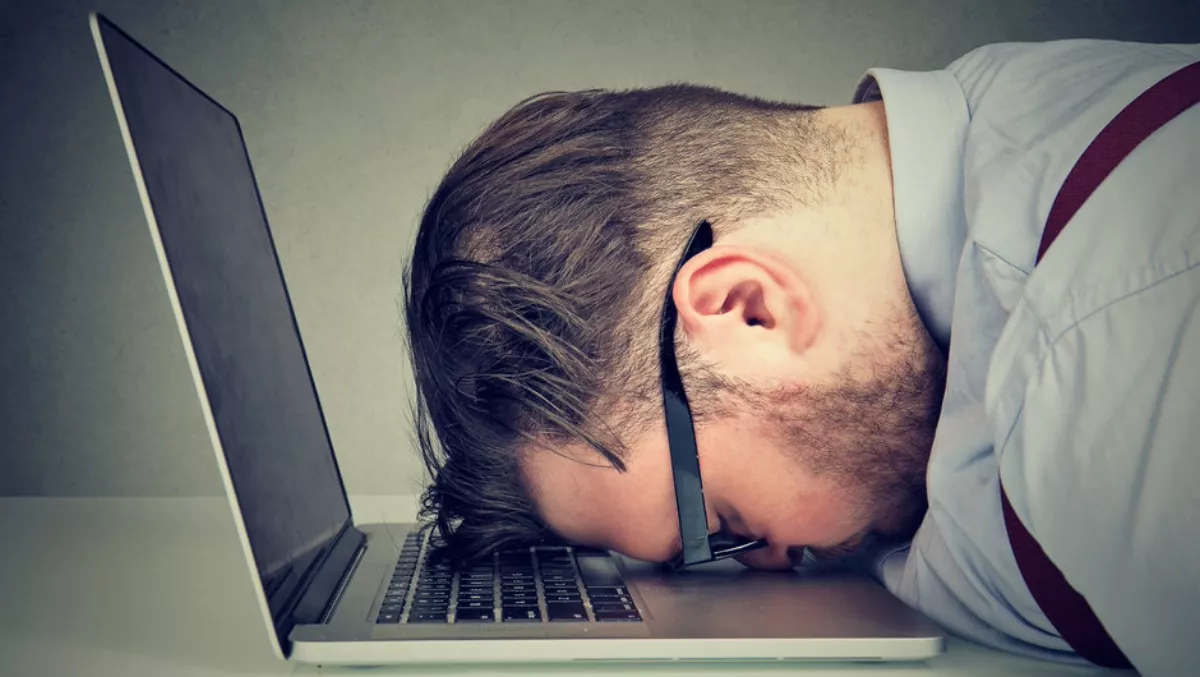 Admin major barrier to small business success
FYI, this story is more than a year old
The engine room of the economy may be at risk of stalling, as new research reveals the weight of administration and red tape is costing small businesses an average of 541 hours in time, and $14,857 in money each year.
This is a total annual cost of more than $20.16 billion per year for Australian small businesses.
The 'In The Zone' research from Australian accounting software provider, Reckon, revealed that almost half of small business owners (46%) say the admin and red tape of running their business is 'killing the dream' that made them start it in the first place.
The survey of more than 1,300 small business leaders across Australia sought to investigate the benefits and barriers to achieving peak performance – or being 'in the zone' – at work.
It comes ahead of the deadline to adopt Single Touch Payroll (STP), which is the biggest compliance change for employers since the introduction of GST almost 20 years ago, and will require more frequent reporting of payroll information to the ATO.
"Most people can relate to the self-motivation idea of being 'in the zone' – that is, a flow state of heightened focus, efficiency and productivity," says Reckon CEO Sam Allert.
"Whether running a cafe, building a house or treating patients, every business owner knows the feeling and benefit of being 'in the zone' or operating at their peak – they're just held back by distractions and worrying about things like admin, payroll and compliance that can impact work efficiency.
"Those that can streamline work for peak performance are not only more profitable, but they can invest more time and money in staff, marketing and innovation, to get ahead of the competition.
Per week, many spend more time on administration and payroll (at an average of 10 or more hours) than they do operating at their peak (an average of fewer than 10 hours).
Some of the biggest barriers preventing small business owners from achieving peak performance include having to do administrative tasks, feeling tired or stressed from work, or interruptions from phone calls and emails.
On a positive note, Reckon's research found nine in 10 (92%) respondents were actively taking steps to get 'in the zone'.
Almost half (46%) were structuring their work day by doing things like tackling complex tasks in the morning or following a strict routine; while 42% proactively eliminated distractions, including turning off their email or phone. 23% are taking up mindfulness practices such as meditation or 'living in the moment'.
Those who achieve more time 'in the zone' and make time for daily admin report spending 17% less on admin and payroll expenses than their counterparts. This equates to an average saving of $3,385 per year.
Sleep sacrificed for salary reporting
The 'In the Zone' research revealed that the average small business owner gets approximately 4.5 hours sleep per night, far less than the recommended 7-9 hours. 13% of respondents even say they do their admin and payroll before 6am.
'Netflix and admin' costing business
The research found that the pressure of administrative tasks and red tape has caused 58% of small business leaders to make an error that has had a financial implication, such as over or underpaying a supplier or employee, or transferring payments to the wrong person.
This could also be due to time-poor small business leaders trying to juggle several things at once. 84% say they have done their business admin or reporting while multitasking – for instance, a quarter have watched TV or used a streaming service while doing admin and payroll tasks.
One fifth of small businesses not compliant, or 'unsure'
Concerningly, ahead of the STP requirements, 21% or 659,000 of small business leaders in Australia don't believe or don't know if their business meets all existing compliance requirements, let alone upcoming changes from 1 July.
Around a quarter (24%) also admit that they do not currently use an accounting and payroll software, which is a pre-requisite to getting STP-compliant with the ATO.
To help all businesses ahead of the new Single Touch Payroll reporting requirements, Reckon has launched its 'In the Zone' hub (reckon.com/zone) with important compliance information, industry-specific research findings, as well as practical tips and advice for peak performance at work.
"Reckon helps small businesses improve work efficiency and operate at their peak. We do this via a range of cloud software and mobile app solutions that are simple to use, accessible from anywhere across a range of platforms, and meet important regulatory requirements – particularly for STP and the end of financial year," said Allert.