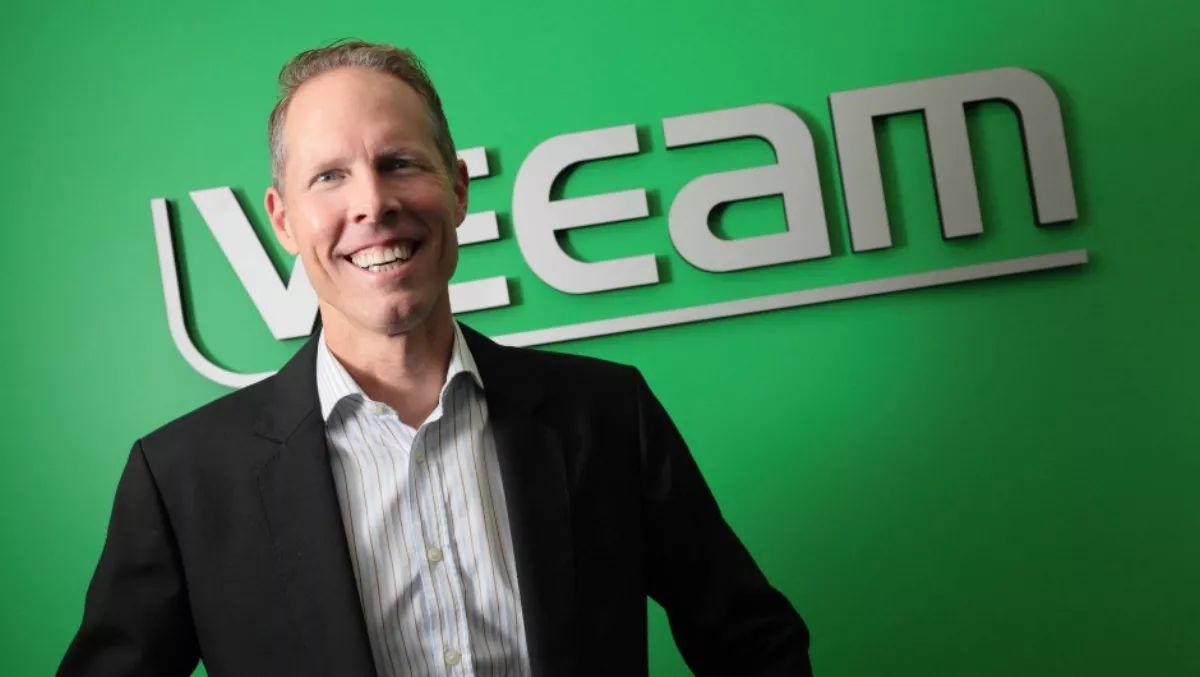 Veeam continues high local growth; ups cloud push
FYI, this story is more than a year old
Veeam Software has continued its rapid growth, with the vendor logging a 21% increase in total revenue bookings across Australia and New Zealand in Q3, with new customer numbers up 18%.
The vendor added 7890 new customers across ANZ, with a 30% year on year increase in new license bookings from large enterprise deals.
ProPartner numbers climbed 15%, or 2280.
Don Williams, Veeam Software ANZ vice president, says the company's local Q3 results show Veeam 'has indeed positioned itself as a key enabler in digital transformation' for ANZ organisations.
"Veeam is delivering the all-critical prerequisite of 24/7/365 availability to CIOs and IT decision makers, enabling them to keep their organisation's growing data and number of applications staying always-on and providing the best customer experiences as well as promoting productivity," Williams says.
"As Veeam continues on its growth trajectory to meet its $1 billion goal by 2019, it's gratifying to see the contribution the ANZ region is making with our sustained year-on-year growth in all areas."
Peter McKay, Veeam president and COO, highlighted the importance of digital transformation on Veeam's results, saying digital transformation is 'a do-or-die business reality to transform the customer experience and unlock new levels of enterprise productivity'.
"Veeam is playing a key role in this transformation, as our strong Q3 results demonstrate.
"Without 24/7/365 availability, all the advantages received by digital transformation are lost," McKay says.
The latest results highlight 'impressive' growth in the cloud, with demand for disaster recovery as a service intensifying globally, Veeam says.
That's a trend being mirrored across Australia and New Zealand, with the vendor seeing a 38% increase in the number of transactiosn within the VCSP program.
"As organisations in ANZ look at their options within the hybrid-cloud environment, the 1050 ANZ Veeam Cloud and Service Providers (VCSP) are seeing high demand for disaster recovery-as-a-service, and new opportunities to acquire new customers and grow recurring revenue," Williams says.
Growth in actual numbers of local VCSPs was flat for the quarter, remaining at 1050.
Veeam has just appointed Paul Mattes as vice president of its global cloud group as it seeks to accelerate enterprise adoption of its cloud technologies, which include the recently introduced Veeam Availability Platform for the Hybrid Cloud.
Mattes, who was previously Microsoft's general manager of cloud and enterprise sales for the Americas, is charged with developing Veeam's growing presence in the cloud market and supporting its position 'as the leading vendor of backup-as-a-service and disaster recovery-as-a-service solutions for cloud and service providers'.
"Our goal is to define the BaaS and DRaaS markets by offering the best solutions our customers are requesting," Mattes says.
"With a 100% channel focused strategy, we'll provide Veeam Cloud and Service Providers and our channel partners with the technology platform to build and deliver those services to our joint customers," he says.
Globally, Veeam racked up 31% year on year growth in total bookings revenue and says 71% of Fortune 500 and 51% of Global 2000 companies are now Veeam customers, with a 49% increase in new license bookings from large enterprise deals. Microsoft Hyper-V new license bookings saw a 37% growth over the same period last year.
Paid customer numbers were up 11,500 to 216,500 worldwide, keeping pace with the company's historical average of adding 3500 new customers each month, with Veeam saying 12.5 million virtual machines are now protected by its availability solutions.
Related stories
Top stories