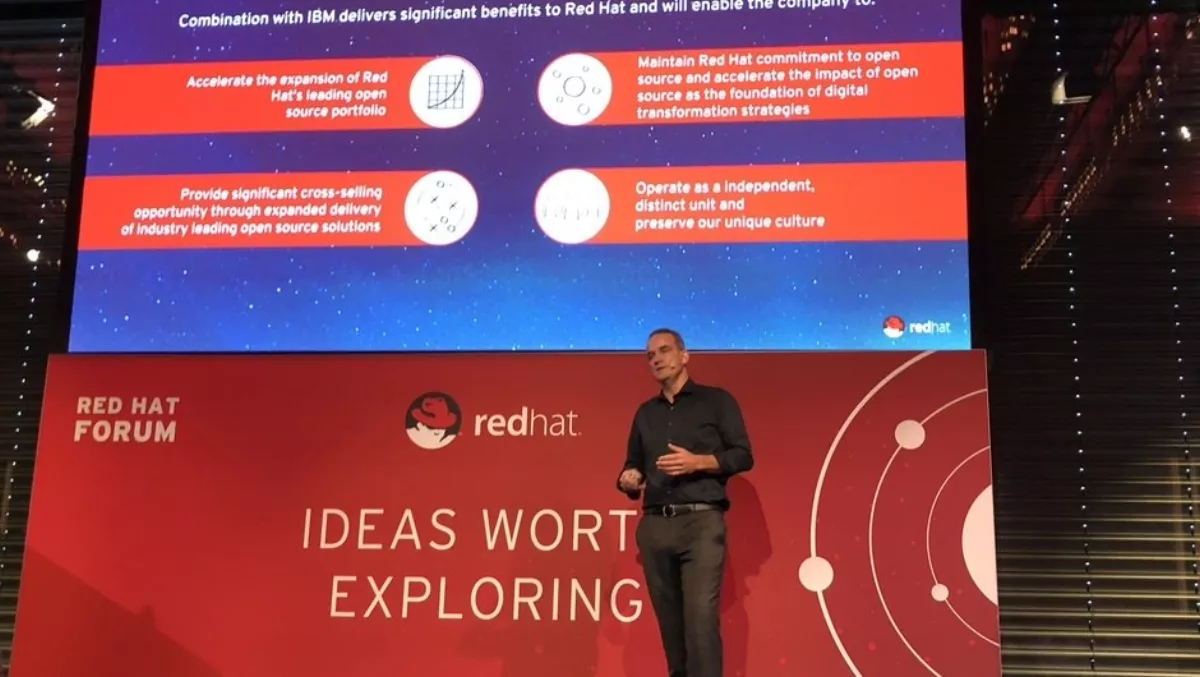 "That's the open source way!" The Red Hat Sydney Forum Keynote
Fri, 23rd Nov 2018
FYI, this story is more than a year old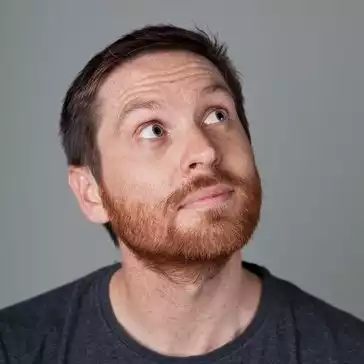 By Ben Moore, News Editor - Channel
Red Hat's driving theme for their forums this year is 'Ideas Worth Exploring', a much more descriptive and identifiable theme those that most vendors use for such events.
This is fitting, as the company spent a fair amount of time explaining exactly how they can help companies leverage open source solutions to replace the expense of the current big vendors.
Red Hat ANZ vice president and general manager Max Mclaren took to the stage to provide some perspective on where we are and where we should be looking.
"If we're looking at what dominates the IT industry today, I would say the opportunity for us as customers, partners or vendors has never been so good," McLaren says.
"That's because we're the primary reason for a lot of the dynamism in organisations and the economies that we live in today. On the other hand, we are also the source of the ability to cope with, if not leverage that change.
He also touches on some of the challenges that the industry is facing in the face of the ever-expanding expectations that everyone from vendors to IT managers are now experiencing.
"The pace of change and the complexity of the IT landscape has created a dramatic lack of time and skills for us to manage and run our IT infrastructure and our devops and applications environments.
"However, automation is emerging to deliver changes fast without increasing the people to perform the reparative activities, drive the tasks associated with devops, or resolve the complexity of managing hybrid or cloud environments.
McLaren's positivity and optimism are a little contagious as he looks both backward at the company's success so far, and forward at what is around the corner, taking a full spectrum view in what seems to be a typically Red Hat manner.
"I'm as excited today as I was 13 years ago to lead our team in ANZ, and I believe the future will be very bright. Together with our partners, we will be able to help our customers compete in this dynamic world that we are helping to create.
Red Hat senior vice president of customer experience and engagement Marco Bill-Peter follows, opening by addressing the elephant in the room - the company's recent US$34 billion acquisition by IBM.
"We truly believe that the open source way leads to better product and better innovation so that is one commitment from them - that we will stay true to open source. The other is that we will operate as an independent, distinct unit and preserve our unique culture - that's really important.
"We have 13,000 people at Red Hat and if the open source culture gets impacted, trust me, many of those people will leave.
Bill-Peter confirms that it was written into the acquisition contract itself that IBM would not interfere with Red Hat's culture, which is informed by and informs the open source community.
"They want to keep Red Hat as the independent 'Switzerland'. If they just make us a part of IBM a lot of our partners and clients, say Google or Amazon, wouldn't collaborate with us on the next open-hybrid-cloud. That's why being that Switzerland of IT as Red Hat is really important.
Disruption is main the topic that Bill-Peter hones in on, taking a stand against the overuse of the term 'digital transformation'.
"Digital transformation is the buzzword of the day. There is stuff happening in the market but unfortunately, that term has been used by every tech company in the market. Companies that have nothing to do with digital transformation are using the term.
If there is any company poised to talk about disruption it is this one.
Red Hat was not just an innovator in the open source space, but also an early pioneer of the OpEx or Everything-aaS model that has taken the industry by storm.
Today, even the mighty Microsoft is allowing its SQL Server to run on Red Hat Linux for Enterprise.
The key, Bill-Peter says in not so many words, is to get away from over-structured, over-hierarchical thinking.
"Building new capabilities is not easy, it's really hard because you have to get out of traditional that we prepared for doing things differently… Instead of plan, prescribe, execute, you configure, enable, engage.
"You put the right people and right practices in place, keep the organisation aware of what's going on and what's changing around it, that's configure. Enable is, give them authority and empowerment. Engage, you as a manager don't just look at what happens but inspire them to take risks, to change things - disrupt yourself constantly.
He demonstrates his point with a fun little anecdote about when Oracle tried to take Red Hat on at its own Linux game with a product called Unbreakable.
Red Hat employees got wind of this and printed 'REL Unfakeable' tees that they all wore at a conference the next morning, without having to go through 100 layers of bureaucracy. It was a smash hit.
What is striking about the keynote overall, is how much time was devoted not to proselytising Red Hat or its products, but open discussion about how companies can themselves become successful - It's the kind of thing usually discussed on stage by analysts without an agenda, not a global billion-dollar corporation.
That, it seems, it what open source is all about.