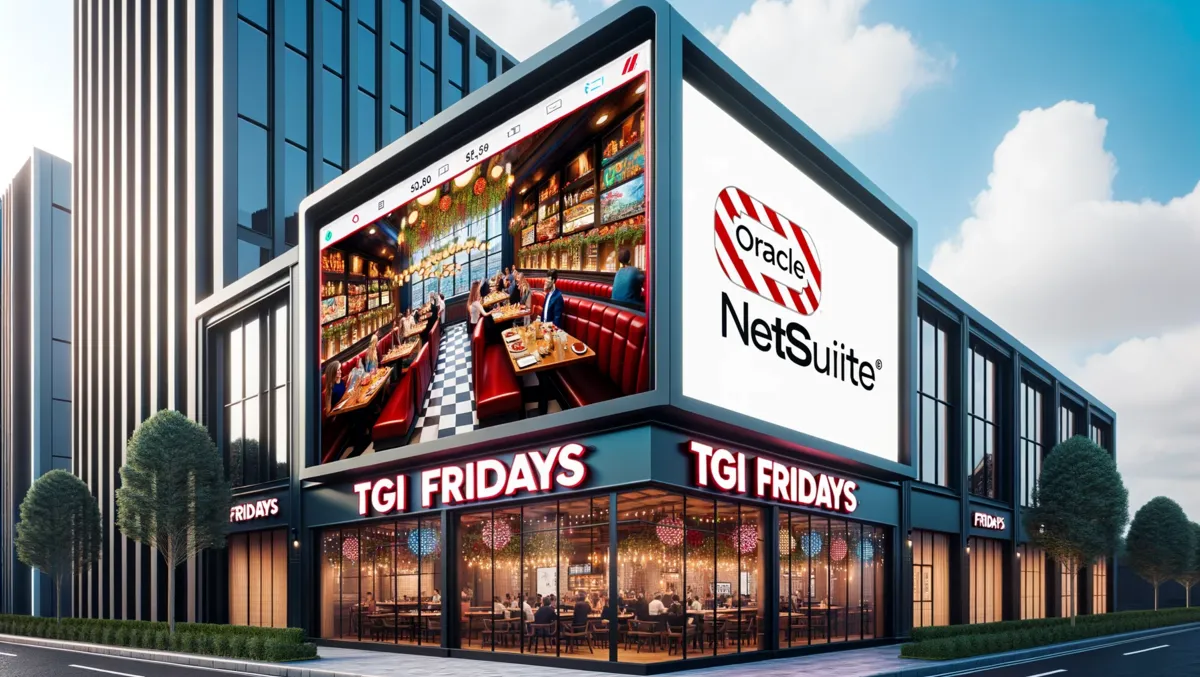 TGI Fridays streamlines global operations with Oracle NetSuite collaboration
TGI Fridays, a fast-casual restaurant chain, continues its global expansion with help from Oracle NetSuite. Through their collaboration, Fridays has automated financial processes, amplified efficiency, and uplifted cash flow, all while refining decision-making across its international chain.
Founded in New York City in 1965 as the world's first casual bar and grill, TGI Fridays has grown to include over 700 restaurants in more than 50 countries. The continual growth and expansion of the business, incorporating corporate-owned restaurants, local and international franchisees, third-party delivery partnerships, and virtual restaurants, made the internal operations and financial processes complex and costly. Fridays has selected NetSuite as its enterprise resource planning (ERP) system to simplify these processes.
Jeff Moran, Vice President of Accounting at TGI Fridays, says: "The restaurant industry is highly competitive. That's why we need real-time data on our business performance to respond to changing customer behaviours."
"With NetSuite, we have consolidated financial processes and embraced automation to improve the speed and accuracy of business insights as we grow with product offerings and locations around the globe."
The implementation of NetSuite has enabled Fridays to optimise its financial processes by providing real-time insights into its operations. By centralising its financial processes on a single cloud business suite, Fridays has improved cash flow and decision-making.
Additionally, NetSuite has automated and enhanced the efficiency of accounting tasks such as accounts payable, accounts receivable, and general ledger reporting. It also assists in managing Fridays' global network of franchisees, offering support for local languages and currencies in all operating regions.
David Rodman, Senior Vice President of Customer Success at Oracle NetSuite, highlights that Fridays, with nearly 60 years of history, has been able to enhance its business operations. By leveraging NetSuite, Fridays streamlined and automated its financial processes, effectively adapting to the evolving intricacies of its business model and the diverse sources of revenue. This technology has allowed the restaurant chain to continue delivering a fun and social dining experience to its customers while efficiently managing its financial aspects.
David Rodman says: "For almost 60 years, Fridays has grown its business to create a fun and social dining experience for its customers. With NetSuite, Fridays is able to simplify and automate its financial processes to support the growing complexity of its business model and increasingly diverse revenue streams."
Besides NetSuite, Fridays is also employing Oracle CrowdTwist, a loyalty and engagement platform from Oracle Food and Beverage. This offering powers the new Fridays Rewards programme for customers in the United States, further supporting the company's customer-centric approach.
TGI Fridays, the world's first casual bar and grill, creates a unique dining experience with its commitment to fun, freedom, and celebration. The brand's exciting journey of growth is driven by its authentic American menu and exemplary service. Backed by NetSuite's expertise, Fridays is navigating its complex growth efficiently, ensuring it continues to lift spirits worldwide.