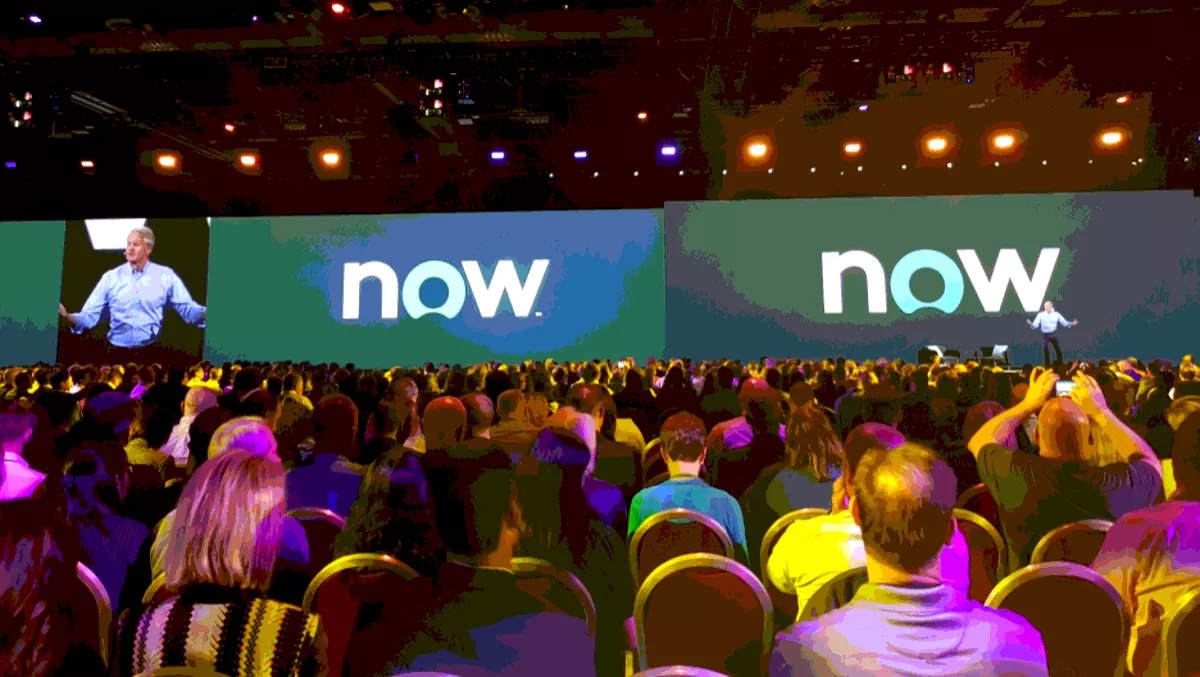 ServiceNow CEO says we're on cusp of working revolution
Wed, 9th May 2018
FYI, this story is more than a year old
By Ashton Young, Editor
​ServiceNow's annual 'Knowledge' event is taking place in Las Vegas at the moment and we are on site to catch all the latest insights.
Knowledge18 is reportedly the world's largest gathering of professionals sharing their digital transformation journeys.
On Tuesday morning (Las Vegas time) ServiceNow CEO John Donahoe took to the stage to present a keynote for the more than 18,000 attendees (with a screen behind him stretching the length of a football field), focusing on the theme 'Making the world of work, work better for people'.
"What I love about this event is it isn't just a simple collection of customers and partners. This is a community. You are a community. You are willing to share your experiences with one another and help one another," says Donahoe.
Donahoe referenced his own experience with ServiceNow and how when he hosted the keynote at last year's event he was only a couple of months into the job. Since then, he affirms his biggest priority has been getting to know customers and partners of ServiceNow.
"I do believe that now is the moment. We are at an inflection point in history and now is the time. Prior to my joining ServiceNow I spent a decade at eBay. And during that period I had the privilege of seeing firsthand a consumer revolution that has occurred in the last ten years," says Donahoe.
"The iPhone came out only 10 years ago. And over that time consumer-based applications and cloud-based applications like eBay, PayPal, Amazon, and Uber have transformed our lives at home. They've taken what is complex in our personal lives and made it simple, easy and intuitive."
However, Donahoe says when you think about technology at work, no one would ever call it simple, easy and intuitive.
"The truth is technology today at work is still complex and frustrating. For the first time now there is no reason that we can't build the same great experiences at work that we currently get at home. This is a huge opportunity," says Donahoe.
"The last ten years has been a consumer revolution, I believe the next 3-5 years will be the revolution network. You are all at the centre of this revolution as the innovators."
Donahoe quoted an interesting stat to highlight his point - work is where we spend a third of our lives.
"It shapes who we are, how we feel, and how we interact with the world, so we must create great work experiences. Experiences that bring out the best in us as when we are at our best, we make everything around us better," Donahoe says.
There are a number of product announcements still to come from the event, but Donahoe provided a little teaser with a sneak peek into some of the innovations ServiceNow has been working on - we'll provide a full rundown when they are officially announced tomorrow.
"I have been doing a lot of listening and learning from you over the past year. I truly believe we are on the cusp of a transformative period where we can define the future of work," Donahoe concludes.