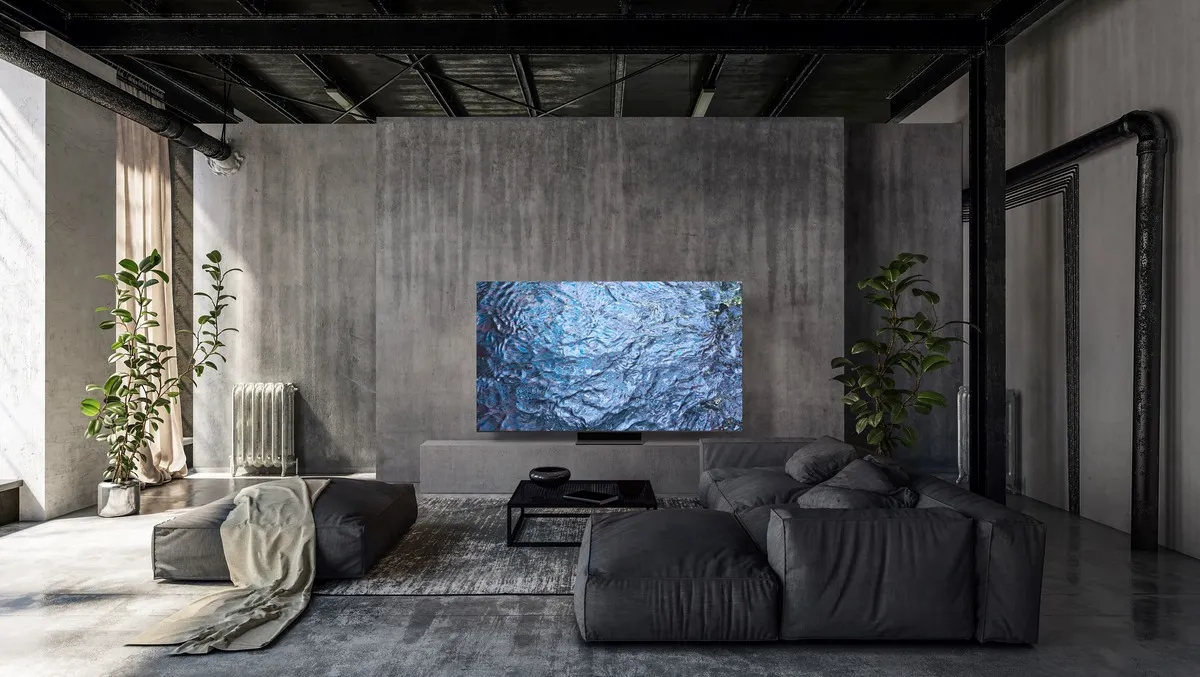 Samsung unveils premium innovations to its television lineup
Samsung has released details of its latest series of premium innovations to its Neo QLED 4K, 8K, and Samsung OLED televisions.
Samsung has focused on enhancing the user experience with this 2023 series by making complex technologies more intuitive and making design, display and sound innovations.
"Kiwis need TVs that respond to their diverse needs and enhance their lives. With this year's lineup, we seek to make premium viewing experiences more accessible and tailored to these diverse homes and lifestyles," says Ryan Jolly, Head of TV Sales, Samsung New Zealand.
"Whether they are gamers or movie buffs seeking screens with high refresh rates and clear contrast, or consumers after a more everyday television that will blend into their interior and produce good quality sound and picture quality, TVs need to exist as part of the home experience in a seamless and intuitive way."
Samsung's new Neo QLED televisions
Samsung's Neo QLED televisions provide customers with premium options for whatever their needs are.
Powered by Samsung's advanced Neural Quantum Processor with 14-bit processing and AI upscaling, the Neo QLED picture quality is building on the screens Samsung is known for. This quality allows for features including Shape Adaptive Light Control and Real Depth Enhancer Pro for a three-dimensional, lifelike picture.
The newest evolution of Neo QLED comes with Quantum Matrix Technology, which precisely controls the exclusive new Quantum Mini LEDs. With accurate ultra-fine light control, users can enjoy details in the harshest lighting conditions, whether that's incredibly dark or bright.
Featuring a high-resolution panel and Samsung's proprietary algorithm that powers the company's new Auto HDR Remastering technology, Samsung's displays go beyond just a clear picture.
Samsung's Auto HDR Remastering uses AI deep learning technology to analyse and apply real-time High Dynamic Range (HDR) effects on Standard Dynamic Range (SDR) content on a scene-by-scene basis, making SDR content brighter and livelier for better immersion.
The Neo QLED televisions also come with Anti-reflection technology that minimises glare, giving users an uninterrupted viewing experience no matter the time of day.
While the Neo QLED 8K and 4K screens bring great video and photo content to life in ultra-high resolution, gaming is taken to a whole new level.
A refresh rate of 4K 144Hz means that gaming on a Neo QLED provides an incomparable level of immersive gameplay, supporting both 8K and 4K resolution at a fast pace.
As for sizing, Samsung has added a 98-inch model to its Neo QLED 4K lineup, providing quality and detail in a scale that offers a true cinematic experience. It also offers upgraded sound with Dolby Atmos and Q-Symphony 3.0.
Samsung's Neo QLED televisions come in a range of sizes from 43 inches to 85 inches, with prices ranging from $2,999.95 RRP to a premium $17,999.95 RRP depending on the size and model selected.
As for Samsung's base QLED televisions for 2023, they come in a range of sizes from 55 inches to 98 inches, with prices ranging from $2,599.95 RRP to a premium $14,999.95 RRP depending on the size and model selected.
Updates to Samsung's OLED television range
Samsung's OLED range is also getting advancements in the 2023 series with even more viewing options and, according to Samsung, arguably Samsung's sleekest TV design ever.
The new OLED televisions are powered by second-generation panels, available in 55, 65 and the new ultra-large 77-inch models. In addition, the new lineup comes with Quantum Dot technology that simultaneously improves brightness and colour representation.
Samsung's minimalist Infinity One and LaserSlim design blends the company's OLED seamlessly into any interior, presenting the slimmest design that Samsung has ever created.
Despite the ultra-slim panel, Samsung OLED produces powerful sound with embedded multi-channel speakers, including a real top speaker channel. In addition, it provides a truly three-dimensional soundscape when paired with Samsung's proprietary OTS+ technology and Dolby Atmos.
The Neural Quantum Processor's 4K perceptional colour mapping offers immaculate colour accuracy, making Samsung OLED the "World's First Pantone-Validated HDR OLED."
The expanded lineup also has a 144Hz refresh rate and all of Samsung's smart features, including Samsung TV+ and Xbox Games Pass. Samsung OLEDs are also, for the first time, coming with AMD's FreeSync Premium Pro certification for the ultimate OLED gaming experience.
Samsung's OLED televisions come in a range of sizes from 55 inches to 77 inches, with prices ranging from $5,099.95 RRP to $12,999.95 RRP depending on the size and model selected.