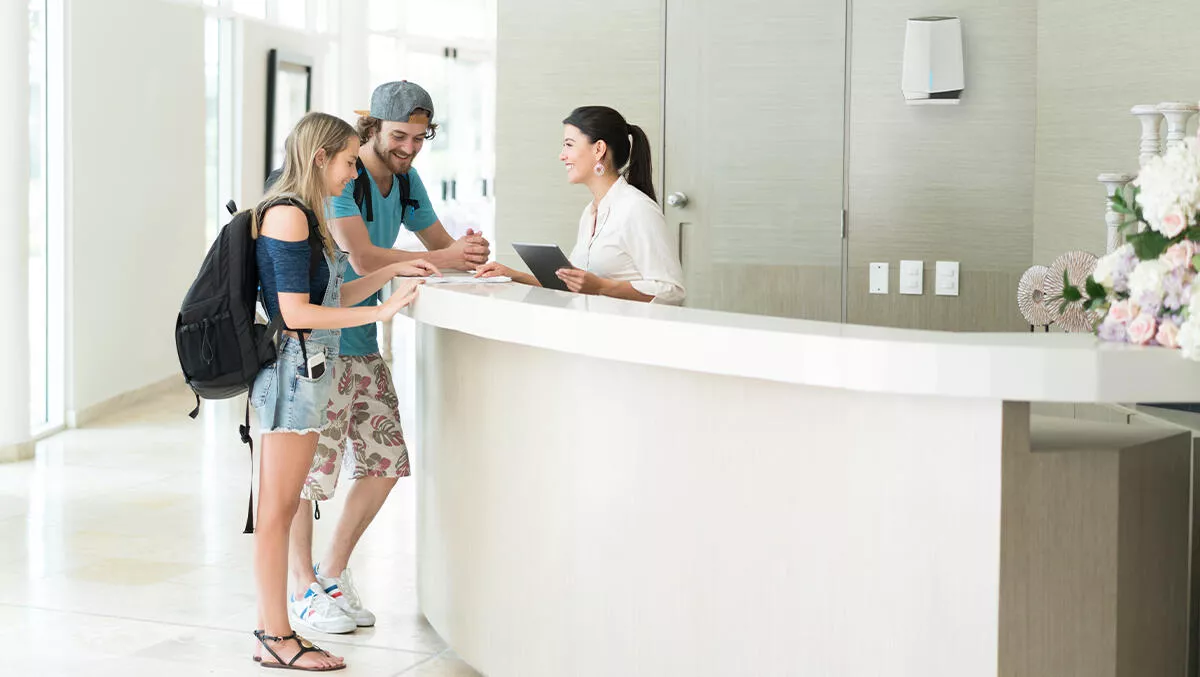 NETGEAR's WiFi 6 wireless solutions deliver blazing fast internet — rain or shine
FYI, this story is more than a year old
Technology in the 2020's is about convenience and simplicity as much as innovation and ingenuity. We're constantly searching for ways to streamline processes, shave down time spent on menial tasks, training AI to take on such tasks so teams can focus on more pressing issues.
The value of introducing convenience and simplicity has become apparent — we can see it in consumer products, enterprise applications, webpage design. Thanks to NETGEAR, it's also present in network hardware: its WiFi 6-enabled access points and Tri-band mesh are on the cutting edge of internet connectivity for businesses, leading the industry with top-tier devices.
NETGEAR has designed separate access points for disparate scenarios, reflective of the diversification in business environments. Some are designed with full weather-proofing for outdoor use, while others focus on delivering SMEs with the best possible latency and connection capacity on the market.
So which wireless solution is best for your business?

Orbi Pro WiFi 6 — AX6000 Tri-band WiFi System (SXK80)

One of NETGEAR's flagship WiFi products for small and medium-sized businesses, Orbi Pro WiFi 6 is a Tri-band Mesh System with WiFi 6 — the latest generation of WiFi — built-in, and is fully compatible with NETGEAR Insight.
It provides WiFi coverage and connection capacity with higher speeds and no dead zones, and has twice the throughput compared to its predecessor. It also features business-grade security, with four SSIDs, each assigned a VLAN.
Both backhaul and fronthaul are quick — with a 4x4 transmit-receive radio in all three bands, it allows for 6Gbps total throughput per unit and a 2.4Gbps backhaul.
Ultimately, up to 550 square metres can be covered by this WiFi system, ensuring business productivity with unparalleled coverage, speed and capacity.
The Orbi Pro WiFi 6 AX6000 Tri-band WiFi System is available in Austrlia for AU$1,499.00, and New Zealand for NZ$1,649.00. It also ships with a year's free subscription to NETGEAR Insight.

Insight Managed WiFi 6 AX1800 Dual Band Access Points — Indoor (WAX610) and Outdoor (WAX610Y)
These devices allow for reliable WiFi 6 connectivity for all types of devices, even in high-density environments. Compared to its predecessor, it delivers 40% more throughput to each individual device in the 5GHz band and 70% more throughput in the 2.4GHz band.
They are designed for settings with high populations, such as hotels, convention centers and universities, and works seamlessly with NETGEAR Insight managed switches, WiFi access points and network storage. The WAX610 is designed for indoor environments, while the WAX610Y can function at full capacity in any outdoor setting.
Both devices take advantage of WiFi 6 technology like OFDMA and upstream/downstream MU-MIMO, resulting in increased speeds, coverage, and capacity.
The WAX610 has an RRP of AU$309.00 and NZ$349.00, while the WAX610Y retails for AU$419.00 and NZ$459.00. Both devices ship with a year's free subscription to NETGEAR Insight.
To find out more, click here (Australia) or here (New Zealand).


NETGEAR Insight
It's not all about the devices though. Increasingly, businesses need to have visibility of their network of devices — and this is where NETGEAR Insight comes in.
NETGEAR Insight is a cloud-based management platform that enables easy setup and configuration of NETGEAR Insight Managed Access Points, Switches and ReadyNAS devices. It supports all of the above WiFi 6 devices.
Besides the streamlined setup, users can also continuously monitor and manage their network of NETGEAR Wi-Fi access points, switches and storage devices.
Using the Insight app, any authorised user can configure multiple devices from anywhere they can connect to the internet, and can enable notifications in case of any significant issue — granting heightened visibility and peace of mind.All Insight managed networks and devices are available on one single pane of glass on both the web cloud portal and mobile app to increase visibility.
"At NETGEAR, we have designed our products with the small business owner in mind," says NETGEAR for Business vice president Richard Jonker.
"With limited budgets and few resources at their disposal, small businesses need intuitive IT solutions. The ideal scenario is easy-to-use networking that can be managed on the go, that consistently works to provide the 24/7 connectivity which is crucial to keeping a business afloat and the business owner's mind at ease.
"Unlike enterprise network management solutions where the SMB is an afterthought, Insight is laser-focused on the SMB space and their growing need for performance, scalability, and mobility," Jonker added.
"Most cloud-managed networks are expensive, complex and ignore the most important screen of all, the one that is always with you – your smartphone.
"Whether your network is at your home, your store or a remote location, this line of networking products provides you with a secure way to identify, troubleshoot and resolve issues which might arise, anytime, anywhere."

To learn more, please email Carla at carla.thornton@netgear.com