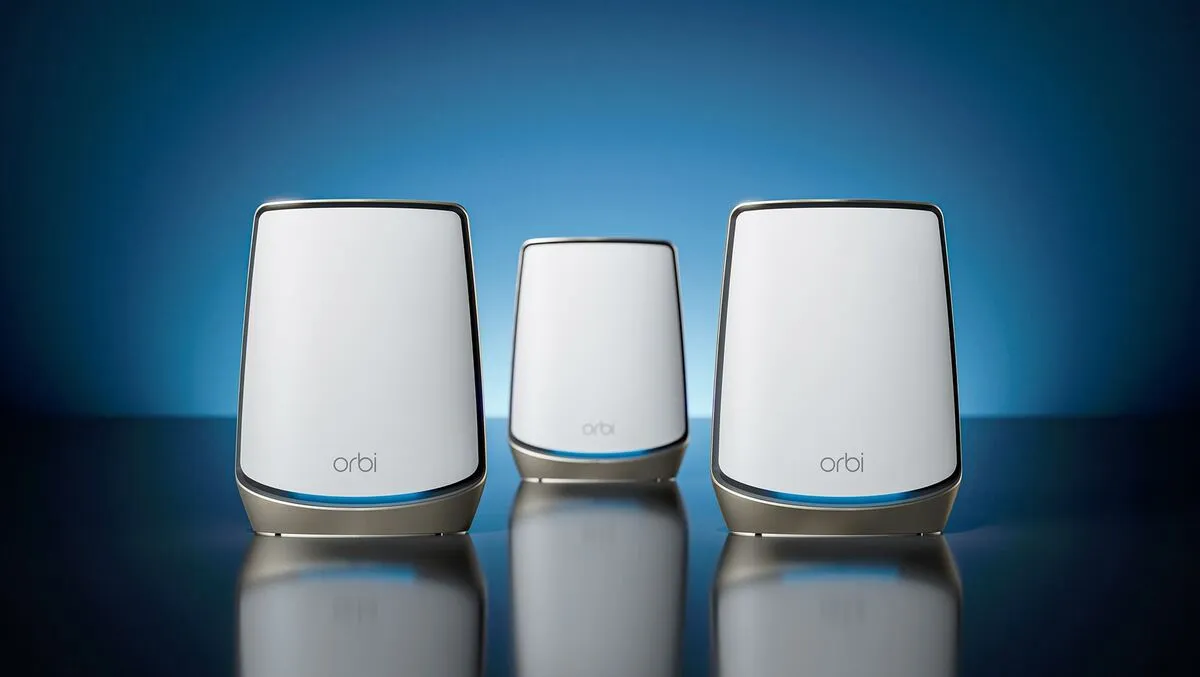 NETGEAR announces ANZ arrival of new Orbi 860 series
Netgear has announced the release of their latest Orbi 860 series. With a 10Gb Ethernet port, support for multi-gig connections, upgraded antenna design for greater WiFi performance and a bundled year of NETGEAR Armor, it is a big step forward.
The new series follows the previous Orbi 850 series and joins its industry-leading WiFi 6 Whole Home Mesh WiFi portfolio.
NETGEAR says that internet usage by consumers has drastically changed over the past three years during the COVID-19 pandemic, and not just in internet usage at home, but while at work, while shopping and in learning.
NETGEAR's WIFi 6 tri-band and patented dedicated backhaul technology means that its Orbi 860 series mesh systems are made for strong connections and maximum running speeds in every room of its environment.
This is true even under the most exhausting of circumstances, providing breakneck speeds even if simultaneously streaming 4K/8K videos, Zoom conferencing and WiFi calling from a bedroom, basement or backyard.
NETGEAR says that houses have an increasing number of connected devices, more than 25 on average. However, because their new Orbi 860 series features a stepped-up internet connection from 1 Gigabit on the Orbi 850 series to 10 Gigabit, and now its new antenna system, it can provide the best connectivity experience yet for WiFi 5 and WiFi 6 devices.
The new Orbi RBK863 3-pack WiFi Mesh System provides up to 540 square metres of coverage with up to 6Gbps WiFi speed and support for 100 devices operating at the same time.
If consumers want to expand this coverage, this can easily be done with additional Orbi RBS860 satellites. NETGEAR says this is possible due to its patented dedicated backhaul WiFi technology and antenna design.
"When we launched our flagship Orbi product line in 2016, we set a new benchmark for connected home products with faster speeds, higher capacity and wider coverage areas with our patented tri-band mesh design," says David Henry, President & GM of Connected Home Products and Services, NETGEAR.
"Our new Orbi 860 Series is designed to continue to deliver on the promise of superior WiFi. It provides the capacity to capitalise on higher incoming Internet speed, up to 10 Gigabit, an increasing number of devices and even better WiFi range than the Orbi 850 Series."
"On top of that, we couple it with one of the industry's best internet security protection services to help Australian and New Zealand households to secure all their WiFi connected devices, including laptops, phones, tablets, speakers, cameras, baby monitors, TVs, light bulbs, light switches and more."
Looking at the specifications, there are a few points of interest. The Orbi 860 series, of course, features WiFi 6, which has over four times the speed, capacity and bandwidth of WiFi 5. The series can support up to 100 devices across 743 square metres. Its new antenna design also allows for 20% WiFi boost over the Orbi 850 series.
Part of the series is the added bonus of NETGEAR Armor for a year. NETGEAR Armor is built into the router as a comprehensive security solution. It monitors activity going to and from the Internet, allowing it to protect computers, security cameras and other IoT devices.
The solution also provides on-the-go protection and VPN for phones and laptops.
NETGEAR's Orbi 860 series comes in white colouring to fit any environment, with black colouring in select locations.
The Orbi 860 series comes in three separate options. Customers can choose between the RBK863SB Router and 2 Satellites (3 pack) for AUD $2,099, NZD $2,299, an individual RBS860 Satellite for AUD $799, NZD $879, or the RBR860 Router for AUD $799, NZD $879.
NETGEAR will also offer a standalone Orbi router (RBR860S) for those who live in smaller homes or apartments.
Australian customers can find NETGEAR's Orbi 860 series savailable now on NETGEAR's Australian website, with select products available through JB Hi-Fi, Harvey Norman and Office Works. The black versions of the RBK863SB (3 pack) and RBS860B (Satellite) are exclusive to NETGEAR's online store.
New Zealand customers can find NETGEAR's Orbi 860 series available now from all good technology retailers, including JB Hi-Fi, Harvey Norman, PB Tech and Noel Leeming.