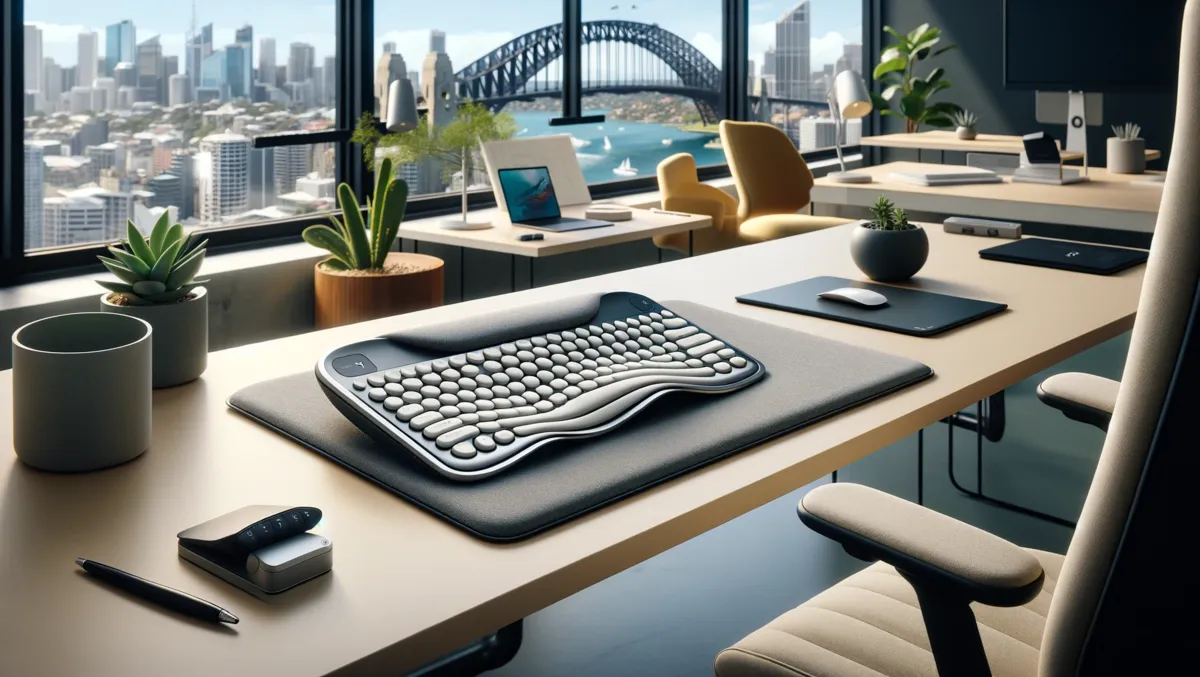 Logitech's new keyboards designed to address office comfort
Fri, 13th Oct 2023
In light of the burgeoning demand for ergonomic office solutions, Logitech announced the unveiling of its new product line, the Wave Keys and Wave Keys for Business, today in Sydney, Australia. Wave Keys is a state-of-the-art wireless ergonomic keyboard designed with a unique wave shape that promotes natural typing positions for comfort and wellbeing of workers.
The keyboard's groundbreaking wave design is combined with an integrated cushioned palm rest that provides day-long support for the hands, wrists, and forearms. This comes as the market for ergonomic solutions is projected to grow by 4.6% over the next seven years, according to recent data from RationalStat. It addresses a rising need among people who are spending more time in front of computers due to either work or leisure activities.
Art OGnimh, general manager of the Core Personal Workspace business at Logitech, emphasises that their products prioritize user wellbeing. In his words: "We believe that everybody deserves to feel good at the end of a day of work, so we set about designing workspace essentials that are as attractive and approachable as they are ergonomic. Wave Keys has workspace wellbeing at its heart, thanks to its science-driven design with a stamp of approval from leading ergonomists."
While prioritising comfort and user experience, Logitech is also committed to reducing environmental impact. As such, Wave Keys is certified carbon neutral and the paper packaging is sourced from FSC-certified forests and other controlled sources. The plastic parts of the Wave Keys include certified post-consumer recycled plastic taken from old consumer electronics— 61% for Graphite and 46% Off-White.
The Wave Keys, which can be connected via Bluetooth or the included Logi BOLT receiver, has the capacity to link with up to three devices simultaneously. Users can then easily switch between devices like a PC, Mac or an iPad at the tap of a button. Furthermore, they can personalise their experience with the Logi Options+ App which allows them to assign productivity shortcuts and create Smart Actions for time saving and work-enhancing functionalities.
As the latest addition to Logitech's ERGO Series, Wave Keys carries the company's human centred and science-driven approach to product design and experiences. The keyboard was developed through rigorous user testing at Logitech's Ergo Lab—it even boasts a seal of approval from US Ergonomics.
For companies that prioritize employee wellbeing, Wave Keys for Business offers a new ergonomic keyboard equipped with Logi Bolt secure wireless technology which ensures reliable connections even in congested wireless environments, and meets strict enterprise security standards. With Logi Bolt and the Logi Options+ App, IT teams can deploy and monitor keyboards remotely across their global workforce.
Wave Keys will be available in Graphite and Off-White, and will go on sale beginning October 13, 2023 at selected retailers for a recommended retail price of $149.95. Wave Keys for Business in Graphite will be available through authorized resellers at $149.95 starting November 2023.