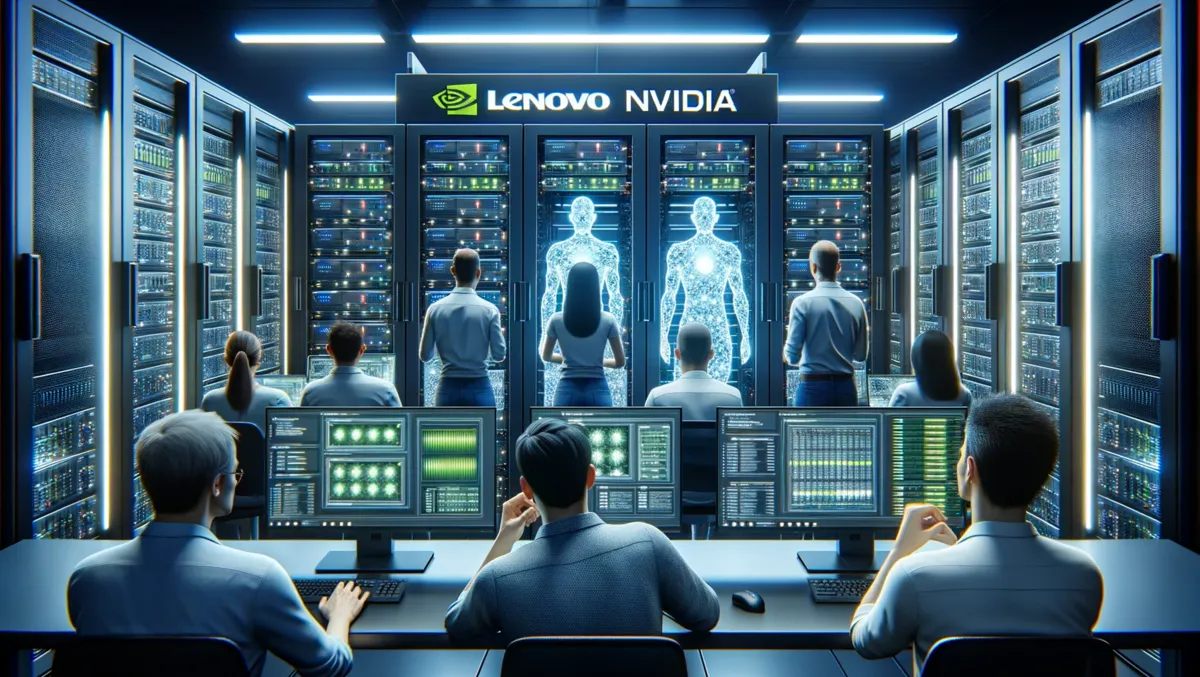 Lenovo reveals extensive AI capabilities and 'AI for All' vision at Tech World 2023
Lenovo unveiled its most comprehensive AI capabilities and vision of AI for All at Tech World 2023. Unveiling its next generation of AI offerings, Lenovo aims to drive intelligent transformation in every aspect of our lives, industries, and individuals worldwide.
At the event, Lenovo ISG revealed a partnership with NVIDIA to democratise AI for enterprises. Their new hybrid AI solutions, including accelerated hardware, AI software, and specialised services, empower businesses to build and deploy custom AI models easily. This comes as Lenovo is chosen by the ocean intelligence company Oceanbox.io to power its operations and ocean mapping capabilities.
Lenovo showcased its AI capabilities, which aim to create inclusive offerings and solutions tailored to individuals and organisations of all sizes. As part of a broad vision of AI for All and after announcing a further USD $1 billion investment in AI, Lenovo showed its dynamic approach to hybrid AI, ensuring data security and user privacy.
Lenovo Chairman and CEO Yuanqing Yang were joined on stage by leaders from Lenovo's global partners, including Jensen Huang, Founder, President and CEO of NVIDIA, and Dr. Lisa Su, Chair and CEO of AMD.
Yang highlighted Lenovo's plans to deliver industry-leading AI technology to organisations of all sizes and again echoed the company's commitment to providing AI for all through Lenovo's pocket-to-cloud computing capabilities, with tailored personalised knowledge.
Lenovo is also laying the groundwork for the next generation of AI-optimised infrastructure. An expanded partnership with NVIDIA was announced, involving new hybrid solutions aimed at helping businesses quickly deploy AI with confidence and fast-track their AI-driven transformations.
Through their collaboration, Lenovo and NVIDIA will create systems to handle the most demanding generative AI workloads, enabling cognitive decisions at scale with NVIDIA's Omniverse platform.
The company demonstrated the future of AI-ready devices and AI-powered features, including a vision of the future AI PC that will boost productivity, streamline workflow, and safeguard data. Lenovo sees potential for AI to enhance productivity and improve digital experiences, introducing its Care of One Platform and other AI-powered offerings to help companies harness AI.
Lenovo also unveiled a smartphone adaptive display concept that can be bent and shaped to fit users' needs and shared updates to the company's total solution for AI-powered motion capture, Project Chronos. Driven by innovation and partnerships, Lenovo aims to deliver comprehensive and connected AI-enabled solutions for consumer and business needs.
Lenovo's vision of Enterprise AI Twin was also introduced. These AI applications possess in-depth knowledge about an enterprise and keep that knowledge private and secure. They can find and extract relevant information within your enterprise, synthesise them into assessments and conclusions, and propose solutions in various scenarios.
Dr Yong Rui, Senior Vice President and Chief Technology Officer at Lenovo, conceptualised the future of AI as involving a hybrid of public, private, and personal foundation models working together. Meanwhile, Kirk Skaugen, Executive Vice President and President of Lenovo's Infrastructure Solutions Group, discussed Lenovo's vision for the next generation of AI solutions.
Ken Wong, Executive Vice President and President of Lenovo's Solutions & Services Group, says: "AI brings exciting possibilities and increased urgency and complexity for today's CIOs. Lenovo has the experience, the expertise, and the end-to-end solutions to put AI to work in all the right ways, fast."
Wrapping up, Luca Rossi, President of Lenovo's Intelligent Devices Group, emphasises: "Lenovo aims to have the most comprehensive and connected AI-enabled portfolio across consumer and business needs."
"We'll continue to work closely with partners to lead this transformational shift in our industry."