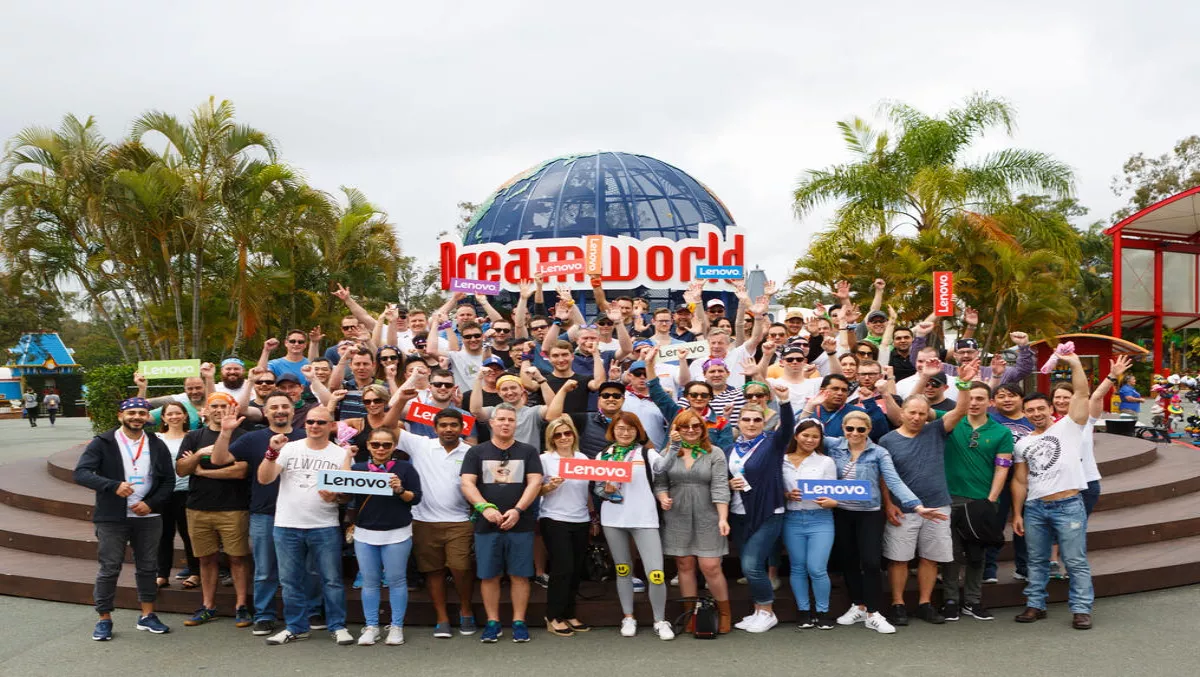 Lenovo & partners band together & celebrate success on the Gold Coast
FYI, this story is more than a year old
Last weekend was a big affair for Lenovo and its partners, after a two-day event on the Gold Coast. The event brought together 90 of Lenovo's business and distribution partners, which took them to some of the region's main tourist attractions, workshops and company updates. The event finished with the Lenovo Partner Advantage (LPA) Awards Gala Dinner.
"As a channel-first company, our partners are crucial to our success at Lenovo. We had a wonderful time celebrating our partners and showing our appreciation for their tireless work and commitment to the company," comments Margrith Appleby, director of channel sales for Australia and New Zealand.
The LPA programme provides registered members the chance to claim dollars on a reloadable Lenovo VISA card, all from selling Lenovo Topseller products.
The company is also running the "Go Wild With Lenovo" campaign, in which members can qualify for experience packages such as 'Seal The Deal Mid Year Motivator' overnight safaris and a 'No Meer Incentive' annual trip.
Partners can also win $500 bonus LPA through the Game Quarterly Contest, called Toucan Play.
Winners from the Awards Gala include Ingram Micro, Dicker Data, Blue Connection and SolutionOne. The full list of winners is below.
Marketing Maestro Awards: Acknowledges a unique member or partner within our channel community who understands and communicates Lenovo's brand proposition.
Winner: Learning With Technology
Lenovo Champ Award: Presented to a member of the Lenovo channel community who demonstrates a 'genius' level of Lenovo product knowledge and uses this knowledge to drive sales and reinforce Lenovo's position in the market as an end to end enterprise class solution provider.
Winner: Sunny Gandhi – Ingram Micro
Never Stand Still Award: Recognises the hard work from an individual or team within the channel that is the most engaged with Lenovo.
Winner: Taryn Trass – Data#3
Solution Superstar: For the individual or team within the channel that is the best solution seller.
Winner: Kaz Otsubo – Ingram Micro NZ
Channel Star Award: Presented to an individual or team within the channel that is 100% engaged with Lenovo.
Winner: Blue Connections
Shining Star Award: Acknowledges a member of our channel community or partner who shows an ongoing eagerness and commitment to engage with Lenovo and their customers, proving this commitment with significant sales growth.
Winner: Tony Trinh – Dicker Data
Inaugural Lenovo Legend (Hall of Fame): The recipient of this inaugural award, a true Lenovo Legend, is inducted into the Hall of Fame and represents the pinnacle of channel commitment, dedication, engagement and fearlessness.
Winner: Matt Gordon – Solution One
Click here to learn more about the Lenovo Partner Advantage program.