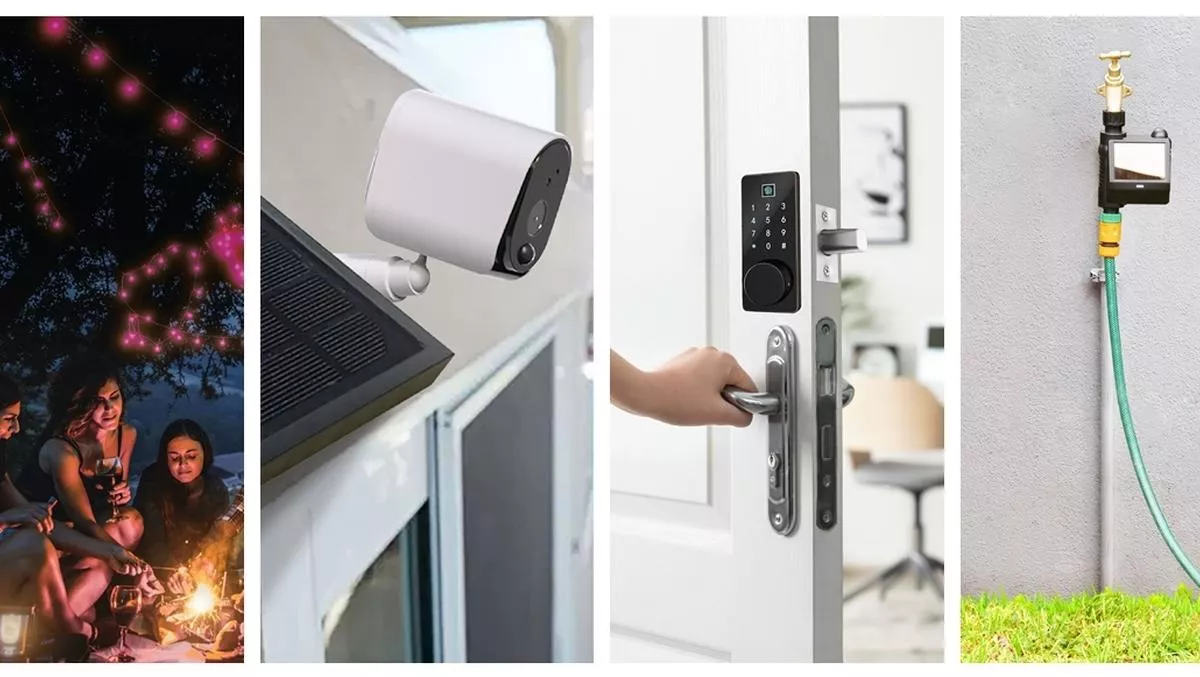 LASER delves deeper into consumer smart home products
FYI, this story is more than a year old
Australian consumer electronics firm LASER is set to release its second generation of smart home products to the market, which cover everything from security cameras and smart doorbells to LED lighting, smart power boards, and water controllers.
Laser is a relatively new entrant to the smart home category after entering the market a year ago. Having launched the CONNECT SmartHome device range and secured retail deals with Harvey Norman, the company has launched the next iteration of products.
According to Laser managing director Chris Lau, Australians are growing much more comfortable with smart lighting, power, and security.
"But they have also shown how price sensitive they are, which makes sense in this economic climate and given the number of smart devices they are seeking for their home at any one time," he notes.
"With our second generation range we are expanding into areas that people may have not thought could be smart, or otherwise have previously come with a high price tag. As consumers look for new and different ways to integrate smart technology into their lives, we remain committed to driving the category in delivering affordability and accessibility to the Australian smart home."
Products in this range are controlled via the CONNECT ShartHome app, and are also compatible with Amazon Alexa and Google Home.
CONNECT Smart Security Cameras
Outdoor cameras come with the option of products combined with their own solar panel, charging is not a concern and high quality 1080p full HD video and night vision.
CONNECT Smart Outdoor Camera with Solar Panel: CSH-SLRODCAM – RRP $199.95
CONNECT Smart Wire-free Full HD Security Camera: CSH-ODCAMS – RRP $149.95
CONNECT Smart Wireless Outdoor Camera With Adjustable Floodlight & Solar Panel: CSH-SLRFLCAMA – RRP $349.95
CONNECT Smart Indoor Camera Static V2: CSH-IPCAMB – RRP $59.95
CONNECT Smart Indoor Camera Pan/Tilt V2: CSH-360IPCB – RRP $79.95
CONNECT Smart Security – Doorbells
The Connect Smart Full HD Video Doorbell can send alerts via the free app when a visitor is at the door and also allows the user to see and communicate with them via two-way audio function.
CONNECT Smart Video Doorbell V2 White: CSH-CAMDBWB – RRP $149.95
CONNECT Smart Video Doorbell V2 Black: CSH-CAMDBBB – RRP $149.95
CONNECT Smart Security - Access
The CONNECT Smart Deadbolt with fingerprint ID includes with four unique access methods including passcode, fingerprint, smart card and physical key, the user can also generate temporary access passcodes and access notifications. The lock can fit into 60mm standard bolts in existing holes.
CONNECT Smart Deadbolt Biometric: CSH-DEDBLTBIO – RRP $249.95
CONNECT Smart Lighting – Bulbs
The CONNECT Smart Filament lights are energy efficient, environmentally friendly and have a classy, vintage look. They can last for 'thousands' of hours.
CONNECT Smart Filament Amber Globe E27: CSH-E27G80AMB – RRP $24.95
CONNECT Smart Filament Amber Globe E27 ST64: CSH-E27ST64AMB – RRP $24.95
CONNECT Smart Filament Smoke E27 G80: CSH-E27G80SMK – RRP $29.95
CONNECT Smart Lighting – Indoor/Outdoor
The CONNECT Smart Fairy lights come in 7m or 15m lengths and can allow the user to remotely control colour, brightness, and lighting modes, for indoor and outdoor use.
CONNECT Smart Fairy Lights 7m RGB: CSH-FAIRY7M – RRP $59.95
CONNECT Smart Fairy Lights 15m RGB: CSH-FAIRY15M – RRP $99.95
CONNECT Smart Lighting – LED Strips
For indoor or outdoor lighting needs, the new neon light strip can brighten up any occasion or be integrated into lighting displays. The indoor and outdoor lighting strips provide 240 lumens of brightness and a lifetime of 25,000 hours. The LED smart strip lights are also coloured to accent key spaces or liven up a room's ambiance when reacting to rhythms in music mode.
CONNECT Smart Strip LED 2mtr: CSH-STP2USB – RRP $29.95
CONNECT Smart NEON LED Strip RGB 5mtr: CSH-STP5NEO – RRP $199.95
CONNECT Smart Home & Garden
Users can create watering schedules based on desired timings or even weather patterns with the CONNECT SmartHome new Wireless Water Controller can simply attach to existing water networks and be set it up in the companion app for a set and forget garden watering system. It is powered by the inbuilt solar panel and connected via an included wi-fi HUB that boosts existing home Wi-Fi.
CONNECT Smart Wireless Water Controller: CSH-WTRCTRLR – RRP $179.95
CONNECT Smart Power
CONNECT's power options allow any appliance or device to be turned into a smart device. With the power board, each socked can be remotely and independently controlled. The new rendition of the popular smart Wi-Fi plug with dual USB ports also now comes with power monitoring and energy saving features.
CONNECT Smart Power Board 4 AC and 2 USB: CSH-4PWB2USB – RRP $49.95
CONNECT Smart Wi-Fi Plug with Dual USB and Power Monitoring: CSH-PLGUSBPM – RRP $19.95.
Related stories
Top stories