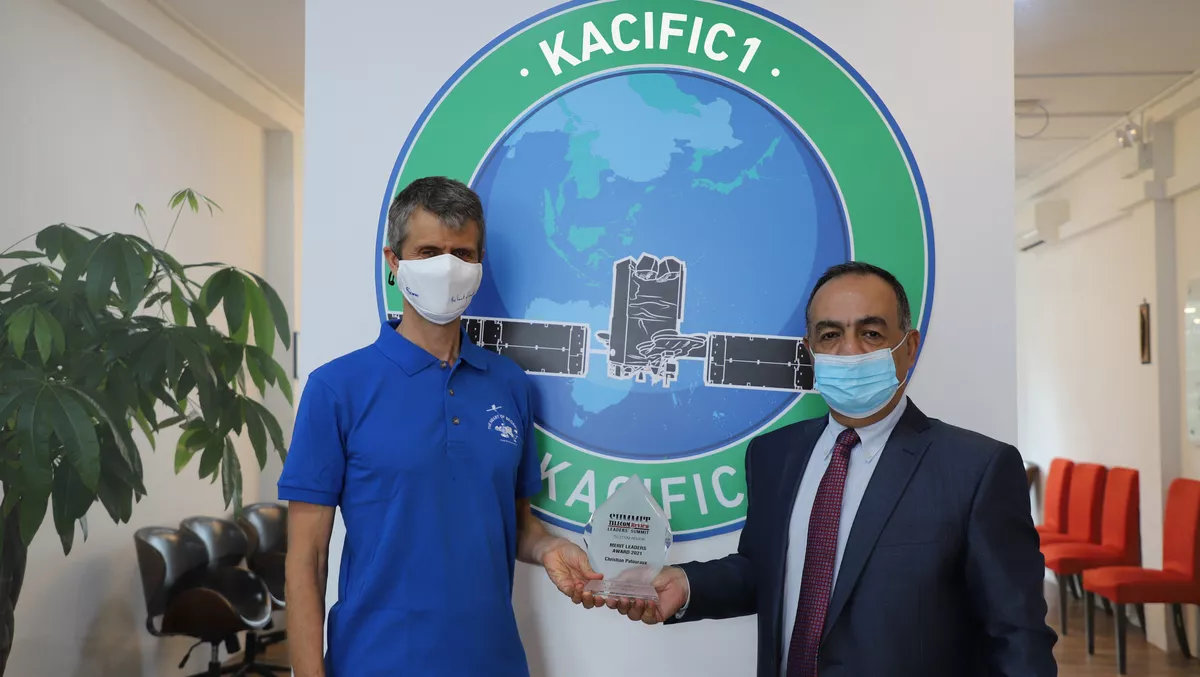 Kacific's Christian Patouraux named CEO of the Year
FYI, this story is more than a year old
Telecom Review has named Kacific's Christian Patouraux as CEO of the Year for Wholesale - Capacity, also acknowledging the company's overall achievements.
The award was given out as part of the Telecom Review Leaders' Summit and presented to Patouraux in absentia due to COVID-19 restrictions.
Telecom Review additionally recognised Kacific for its achievements in generating increased internet usage, economic growth, and better service delivery.
"[Kacific] became the first satellite operator to start from the ground up with neither a parent company nor a license to operate," Telecom Review says.
The panel of judges was made up of leading experts from around the world and paid particular attention to two initiatives, both reflecting Kacific's response to the COVID-19 crisis.
One of these initiatives was the services Kacific offered to vulnerable and isolated communities during the initial stages of the pandemic when medical care and the sharing of information were integral to managing the situation.
During these times, many rural communities throughout the Pacific were unable to receive the necessary connectivity to the resources of their main cities.
As a result, Kacific quickly created a large-scale Community Wi-Fi project covered by the reach of the Kacific1 high throughput satellite, with high quality, low-cost satellite broadband and easy-to-install antennas.
Additionally, the company's partnership with GuarantCo saw it secure a grant from the Private Infrastructure Development Group (PIDG) Technical Assistance to fund the terminals and assist governments and communities throughout Asia and the Pacific in fighting against the virus.
Kacific notes that since the start of this initiative, more than 260 terminals have been installed in Timor-Leste, Papua New Guinea, Vanuatu, the Solomon Islands, the Philippines, and Tonga, allowing health clinics, schools, and communities in these countries to have affordable broadband.
Furthermore, Kacific's service has assisted government agencies in preventing, monitoring and controlling the spread of COVID-19 in rural areas and affording local medical practitioners crucial training to handle outbreaks.
The second initiative was the operational response that Kacific took to commercial challenges brought on by COVID-19.
The company deployed service delivery for Kacific1 at the beginning of the pandemic, and since its ISP and telco customers were unable to commit to long-term contracts, the company was forced to quickly shift its business focus to enable a new franchise business model.
This involved introducing its Gigstarter broadband plan, allowing ISPs to sell bandwidth to end-users on a monthly contract, plan-by-plan, and site-by-site.
Moreover, the company says doing this allows ISPs to cater their services to meet the demands and needs of individual customers.
Kacific notes that Gigstarter's offer of unlimited data and a fully managed service set a new global benchmark for satellite internet.
This service also appealed to individuals, remote communities, smaller enterprises, and entrepreneurs and enabled ISPs to grow their business during an uncertain time without incurring the upfront infrastructure costs and commitments associated with a wholesale contract.
In addition, the Gigstarter model also created the opportunity to engage many regional channel partners as Kacific Authorised Dealers, accelerating local penetration and creating opportunities for economic development in remote and rural areas.
"Launching our satellite in 2019 was a transformational moment for Kacific and we have spent the last two years locking in the value created. We set out to make high-speed internet accessible and affordable to unserved markets." Patoraux says.
"Today, we have become the largest Ka-band operator in Asia Pacific, and this award presented to us is an honour and a validation for our vision, mission, and business.