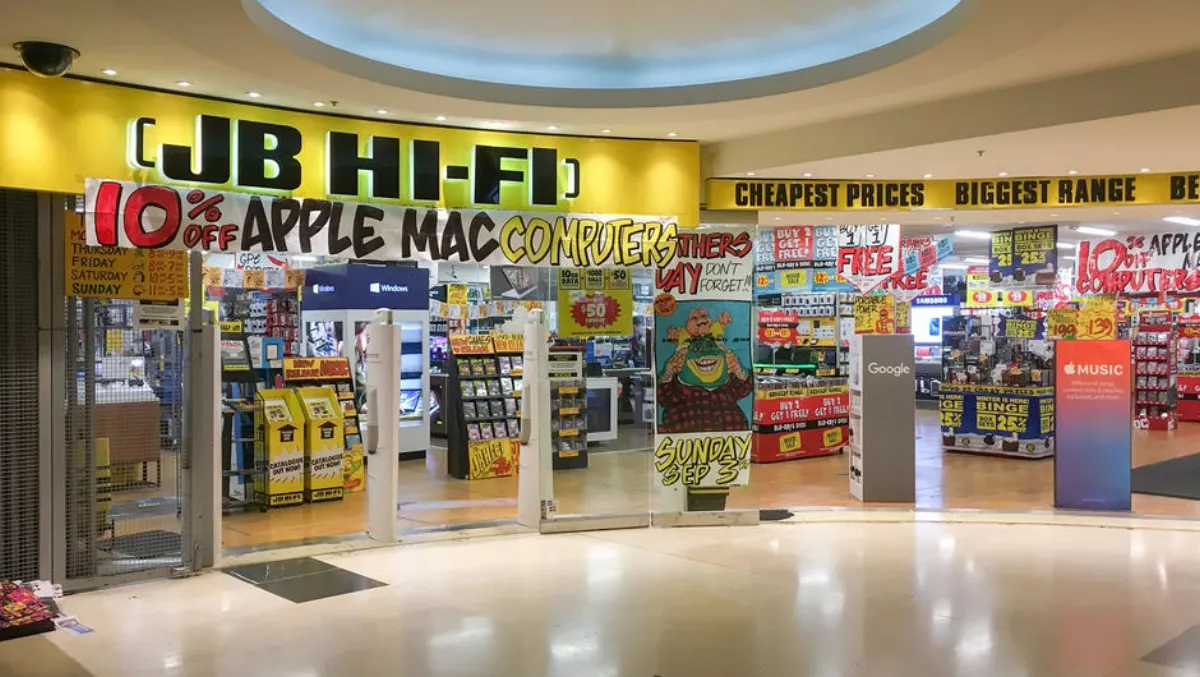 JB Hi-Fi driving strong gains with surging Aussie growth, despite NZ decline
Mon, 12th Feb 2018
FYI, this story is more than a year old
By Patrick Martlew, Community Editor
JB Hi-Fi Limited has reported total sales revenue of $3.7 billion for the half year ended 31 December 2017 (HY18), representing a revenue increase of approximately 1.1 billion (41%) compared to the previous half-year results, which came in at $2.6 billion.
The company also posted net profit after tax (NPAT) figures of $151.7 million, which is up 21% compared to the same period last year (HY17 came in at $125.4 million).
The figures incorporate financial performances of the companies three main business units, including JB Hi-Fi Australia, JB Hi-Fi New Zealand and The Good Guys.
JB Hi-Fi Australia saw the most significant gains - with sales growing by 10.8% to (AUD) $2.48 billion - while the NZ business saw a minor sales decline of 0.4% to NZD 124.6 million.
The Good Guys saw total sales revenues of $1.10 billion, which is a rise of 318%, although this huge growth was a result of the company only consolidating one month's sales for HY17 (as JB Hi-Fi acquired TGG in November 2016).
Group CEO, Richard Murray says, "We are pleased to have delivered record sales and earnings in the first half. It was another strong result for the JB HI-FI business in Australia, particularly through the important November and December periods.
"We are pleased with the progress we have made at The Good Guys and are confident about the future opportunities for the Group.
Looking at the JB Hi-Fi Australia business unit, the company reported a gross profit increase of 9.8% to $545.3 million, resulting in a gross margin of 22.0%.
It noted key growth categories of communications, computers, audio, drones and games hardware.
It also says online sales grew 40.6% to $119.3 million (4.8% of total sales), also reporting that its solutions business achieved double-digit sales growth, remaining on track to deliver on the longer term aspirational sales target of approximately $500 million per annum.
The Good Guys business unit saw growth in categories including seasonal products, cooking, communications, visual and dishwashers.
However, it suffered an online sales decline of 1.7% to $72.7 million (6.6% of total sales).
Despite this, Murray says he is happy with how the business unit is tracking overall.
"It was pleasing to see sales growth in The Good Guys throughout the half whilst we continued to take a considered and deliberate approach to change," he says.
"Having owned The Good Guys for over 12 months we are now starting to realise the benefits of the scale of the combined group and remain excited by the opportunity to grow one of Australia's leading retail brands.
While the overall numbers were down in New Zealand, the company says the launch of a new website in August 2017 significantly stimulated NZ online sales, with growth figures of 89.8% to NZD 4.8 million (3.8% of total sales).
It also says its New Zealand business suffered from a closure impact of NZD 4.6 million, after the closure of one store and the scrapping of its whitegoods offering in NZ.
In terms of the entire business' future outlook, the company expects total group sales to hit approximately $6.85 billion (JB HI-FI $4.75 billion and The Good Guys $2.1 billion) for FY2018.