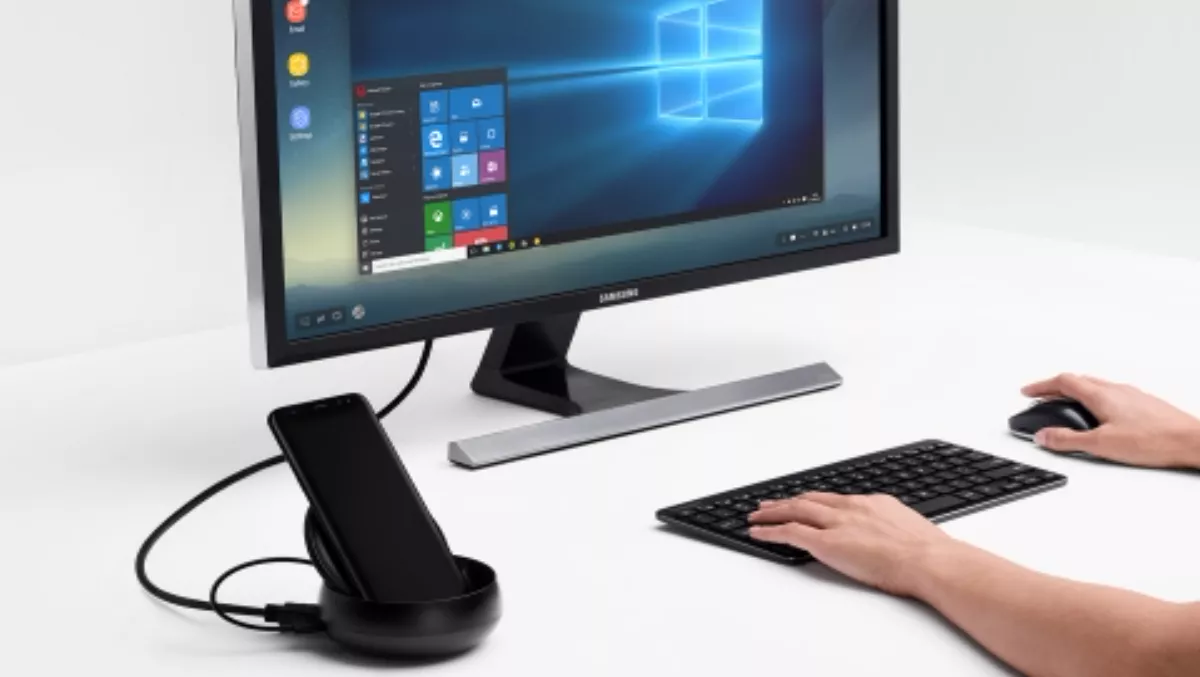 Ingram Micro Cloud teams up with Samsung to bring Microsoft Windows Desktop-as-a-Service
FYI, this story is more than a year old
Ingram Micro is helping drive consumer adoption of mobile virtual desktop technology with the launch today of a simplified, point-of-entry Cloud Store for Samsung DeX customers.
Ingram Micro Cloud's solution automates the setup of Amazon WorkSpaces and Microsoft Windows Desktop as a Service (DaaS) for Samsung Galaxy Note8, Samsung Galaxy S8/S8+ and Samsung DeX prosumers so they can be up and running with a virtual desktop on their smartphone in just a few easy steps.
The Samsung DeX Station connects the Galaxy Note8 or Galaxy S8/S8+ to any type of FHD display with an HDMI port, as well as a mouse and keyboard, to provide a desktop experience powered by your smartphone.
By combining Samsung DeX with Amazon WorkSpaces, users can gain a more powerful desktop experience with the ability to securely access their own Microsoft Windows virtual desktop, files and applications.
However, virtual desktop solutions have typically been thought of as only an enterprise or SMB solution due to complex configuration requirements.
Ingram Micro Cloud directly addresses this roadblock to consumer adoption with its innovative platform technology and a custom-built Cloud Store that eliminates the need for advanced IT capabilities.
With Ingram Micro Cloud's solution, Samsung DeX customers can have their virtual Windows desktop via Amazon's WorkSpaces set up and accessed quickly and easily.
A 30-day free trial of Amazon WorkSpaces is available to Samsung Galaxy Note8, Samsung Galaxy S8/S8+ and Samsung DeX customers in Australia, Belgium, Canada, France, Netherlands, New Zealand, the United Kingdom and the United States.
This offer can be accessed through the Windows Desktop Free Trial DeX app on the Samsung Galaxy App Store.
This is the first mobile device-based Microsoft Windows cloud DaaS offered directly to Samsung DeX customers, giving users like students, freelancers and entrepreneurs access to a full Microsoft Windows-based desktop right from their Samsung DeX Station and smartphone setup.
Now anyone can carry their entire desktop in their pocket.
"Using our robust platform and technical expertise, the Ingram Micro Cloud services team has created this simplified and automated solution for Samsung mobile users to easily get set up and use a virtual Windows desktop," says Tarik Faouzi, Ingram Micro global cloud partners and solutions vice president.
"This collaboration demonstrates Ingram Micro Cloud's commitment to empower every user and partner by reducing the complexities of access to innovative cloud technologies.
"Accessing Amazon WorkSpaces using Samsung DeX provides customers with a powerful Windows desktop experience through their smartphone, delivering access to the documents, applications, and resources they need with incredible flexibility," said Nathan Thomas, Amazon WorkSpaces. general manager
"Ingram Micro will help bring this anywhere, anytime mobile desktop functionality to even more customers, with easy deployment and trusted service and support.
Amazon WorkSpaces will also be available to reseller partners in the US from the Ingram Micro Cloud Marketplace later this year.
This will allow Ingram Micro partners to create a complete mobile desktop solution for their business customers by bundling the Galaxy Note8 or Galaxy S8/S8+ and DeX Station with Amazon WorkSpaces, along with their choice of additional cloud services from the Ingram Micro portfolio.
"Ingram Micro Cloud is pleased to collaborate with Samsung Electronics and Amazon Web Services to deliver on the promise of the complete mobile workspace for our channel partners," says Faouzi.
"With the latest Samsung smartphones and DeX Station, Amazon WorkSpaces and other services from the Ingram Micro Cloud Marketplace, we are excited to provide this innovative solution to our partners and their customers.