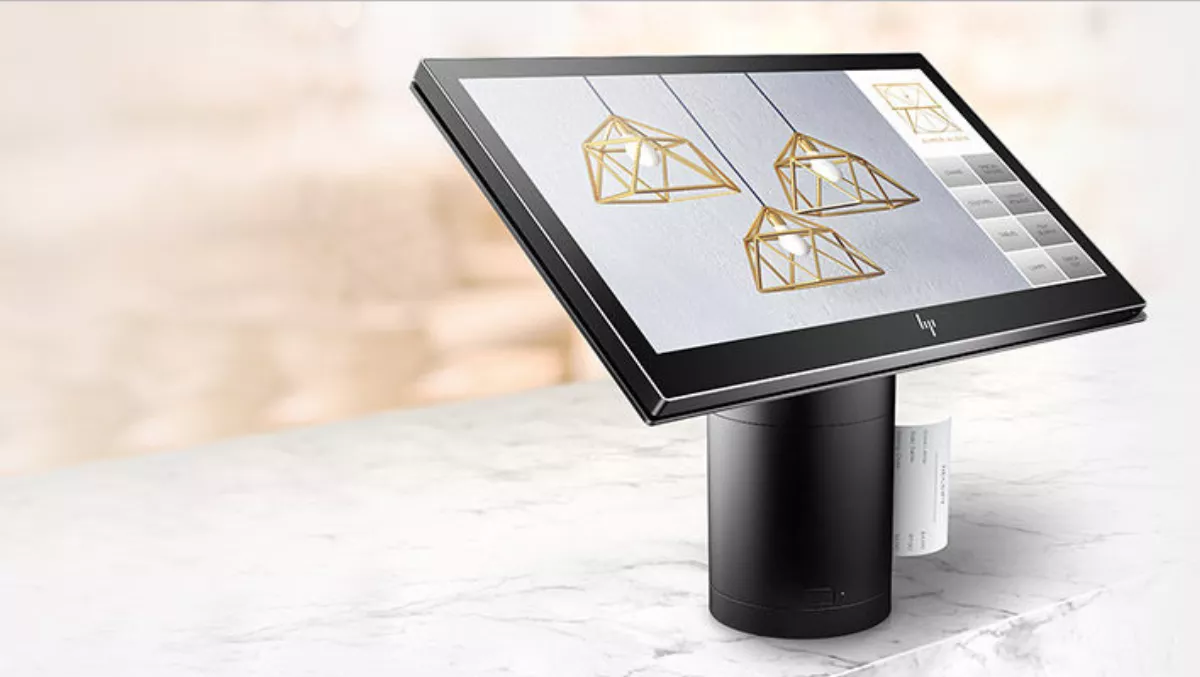 HP launches new POS system to re-energise retail
FYI, this story is more than a year old
HP is reimagining the retail industry with the unveiling of its new all-in-one point-of-sale (POS) system, the HP ElitePOS.
The company is working with leading retail and hospitality customers and partners to reimagine how technology can transform the in-store experience for customers.
With eCommerce influencing consumers' shopping experiences, brick and mortar retailers must ensure sales associates are data driven to better understand buying behaviour and deliver the best possible customer experience.
"As retailers seek new ways to interact with customers and reinvent in-store experiences, technology must empower sales associates and engage customers in a way that feels like a natural extension of the brand," says Simon King, HP South Pacific retail solutions market development manager.
"The new HP ElitePOS solution is built for versatility with a sleek and stunning design that can adapt to multiple retail and hospitality environments, while still offering the security, performance and long-term durability that our customers expect from HP."
The ElitePOS features a modular design, different from large, boxy POS terminals commonly used in retail environments.
Its design is also functional, supporting use cases beyond checkout to make shopping faster and easier for both customers and the sales associates assisting them.
These use cases include interactive signage, employee attendance, and self-service applications like a customer check-in and access to additional product offerings in the "endless aisle".
According to InReality, 69% of shoppers say they would be more likely to buy in-store if given access to digital self-help tools like interactive displays and kiosks.
For retailers who want a clean and clutter-free counter space, or who need greater versatility in the placement of their point-of-sale terminal, the display can be separated from the input/output (I/O) base for maximum placement versatility.
For businesses who want technology to complement their brand's experience, the ElitePOS and its accessories add further customisation and flexibility.
Attention to detail – including an optional receipt printer that integrates into the column stand, and an optional magnetic stripe reader built into the display, create a clean counter space for retail environments.
The optional barcode scanner and optional stand-alone printer match the elegance of the ElitePOS for a consistent design aesthetic across peripherals.
Retail and hospitality often have demanding and harsh environments, which can damage or destroy consumer-leveraged technology.
As such, the ElitePOS is built to be retail-durable, designed to pass MIL-STD tests, deter minor spills by channelling liquid out the device and provide efficient cooling with side venting for improved reliability.
Additionally, the HP ElitePOS aims for speed with Windows 10, fast DDR4 memory, and 7th generation Intel Core processors with vPro technology.
"As the retail and hospitality industries undergo a revolutionary shift, the point-of-service device will be a critical hub in delivering the in-store experience for customers," says Leslie Hand, IDC retail insights vice president.
"But with this rapid transformation in digital business also comes increased threats, in the form of targeted attacks and malware."
With point-of-sale devices increasingly targeted by hackers, security continues to be top of mind for the retail industry.
According to Verizon, 64% of breaches in the retail industry that contained data loss were caused by point-of-sale intrusions.
HP is expanding its security solutions to the ElitePOS, with both hardware and integrated software security features, including:
BIOS-level device security to provide protection in the event of a malware attack with HP Sure Start Gen3, the industry's first self-healing BIOS, and HP BIOSphere Gen3, the industry-leading firmware ecosystems.
User authentication technology, including an optional fingerprint reader for secure login; Credential Guard for secure user authentication and password protection, and Device Guard, which lets IT managers create rules to run only signed, trusted, and approved applications on the POS system to help protect against walk-up and low-level attacks through USB ports.
Physical security of the device itself with an optional bolt-to-counter configuration, VESA mounting K-Lock features and external fingerprint reader for secure login through Windows Hello.
The ElitePOS will be available in September direct from HP and the company's global network of more than 250,000 partners.
Additionally, retail independent software vendors (ISVs) GK Software, LS Retail, Manhattan Associates, Omnico Group, PCMS, Retail Pro, and TCPOS plan to support the new solution.
Related stories
Top stories