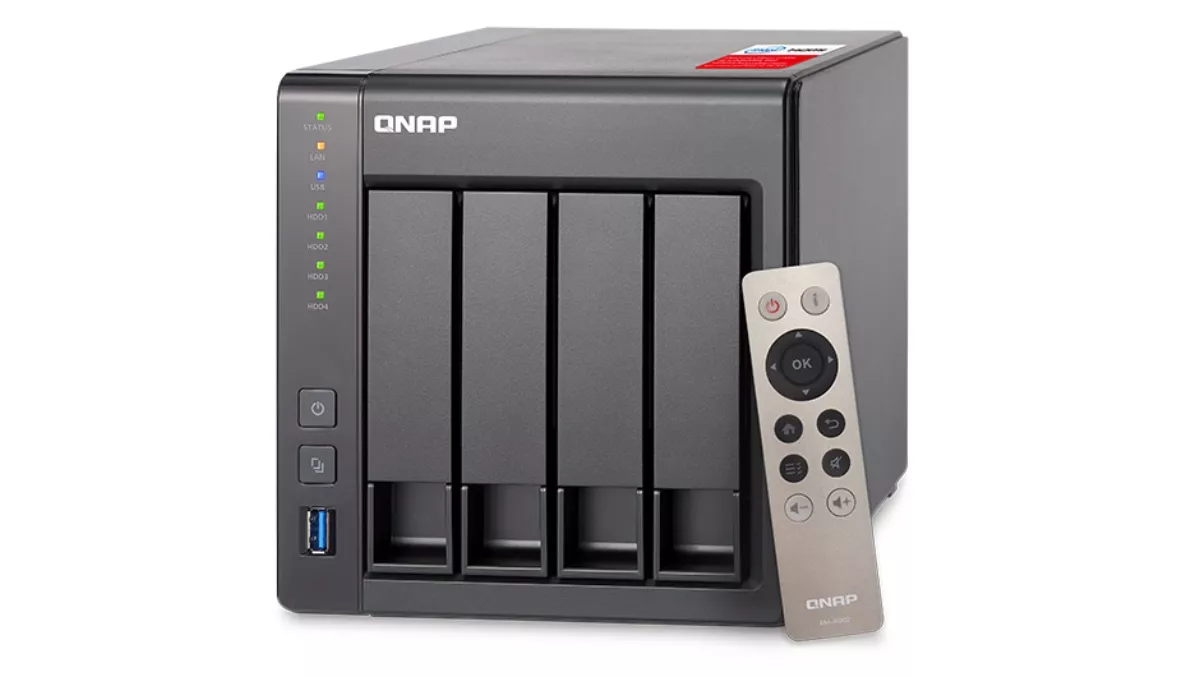 Hands-on review: QNAP TS-451+ four bay NAS Drive
FYI, this story is more than a year old
NAS stands for Network Attached Storage. With the explosion of documents, images, movies and music that we now store, they're the perfect way to not clog up your computer. You can offload your huge collection of files onto this separate device.
Also, if you're like me you've got a laptop which has only a small amount of storage space. Mine is a ultra thin laptop with just 128GB of storage space. Then you don't even have the space to store one's full music collection on your laptop.
NAS Drives also mean that when you store something on it, you can access it from other devices. QNAP has apps available so you can access your content from smartphones & tablets.
This can also work in a home or small business setup, by sharing the music, movies or documents in one central location. It's like having your own personal cloud storage service, although it doesn't use up any of your internet cap accessing the files, as they're on your own network.
The final and one of the most important uses of a NAS Drive is as a backup device. You can backup your files onto it directly or use software like Apple's Time Machine to schedule backups. This could be just from one computer or multiple.
NAS Drives have evolved a huge amount in recent years. QNAP is a leader in the area and this TS-451+ model is perfect for a household or home office type setup.
The new NAS series from QNAP run QTS 4.2, a smart NAS operating system that comes with a number of features to empower offices and home applications.
It allows users to run multiple applications on Windows ,Linux, UNIX and Android based virtual machines via the Virtualisation Station, while operating numerous isolated Linux systems.
The Container Station integrates LXC and Docker lightweight virtualisation technologies to allows apps to be downloaded from the built-in Docker Hub Registry.
It can be plugged directly into your television through its built in HDMI port, which means that you can use the included remote to watch video or play music directly through your TV without a computer being involved.
It's also got a neat black finish, with four bays for hard drives to be installed. So it won't look out of place in your entertainment unit under your television.
Like all NAS Drives it comes empty and you'll need to buy two to four internet hard disk drives to install into it. Chat with your retailer or reseller about the best options - they will likely be able to do this installation for you if you need a hand (although it's very easy).
Users can easily operate the TS-451+ as a PC with QvPC Technology.
All you need to do is plug in a keyboard, mouse and HDMI display and you'll be away laughing, being able to access stored data, run multiple virtual machines, surf the web, enjoy 1080p videos with up to 7.1 HD audio using the included remote control, monitor live feeds on Surveillance Station and much, much more.
The NAS also supports excellent real-time and offline transcoding capabilities as well as streaming photos, music and videos to different rooms from a single device using Bluetooth, USB devices, HDMI, DLNA, Apple TV and Chromecast as a multi-zone control system.
Finally, all of your documents and entertainment stored on the device can be accessed through your home network, via the USB slot on the front of it or if you've got a Wireless Access Point over Wi-fi. Plus, don't forget those clever iOS and Android apps mentioned above.
New features can be added at no charge by visiting the QNAP app store. These new Apps get downloaded to your NAS Drive very easily.
Overall this is an awesome NAS drive, it's fast, looks great and would suit home use or a small office environment.
Great job QNAP on another superb product.
Key specifications of the QNAP TS-451+ 4-bay tower model:
Quad-core Intel® Celeron® 2.0GHz processor (burstup to 2.42GHz), 2GB or 8GB DDR3L RAM (expandable up to 8GB); hot-swappable 3.5"/2.5" SATA 6Gbps HDD/SSD; 2 x USB 3.0, 2 x USB 2.0; 2 x Gigabit LAN ports; 1 x HDMI output.
For more information of these new products and the full QNAP Turbo NAS lineup (including where to buy), please contact ausales@qnap.com or click here to visit their website.
Related stories
Top stories