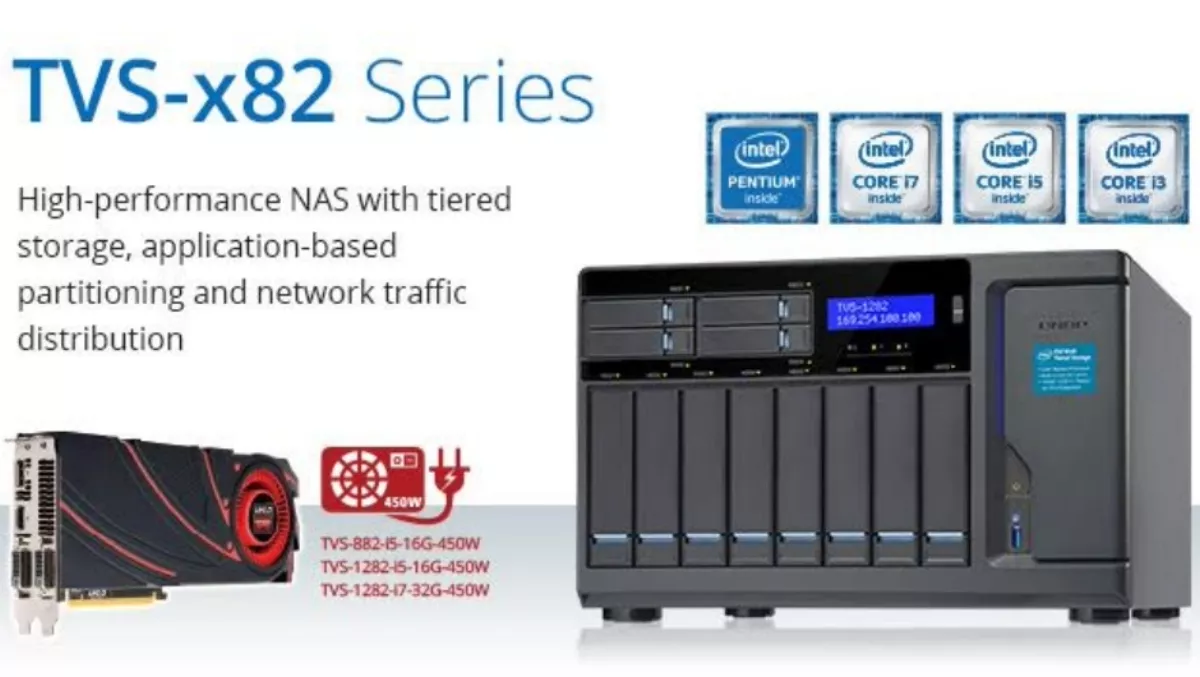 Hands-on review: QNAP TVS-882 - a solution for SMBs
FYI, this story is more than a year old
Data is becoming more and more important every day, and is crucial for businesses both large and small.
If valuable data is lost, business downtime can often be the least of your worries. The introduction of Network Attached Storage (NAS) drives have seen the end of the unreliable days of labelled folders stuffed with paper or the easily misplaced USB keys.
NAS drives enable everyone within a company to save, load and share files seamlessly over the company LAN. Of course, this isn't to mention the ability to backup on site and consequently significantly reduce business downtime time and disaster recovery.
QNAP recently released their new family of business-grade NAS drives targeted at SMBs – the TVS-x82 series. The family is made up of the TVS-682, the TVS-882 and the TVS-1282. They have 4, 6 and 8 3.5" drive bays respectively. The 4 and 6 bay units have two additional 2.5" drive slots, while the 8 bay unit has four. They all feature toolless HDD tray and installation, making the whole process of inserting and removing hard drive trays a breeze.
In this review we're going to focus on the TVS-882.
Look and Feel
Like all the other NAS drives we've reviewed from QNAP, the whole TVS-x82 family sports a black on black facade, while the two bigger siblings have LCD screens on the front panels. They look sleek, elegant and compact, and would easily fit under a desk or just about anywhere in an office.
The hardware
The TVS-882 has hyperconverged infrastructure for a whole new level of performance and protection. Adopting 6th Generation Intel 14nm multi-core processors, it was designed around the concept of tiered storage, application-based partitioning and network traffic distribution. According to Intel, their 6th Generation processors deliver 20%-30% better performance compared to previous generation processors.
It features PCIe Gen.3 slots that can support 10GbE/40GbE NIC, PCIe NVMe SSD, graphics cards, and USB 3.1 expansion cards, the TVS-882 also supports smooth 4K 60 fps video transfer and display, cross-platform file sharing, comprehensive backup and disaster recovery, iSCSI & virtualisation and more business applications.
The TVS-882 also features compartmentalised smart cooling, four gigabit Ethernet ports, three HDMI outputs, 3.5mm audio jack, two built-in speakers and the ability to support four DDR4 memory modules for a maximum of 32GB RAM.
Cool other bits
The TVS-882 comes with three HDMI outputs for using three monitors in either "duplicated" or "extended" desktop configuration. Duplicating will display the same content on every display, and extended desktop mode allows users to display applications across the displays for improved multitasking convenience and productivity.
When displaying content using HDMI, you can use the TVS-882 as a multimedia player by using HD Station to enjoy apps like Kodi, HD Player, Plex Home Theater, YouTube, Spotify, JRiver, Google Chrome, Mozilla Firefox, and more. Alternatively, you can choose to output the Linux operating system desktop to use the TVS-882 as a PC.
It also has comprehensive security, as besides AES 256-bit encryption for both volumes and shared folders, the TVS-882 also provides numerous security options, such as encrypted access, IP blocking, 2-step verification, and more.
QTS is the smart QNAP NAS OS that empowers your business by making everything easily accessible. The intuitive QTS features a modern flat design to streamline loading times, and its intelligent desktop allows you to find desired functions quickly, monitor important system information on a real-time basis, and open multiple application windows to run multiple tasks concurrently, bringing greater operating efficiency.
Some of the highlights include:
Built-in M.2 SATA 6Gb/s slots & 2.5" SSD slots
Qtier technology and SSD cache enable 24/7 optimized storage efficiency
The Network & Virtual Switch app assists network traffic distribution, and re-routes dedicated bandwidth for diverse applications
Triple HDMI output (including one HDMI 2.0) for smooth 4K video playback
Scalable design with economical QNAP storage expansion enclosures
Virtual JBOD (VJBOD) allows to use QNAP NAS to expand the TVS-882's storage capacity
Supports QRM+ unified remote server management, QvPC technology, virtual machine and container applications, and storage for virtualisation
Verdict
A lot of SMBs are being put under the pump by the rapid growth of data. QNAP has come up with the solution. Incorporating reliability and security, the TVS-x82 series presents an ideal choice for a complete business-ready storage solution.
Related stories
Top stories